Hundreds came out to the Hylton Memorial Chapel in Woodbridge Monday to wait as long as five hours for free COVID-19 tests, something many said they've wanted for weeks.
They included construction workers, grocery store clerks and other essential workers -- people whose jobs require them to work outside their homes during the pandemic. Others said they are worried about their age or an underlying health condition or are just concerned about infecting others and want to know if they are carrying the coronavirus.
Chris Dowell came from Nokesville. He said he works in construction and recently developed a cough, which is among the symptoms of COVID-19.
"It was free, so I figured I would just wait," he said. "You figure you wait four hours, but you save $135. It's worth it."
Larry Bronstone said he came to get tested because he's 70 years old and lives in ZIP code 22191, which has had the highest number of COVID-19 cases in the state in recent weeks.
"I think everyone should be tested," he added. "So we can find out who has it and they can quarantine to stop spreading it to other people; so we can stop it."
Parts of Prince William County have been especially hard hit by COVID-19. As of Tuesday, the county has reported more than 4,500 cases of the disease, more than 400 hospitalizations and more than 78 deaths. The county also had the highest percent-positivity rate in the state on COVID-19 tests at 29.7%. 
According to the World Health Organization, a percent-positivity rate of about 10%, while still high, is an indication testing is abundant enough to identify most cases of the disease.
The tests, which were free and available to anyone who wanted them – regardless of symptoms -- were available on both a drive-thru and walk up basis starting at 10 a.m. Monday. The cars began arriving before 9 a.m., however, and were initially directed to the nearby All Saints Church parking lot, where some said they waited as long as two and half hours before being allowed into the Hylton Memorial Chapel lot.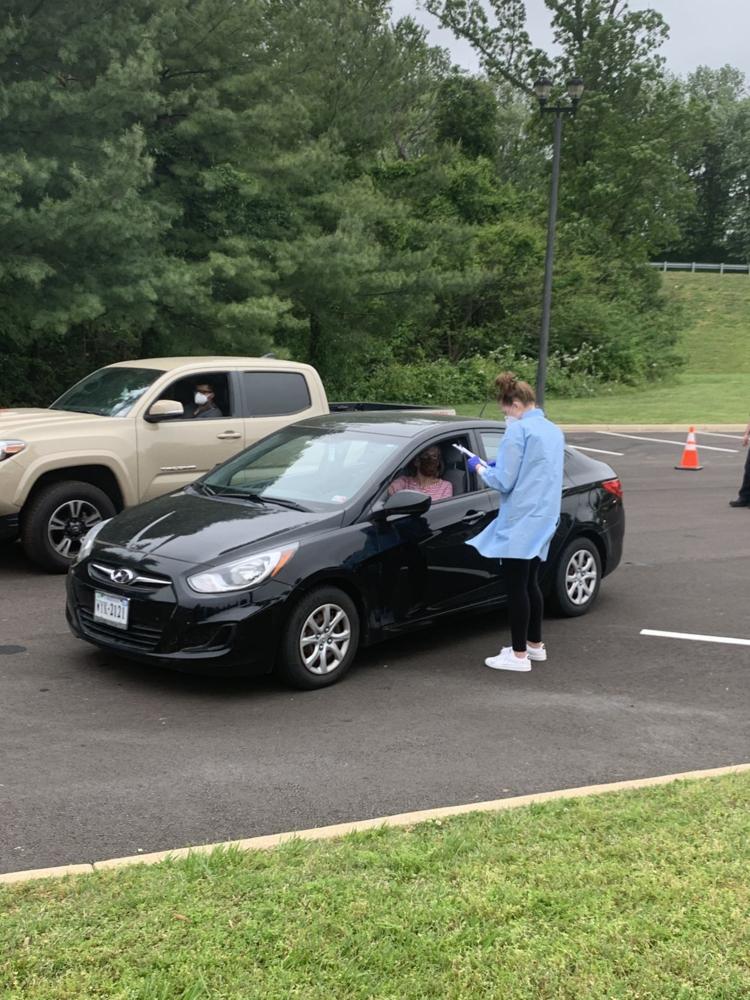 From there, some people got out of their cars to wait for a walkup test. Others remained inside their vehicles to wait in an hours-long line that snaked up and down and around the Hylton Chapel's expansive lot. Portable restrooms were available for those who needed them.
Police began turning away new arrivals at about 2 p.m. – four hours before the testing period was set to end. 
The problem wasn't that they'd run out of tests. About 650 tests had been administered by 2:30 p.m., and another 200 by about 4 p.m., said Assistant Fire Chief Matt Smolsky, who oversaw the operation.
Rather, they'd run out of time. They had up to 1,500 tests, but decided at about 2 p.m. that it would take about four hours for the people who had already entered the parking lot to make it through the line, he said.
Smolsky said he wasn't surprised that so many people showed up for the testing. He called it a matter of "pent-up demand."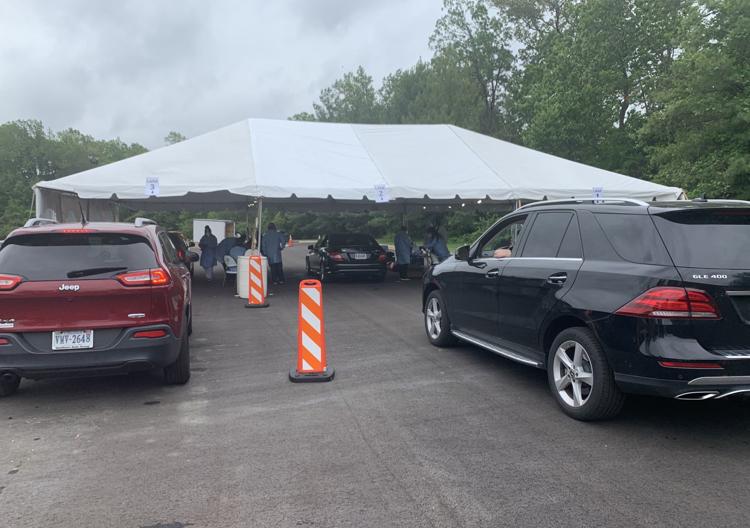 "I think these people have been watching this for eight weeks on TV – all the gloom and doom," Smolsky said. "I think a lot of people are taking advantage of this, and that's a good thing."
Monday marked the third day of a "community" testing effort that began at Walmart stores in Dumfries and Manassas on Friday morning, where 40 tests were available at each location. On Saturday, about 250 tests were administered at Dale City Recreation Center and at Todos supermarket in Dumfries. Testing at the latter location was shut down about two hours early when tests ran out.
The free testing at Hylton Memorial Chapel on Monday was announced on Saturday. Another similar free day of testing will take place today, Tuesday, May 19, at Stonewall Jackson High School in Manassas. Testing is again scheduled to run from 10 a.m. to 6 p.m., just like Monday's session.
Smolsky said his crew was already working on a plan to better space out the crowd on Tuesday so people don't have to wait so long. Still, it will have to be a matter or first-come, first-served, he said, as it's not possible to make appointments for the tests.
Still more free tests will be available Wednesday, May 20, through Friday, May 22, from 10 a.m. to 3 p.m. at 9608 Grant Ave. in Manassas.
The tests are being made available through the Virginia Department of Health, which just began ramping up tests in hard-hit areas of the state.
"We've needed testing for some time in the commonwealth and this was part of a big push to try to get this done," Smolsky said.
Anitra Piper works part-time in an essential business and has so far experienced no symptoms of COVID-19. But she said she has a cousin who was hospitalized with COVID-19 and thus understands the seriousness of the disease. Piper said she hasn't had contact with her cousin since she fell ill, so she's not worried about having been exposed. Still, she said she and her parents wanted to take advantage of the opportunity to receive free tests. 
Virginia has lagged behind most other states in the number of tests it is administering to residents. Gov. Ralph Northam set a goal of testing 10,000 residents a day to move toward the first of three reopening phases. Most of the state entered phase 1 on Friday, May 15, but Northern Virginia, the state's most populous region and its economic powerhouse, will remain in "phase zero" for two more weeks, until Friday, May 29, because various pandemic health measures have not yet been met.
Besides the overwhelming demand, organizers said the long line Monday was the result of having limited staff on hand to administer the tests. Vehicles were funneled through three testing lines where staff from Mako Medical Laboratories, decked from head-to-toe in personal protective gear, administered the nasal-swab tests.
"It's a process. Each test takes a certain number of seconds to do, and we're seeing a lot of cars that have four or five people in them," said John Nguyen, who was overseeing the testing for Mako Medical. "Every minivan we see has two to four kids in the back, and all of them are getting tests."
Devina Thapa, who came to get tested with her husband, said they considered turning back after waiting about two hours. But then they decided it might be their only chance to get a free test and one that did not require a doctor's order. 
Neither have symptoms but want to make sure they aren't spreading the virus to others, Thapa said.
To solve the problem of the long lines, she said: "We need more testing like this." 
Reach Jill Palermo at jpalermo@fauquier.com