While most candidates running for local offices in Prince William County have shied away from embracing national political figures, John Gray, the Republican candidate for at-large chairman of the board of supervisors, is touting his support for President Donald Trump heading into next Tuesday's election. 
"Once elected, I will work tirelessly to keep Prince William County SAFE and PROSPEROUS for ALL residents. And for those of you who asked: I SUPPORT PRESIDENT TRUMP," Gray wrote in an Oct. 29 Facebook post.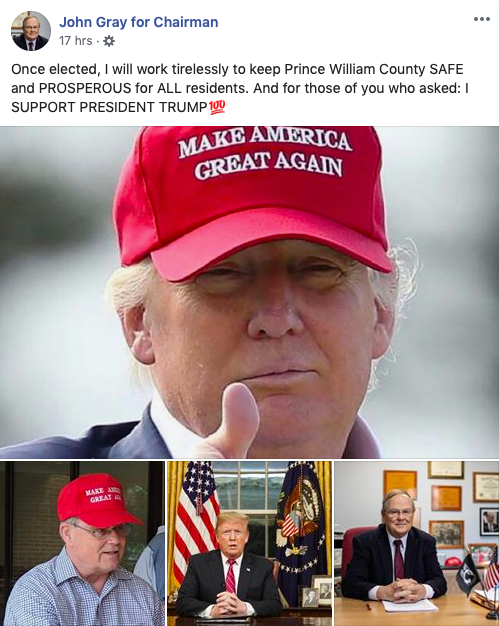 In the run-up to the Nov. 5 election, Gray, a certified public accountant, U.S. Marine veteran and father of four adult children, has focused primarily on local issues, such as the county jail's 287(g) agreement with Immigration and Customs Enforcement (he's a supporter) and keeping taxes low for local residents.
In an interview with Prince William Times Tuesday, Gray didn't say what prompted his Facebook post expressing his enthusiastic support for the president. But Gray made clear that while he supports Trump and his policies, he is "not campaigning on President Trump." 
"I'm campaigning on Prince William County policies -- lower taxes, making sure it doesn't become a sanctuary county and getting jobs," Gray said. "I have [Trump] in a TV commercial, where I say I support President Trump, but not in my literature or anything along those lines."
Gray faces Democrat Ann Wheeler and independents Muneer Baig and Don Scoggins in the race for chairman of the Prince William County Board of Supervisors. The winner of the contest will replace outgoing Chairman Corey Stewart, R-At Large, who has held the seat since 2006. Stewart is also a strong supporter of President Trump's. He chaired Trump's Virginia campaign in 2016 and announced earlier this year that he would head the "Keeping America Great" PAC, which supports Trump's re-election in 2020.
Gray wore a red "Make America Great Again" baseball cap at the polls during the Republican firehouse primary June 4, when he beat Supervisor Marty Nohe, R-Coles, to become the GOP nominee for the county chairman's post. 
In his campaign photo, Gray is pictured sitting in his home office, where a signed photograph of President Trump hangs on the wall behind him.
Still, Gray complained to the Prince William Times back in July about an article about campaign fundraising in which Gray is described as an "ardent supporter of President Trump."
Gray sent an email to Prince William Times, saying the paper "maliciously identified" him as an "ardent Trump supporter," which "couldn't have been more wrong." 
In a recent interview, however, Gray said he has "always supported the president and his policies." 
A recent poll conducted by the Wason Center for Public Policy at Christopher Newport University showed that Trump's unpopularity among Virginia voters could hurt GOP state candidates who support Trump.
The survey found that 59% of voters said they would be less likely to vote for a Virginia Senate candidate who supports President Trump, and 54% said they would be more likely to vote for a candidate who supports impeaching Trump, "reflecting the nationalized context of these state elections," the poll said.
"These findings suggest that affiliation with President Trump, an affiliation all Republican candidates share by party label, is not an asset in this cycle," said Rachel Bitecofer, assistant director of the Wason Center.
Gray said he has received "enormous positive feedback" as a result of his declaration of support for President Trump. 
Clarification: This article inadvertently left out two candidates for chairman of the Prince William Board of Supervisors: independents Muneer Baig and Donald Scoggins. The Prince William Times regrets the omission.
Reach Daniel Berti at dberti@fauquier.com