An assistant principal at a Prince William middle school has been placed on leave following his Dec. 13 arrest in connection with the theft of more than $600 worth of sports trading cards.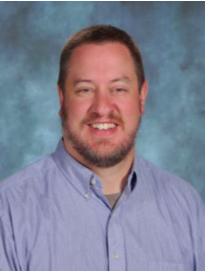 Todd Daniel Yoho, 40, who had been an administrator at Gainesville Middle School for nine years, was arrested at the Target at 9900 Sowder Village Square on Friday, Dec. 13, according to 1st Sgt. Jonathan Perok, spokesman for the Prince William County Police Department.
Yoho was charged with grand larceny, a felony, in connection with shoplifting $611.14 worth of trading cards, according to court documents. He is scheduled to appear in court on Tuesday, Jan. 14.
Yoho's image had been captured on Target's surveillance cameras in similar incidents dating back to October, according to a Prince William County police officer's sworn statement on a criminal complaint filed in Prince William County District Court.
"I observed the accused … alter price tags, conceal merchandise and walk past all points of sale and was advised of the following criminal activity by Target loss prevention," Officer S. F. Mushalko wrote in the criminal complaint.
"Since October [the suspect] has been observed by Target loss prevention on numerous occasions committing similar acts as I witnessed today," Mushalko continued.
"He provided a written statement admitting to committing these larcenies. There is CCTV footage of these incidents provided to this officer as evidence," Mushalko wrote.
Diana Gulotta, spokeswoman for Prince William County schools, said Yoho has been placed on leave.
But she said Yoho was not arrested on Gainesville Middle School property despite county arrest records that list the school's address.  
"The police department listed the school address on a public report, but that is not accurate," Gulotta said. "We have notified the police department of this error."
Perok confirmed Friday evening that the arrest took place at the Target store.
Gainesville Middle School parents and guardians were notified of Yoho's status on Friday, Jan. 10, in a letter from Principal Catherine Porter-Lucas.
The notice said Yoho had been placed on leave "pending the resolution of a non-school related personal matter."
The letter acknowledges "recent speculation" about Yoho "in the community and online" but does not mention Yoho's Dec. 13 arrest.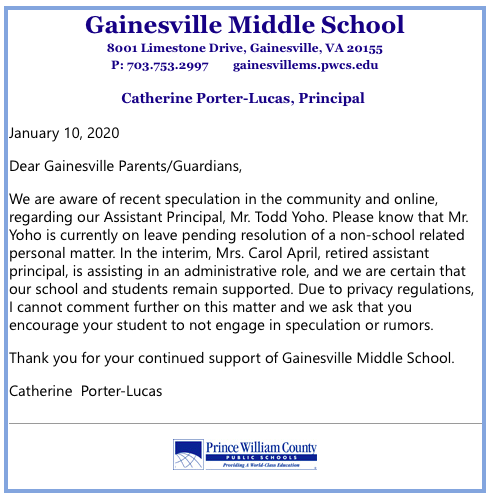 "Due to privacy regulations, I cannot comment further on this matter and we ask that you encourage your student to not engage in speculation or rumors," Porter-Lucas's letter said.
Yoho's picture and biography remained on Gainesville Middle School's website Friday. Yoho was in his ninth year as a school administrator after teaching for 10 years at Benton Middle School, the website states.
Yoho supervised eighth grade "core content and discipline" as well as performing arts, English for speakers of other languages, world languages and social studies, the website states.
Calls and emails to Yoho's attorney, William Stephens, were not immediately answered Friday afternoon.
Reach Jill Palermo at jpalermo@fauquier.com