More than 2,000 teachers and supporters of the Virginia Education Association descended upon Richmond Monday, visiting state lawmakers and then rallying on the Capitol steps. The group included about 20 teachers from Prince William schools and about 200 from neighboring Fauquier County.
Fauquier County schools Superintendent David Jeck was one of eight speakers during the rally and the only superintendent to deliver a message to the sea of red-clad educators whose frustration over years of stalled salary increases and a general lack of funding for the state's public schools was heard loud and clear. 
"It is unfathomable that Virginia teachers are making more than $9,000 less than the national average yet, judged by a number of indicators, are delivering a first-class education," Jeck said.
Virginia Education Association President Jim Livingston, a former Prince William County middle school teacher, led the rally.
 "I am mad as hell," Livingston began, standing midway up the grand, white-marble steps of the state Capitol. 
"We have crumbling infrastructure in our schools; teachers and staff paid far below the national average; technology that either doesn't work or doesn't exist…We now demand that the General Assembly of the Commonwealth of Virginia fund our schools," Livingston said.
The crowd broke again and again into chants: "Fund our future! Fund our future!"
"This is not the end. This is only the beginning," he added. "It is time for the legislators to get on board or get out of the way."
In the crowd, National Education Association director for Virginia Carol Bauer explained that until recently, VEA members were reticent to associate the word "union" with their group because Virginia is a right-to-work state where public employees do not have collective-bargaining rights and face termination if they strike.
"But that has changed very recently," she said. "We are now using the word 'union' and emphasizing solidarity and advocacy and strength in numbers."
Sparked undoubtedly by Virginia Gov. Ralph Northam's (D) recent budget-amendment package that adds 5-percent boost to teacher pay among other initiatives, the VEA is advocating a list of demands to the state legislature including a "living wage" for educators that meets or exceeds the national average and revised Standards of Quality funding "that accurately reflects the needs and costs of educating students across the commonwealth and supporting their mental health needs."
As the teachers held their demonstration, Republican lawmakers who control the House of Delegates announced they would include a 5-percent raise for teachers in the state budget they plan to release on Sunday.
Riley O'Casey, president of the Prince William Education Association, said the group from Prince William was limited in numbers by both by school division policy and teachers' desire to stay behind to attend seminars or do work on what was officially a teachers' workday. 
But the fact students were off from school led some parents and families to join the rally, she said.
O'Casey said the PWEA is working to raise awareness among both state lawmakers and local supervisors about the need to better fund public schools.
"The governor has proposed a salary increase, and we want the General Assembly to fund it," O'Casey said. "But, really, the point is that public schools in Virginia have not been adequately funded and it's time to do that."
 "I am proud of our great educators who gave their personal days to come and support their students, schools and co-workers," Fauquier County teacher Lauren Brill said at the rally's end. "We have so long needed a new era for public education in the commonwealth."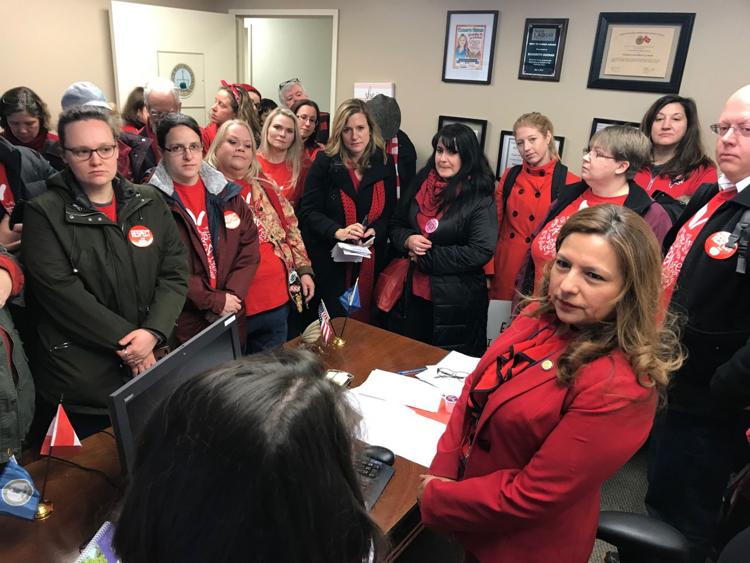 Brill, president of the Fauquier Education Association, had spent all morning leading educators to the offices of local representatives, including state Sen. Jill Vogel, R-27th; Del. Mark Cole, D-88th; and Del. Elizabeth Guzman, D-31st. 
Vogel and Cole were in session, and aides made themselves available to listen to the many who crowded into their spaces and told personal stories. 
Guzman, whose district includes parts of both Prince William and Fauquier counties, listened intently and then listed the issues she is working on. 
"I couldn't agree more," Guzman, a social worker and first-term legislator told the group. "I will be supporting all of your recommendations."
Gar-Field High School teacher Lauren Miller was traveling with her former Fauquier County colleagues on the blustery winter morning. Encouraged to convey personal stories of financial and quality-of-life hardships endured by salaries that fail to support educators, Miller told Guzman she commutes an hour and a half each way to her job in Woodbridge.
A special education teacher in Fauquier for years, Miller became her family's main bread-winner after her husband suffered an accident. The higher salary in Prince William led her to abandon her Fauquier job, she said.
Her Fauquier teacher's wage, however, meant they had bought a home in less expensive Culpeper County. Thus the even longer commute to Gar-Field High. 
"I would have stayed forever in Fauquier, if I could have," she said.
Reach Karen Chaffraix at kchaffraix@fauquier.com