When Daniel Grijalva arrived at the Woodbridge Senior Center for a free COVID-19 test earlier this month, he had already tested positive for COVID-19, as had his wife and one of his sons. But fortunately, he said, they suffered few symptoms.
Now, however, the family was worried about their 13-year-old daughter, who'd had a sore throat and runny nose for the past few days. When Grijalva, an electrician who lives in Woodbridge, heard Prince William County was offering free tests, he saw it as chance to get some help.
"I'm an essential worker. I have to work, and I took [the virus] home to all of them," Grijalva said of his family, shaking his head with concern. If his daughter's test came back positive, he said he hoped a nurse would call to tell them what to do next.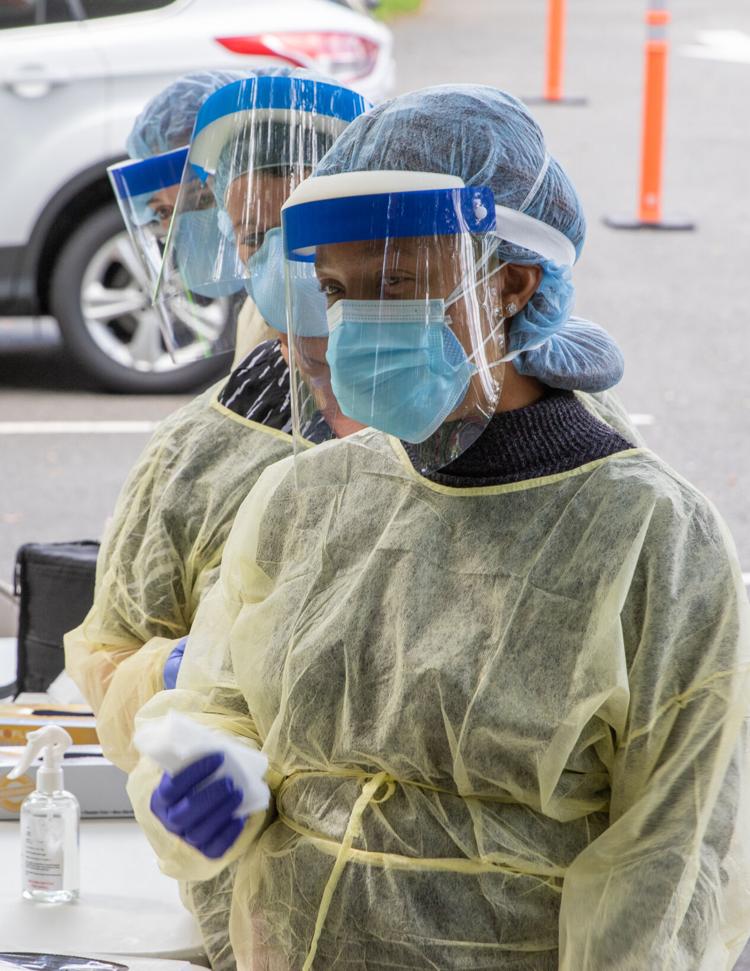 Agueda Solorzano, of Woodbridge, also came to the senior center for a free COVID-19 test and some reassurance. She said she just returned from a trip to Florida and wanted to make sure she wasn't carrying the virus before returning to her babysitting job.
"I don't have health insurance. The fact they are doing free testing here is just amazing," Solorzano said after completing the test, which took about 10 minutes from start to finish.
Both Solorzano and Grijalva said they were grateful for the county's free COVID-19 tests, but on that particular Thursday in early October, they were among only about 30 people who took advantage of the opportunity, according Prince William County Assistant Fire Chief Matt Smolsky, who oversees community testing for the Prince William Health District.
Since July, the county has been offering up to 200 free COVID-19 tests at each of 12 to 14 sites on a regular, weekly schedule. But demand has been on the decline since August, when a surge of college students came through for tests before returning to campus. Since then, the county has administered only about 500 to 600 free tests each week, Smolsky said.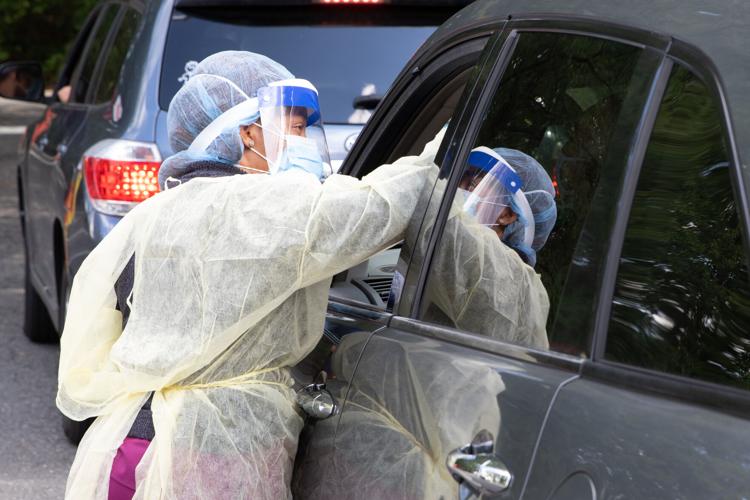 It's a big change from the county's early rounds of testing in May, when people waited in line for hours for a free test, or sites shut down early after reaching capacity.
Back then, COVID-19 tests were hard to come by. Testing has since become more widely available, but not everyone can easily get a test. Most doctors only test people with symptoms or those who have been exposed to someone who tests positive for the coronavirus. 
At the county's free testing sites, anyone who lives or works in Prince William County can get a test, whether they have symptoms or not. People are asked to show identification, such as a driver's license, and to provide a phone number so they can be contacted with the results. But even those without an ID are not turned away, Smolsky said.
$5 million for tests, only $1 million spent so far
The slowdown in testing comes just as the county received another $1 million for COVID-19 testing from the Virginia Department of Health. That's in addition to the $4 million in CARES Act funding the Prince William Board of County Supervisors already pledged toward free COVID-19 tests. 
Of that money, the county has so far spent only about $1,017,483 on testing, according to Sherrie Johnson, Prince William County spokeswoman.
The VDH agreement asks the county to use the extra $1 million to work toward a goal of conducting 41,000 COVID-19 tests a month, which is double the current rate of about 20,000 month.
Because of lagging demand, the county currently has no plans to add new testing sites. But the current weekly schedule will continue through December, and more sites could be added if demand increases, Smolsky said. 
Local testing peaked in June
Most COVID-19 testing in Prince William is occurring in doctors' offices, clinics and hospitals – not at the county's free testing sites. In all, the county is reporting about 5,000 to 6,000 COVID-19 tests a week, Smolsky said.
According to VDH data, testing peaked in Virginia in mid-September, when an average 17,745 tests were reported daily. In Prince William County, testing peaked in early June when daily tests averaged 1,173.
The Prince William Health District is currently reporting an average of 748 tests per day, according to the VDH. The health district would have to average about 1,370 daily tests to meet the state's goal of 41,000 tests a month.
Dr. Alison Ansher, director of the Prince William Health District, said the lag in demand for local testing could reflect a national trend.
"As widely described throughout the country, one component contributing to reduced testing is likely fatigue related to the COVID-19 response," Ansher said in an email.
Regarding the waning demand at the county's free testing sites, Ansher said more people are likely getting tested near their jobs or at other point-of-care sites now that testing has become more available. 
Despite the testing lag, the Prince William Health District is still reporting an average of about 55 new COVID-19 cases a day. That's down from a peak of about 152 cases per day in late May. Still, the local health district has a higher average rate of new daily cases – 11.7 per 100,000 residents – than any other Northern Virginia jurisdiction, including Alexandria (9.3), Arlington (9.1), Fairfax County (9.1), Loudoun County (9.6), Spotsylvania County (8.7) and Stafford County (8.6), according to VDH data.
Local spread: families, workplaces, social events
In the Prince William Health District, the "vast majority" of local transmission has occurred in households with the second most common source being workplaces, Ansher said in an email. 
Another recent source of spread, she said, have been "community based exposures" associated with small-group social gatherings of families and friends during which people are not social distancing or wearing face coverings.
Of the workplace transmissions, Ansher said many cases involve people working at sites outside Prince William County.
Prince William County's testing schedule is updated weekly on the county's COVID-19 website and can be found at coronavirus.pwcgov.org.
Reach Jill Palermo at jpalermo@fauquier.com