What happens when you share a preloaded Starbucks card – barcode included – in a 4,000-member Facebook group? Joni and Todd Hammer, Nokesville small business owners, found out last week.
Around noon on Tuesday, Dec. 21, Joni Hammer purchased a $200 gift card in the Starbucks app, took a screenshot of it and posted the barcode in the "Nokesville Community" Facebook group with a note of gratitude and an invitation to grab a coffee on their small business.
"Thank you, Nokesville for all your kind words and referrals! If you are out and about, please enjoy a cup of coffee on us ~ until the money runs out. Extreme PSI, LLC wants to wish you all a very Merry Christmas!"
Joni Hammer said that within minutes, the first order posted to her card. "My first coffee was purchased within four minutes of me posting. I thought, 'Okay. It works. Yay!'"
Then the orders started to roll in. Twelve drinks were purchased in the first hour. Among them were pumpkin cream cold brews, peppermint mochas and vanilla sweet cream cold brews. Lots of drinks that "make you feel 'Christmassy,'" Joni Hammer said. 
Joni, 42, and her husband Todd Hammer, 40, own Extreme PSI, LLC, a septic system and drain company. Joni Hammer said that they started the company in 2017 with the intent to service mostly commercial customers. But due to the many referrals they received in the "Nokesville Community" Facebook group, their residential business also took off, she said.
"We do a lot of commercial work, so residential wasn't our big thing. But it's hard to turn it down. So our residential work came about just on Facebook," Joni Hammer said, adding: "All of our residential service – other than close friends and family – has strictly been [the result of] Facebook and through these little community sites," Joni Hammer said.
Grateful for the word-of-mouth advertising and Facebook reviews, Joni Hammer said she wanted to thank the community in some way and recently saw a real estate agent post a Starbucks card on Facebook for her clients. 
"I decided to kind of piggyback off of her," she explained. "It was just our way of saying, 'We see every single one of you that thinks of us all the time. We see it. And we are so thankful for it. You have no idea.'"
The comments on the Facebook post universally returned the love: "What a great idea!! So nice!" "Thank you so much!" "How sweet is this! Thank you." "[Y]'all are awesome for loving on the community."
The Hammers live in Nokesville with their three kids, twins who are seniors in high school and an 11-year-old. Joni Hammer said that her husband "had nothing growing up." She said they are thankful for everything they have now and that "if Todd can give anything to anybody, he's going to do it."
The Hammer family loves the holiday season and even dresses up one of their brown Extreme PSI trucks as "Poo-dolph" for the annual Nokesville Christmas parade.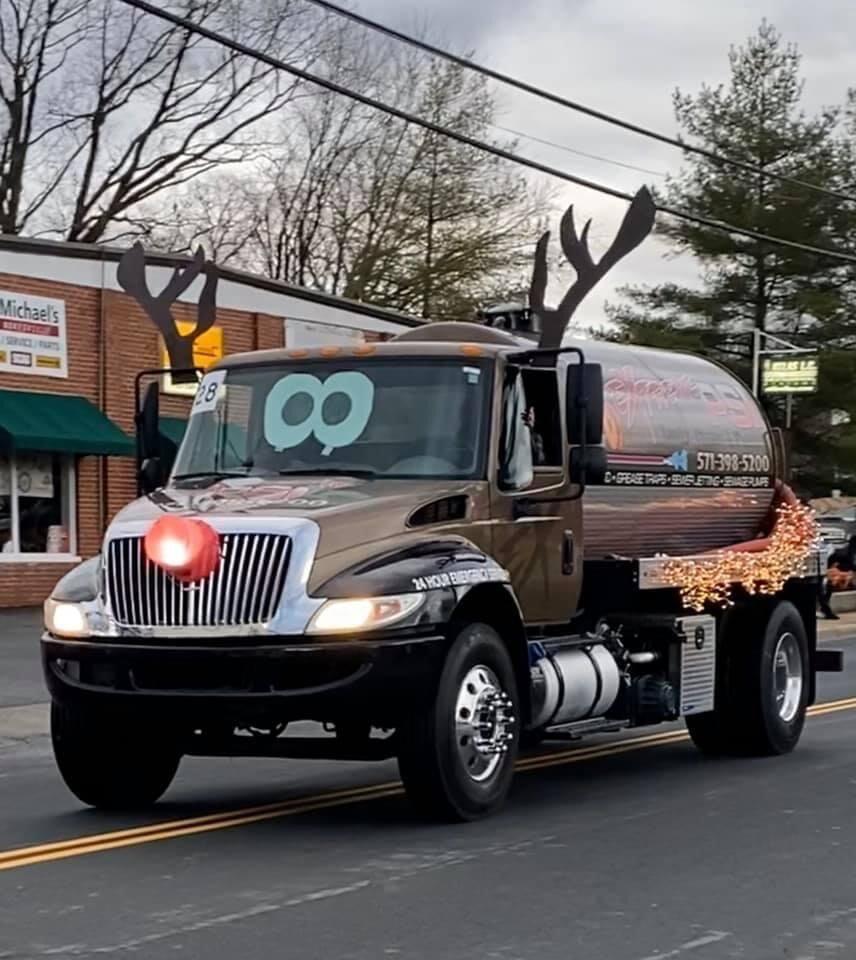 "Our trucks are brown. Todd said he wanted to make one look like Rudolph. And then he came up with Poo-dolph. He put a big light on the front of [the truck] and he hand-cut the antlers out. … And it actually turned out to be one of the funniest things," Joni Hammer said.
Whether it's Poo-dolph or sharing her Starbucks card, "If you can make someone smile, that's worth it," she said.
Joni Hammer said she had a lot of fun watching the orders show up on her Starbucks app. The last $5 was spent on a coffee the morning after she made the post, about 18 hours later.
"The most I saw on one receipt was two drinks. Nobody took advantage of it," she said.
In the end, about 40 beverages were purchased using the card, she said. Nearly all the drinks were purchased locally but one was purchased in Tennessee, and one was purchased almost 5,000 miles away -- in Hawaii.