John Warner, who represented Virginia in the U.S. Senate for 30 years and was known for his military service, his marriage to actress Elizabeth Taylor and his willingness at times to buck his own Republican Party, is being remembered this morning as a "towering institution" in Virginia politics and "an independent voice" who remained active in public affairs well into his tenth decade.
Warner died of heart failure Wednesday morning at his home in Alexandria, surrounded by family, according to multiple news reports. He was 94.
"Virginia, and America, have lost a giant," Gov. Ralph Northam said in a statement Wednesday morning.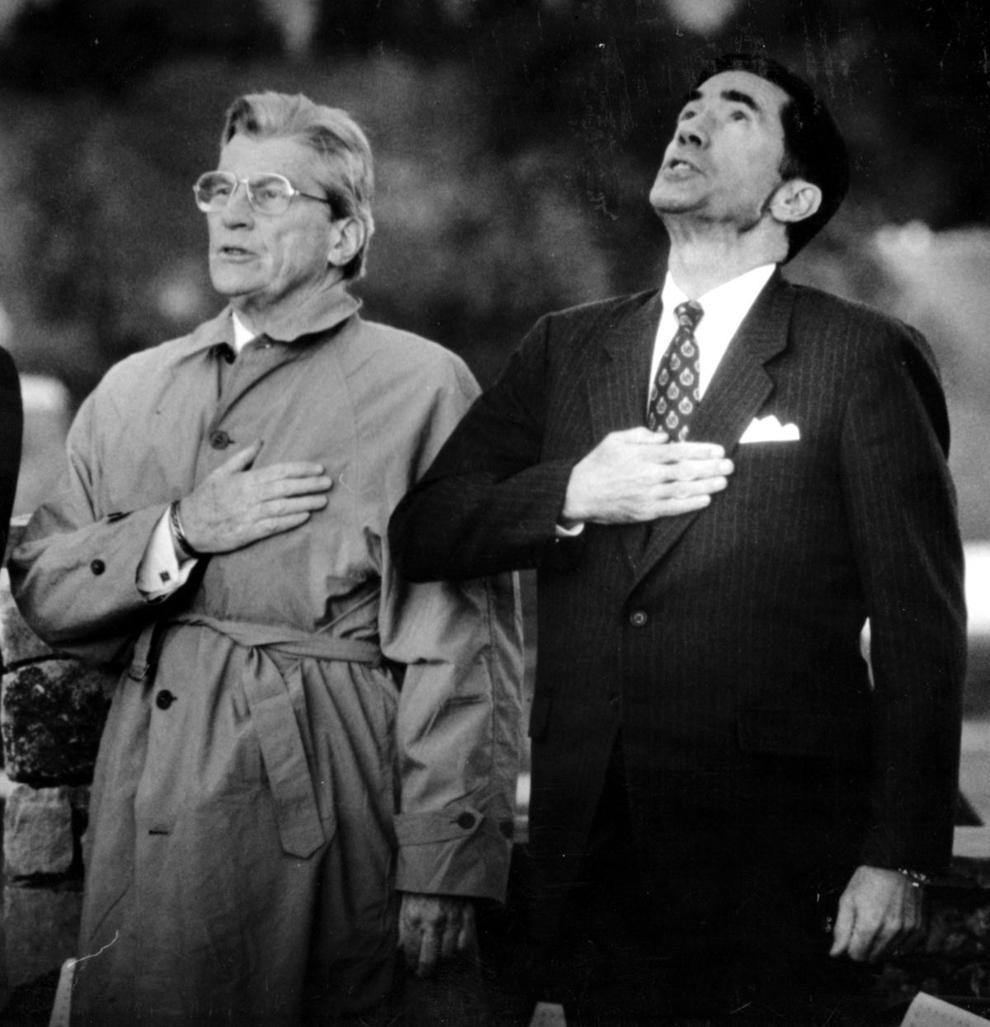 Northam noted Warner's leadership in the Senate, where he served from 1979 to 2009. Warner also served in the U.S. Navy in World War II and the U.S. Marines in Korea and was appointed Secretary of the Navy under President Richard Nixon.
"John Warner truly was the best of what public service and elected leadership should be, and his loss leaves a deep void," Northam wrote. "Pam and I join the commonwealth in mourning his death. Our prayers for comfort go out to his wife Jeanne, his three children, grandchildren, scores of friends, and all those who loved him."
Northam said the Virginia flag would be lowered to half-staff over the Virginia Capitol on the day of Warner's funeral, which has not yet been publicly announced. 
Sen. Mark Warner, who was beaten by the elder Warner in his 1996 run for Senate, called Warner "a consummate statesman and a public servant" … "who put the country's needs above his own."
"I've often said since that the right Warner won that race," Warner said of the 1996 contest. "And one way that I know that is that even though we came from different political parties – even though we ran spirited, albeit respectful, campaigns that year – as soon as the election was called, it was over. And even though John Warner was already a towering institution in Virginia politics, and I was just some young upstart, he allowed me to become his friend. I felt then, as I do today, incredibly privileged."
In his statement, Warner went on to say that the elder Warner was a great help to him while he was governor and continued to be "an active participant in public affairs" and a role model to elected officials. 
"When John retired from the Senate in 2009, he was able to do so with satisfaction at a job well done, and I was blessed to take his place in the Senate. But truthfully, John's service to our country never ended; he remained an active participant in public affairs," Warner wrote. 
"He was always available with a keen ear, sound judgment, good humor and a few words of encouragement and advice. The last time I saw him just a few weeks ago, he was full of questions about the latest in the Senate and in Virginia."  
"I will dearly miss having John's counsel and wisdom to call upon in the years ahead. But more than that, I will miss his friendship, because I loved him," Warner added. "My deepest condolences go out to his children and his entire family, especially his devoted wife of many years, Jeanne."
"I'm sad to say Virginia lost a giant today," said U.S. Rep. Rob Wittman, R-1st, in a statement calling Warner a "a statesman among statesmen," who "quickly became a friend and mentor, never hesitant to share his vast knowledge or experience."
"Most of all, he served as an example of how American and Virginian politics should work with his level-headed, bipartisan approach to the legislative process," Wittman added. "…Though he may be gone, his service to our nation must not be forgotten. In a time of such bitter partisan divide, we must continue to look to his example as a servant leader who challenged our commonwealth and nation to grow and change for the better with each passing day."
Glenn Youngkin, the Republican nominee for Virginia governor, said Warner served "admirably and honorably."
"With over 45 years of public service, he left an indelible mark on Virginia and made a difference in the lives of generations of Virginians. Throughout his career, he viewed public service as a privilege, and he knew how to disagree without being disagreeable," Youngkin wrote in a statement.
"A man full of dignity and devotion to Virginia and country, Senator Warner will be dearly missed," Youngkin added. "God bless the Senator, his wife Jeanne and his family."
John William Warner was born in Washington on Feb. 18, 1927, the son of John W. Warner, a physician, and Martha Budd Warner. He served in the Navy from 1944 to 1946 and graduated from Washington and Lee University in 1949.
Warner then joined the U.S. Marines and served in Korea. Following his release from active duty he completed his law studies at George Washington University, graduating with a University of Virginia law degree in 1953.
He is survived by his wife of 17 years, Jeanne Vander Myde, and his three children.
U.S. Rep. Gerry Connolly, D-11th, said Warner was "a gentleman who maintained civility in his politics in an era of rising intolerance."
"He was the go-to congressional contact to get things done when I was Fairfax County chairman during the BRAC process and resisted extremist elements in his own party," Connolly wrote. "He is missed."