Harris Pavilion in Old Town Manassas is suffering the effects of last week's thunderstorm and a mysterious early morning fire.
The damages: the town's iconic LOVE sign was destroyed in the storm, and the pavilion's restroom building suffered "extensive damage" in the fire, according to city officials.
First the fire: A City of Manassas police officer patrolling the area around 1:45 a.m. Monday, July 22, noticed smoke coming from the direction of the Harris Pavilion at 9201 Center St.
Upon closer observation, the officer saw fire rising from the rear of the building next to the pavilion.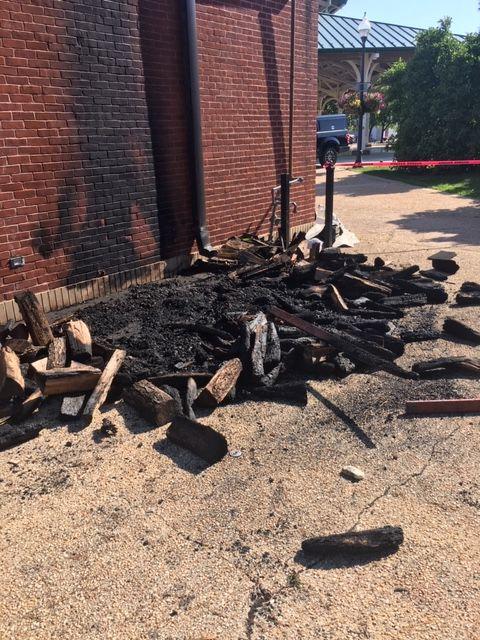 The fire started in a pile of wood stacked outside at the back of the building. City of Manassas Fire and Rescue units along with other units from surrounding jurisdictions quickly put out the fire, according to Patty Prince, City of Manassas spokeswoman.
"Damage to the building's exterior is extensive" but the Harris Pavilion structure was not damaged, Prince said in a news release.
The Fire Marshal's Office is investigating the cause of the blaze and asks anyone with information about this fire to please call 703-257-8455 or the Manassas City Police non-emergency number at 703-257-8000.
Today's Acoustic Tuesday performance has been canceled because of the fire. Performances and events for the rest of the week will continue as scheduled.  
For updates on performances, follow the Harris Pavilion Facebook page HERE or call 703-257-8453.
Now, the LOVE sign: Old Town's beloved LOVE sign fell victim to the fierce thunderstorm that moved through the area Wednesday, July 17. 
The winds ripped the railing that holds the letters from the railcar, leaving the white, marine-grade plywood letters in a heap on the ground.
But the effort to repair and replace the LOVE letters is already under way, according to Mark Olsen, owner of Olde Towne Landscaping.
Olsen and his company erected the first Manassas LOVE sign in 2012, and have replaced it before. Once his team gets the new sign cut out and attached, this will be the third set of LOVE letters, he said. 
(The first set is attached to the side of the Manassas Museum.)
Olsen said he was surprised the sign suffered such damage in the storm.
"It's been through the derecho, it's been through multiple snowstorms, but that storm the other night just broke the letters clear from the railing," he said.
Olsen said he won't let the space reserved for the LOVE sign stay vacant too long. Once he saw the damage, he decided the sign would have to be replaced as soon as possible.
"It's part of the community. …Thousands of pictures have been taken in front of that sign," he said. "We can't let it go."