Proposals for new state Senate and House of Delegates districts released by the Virginia Supreme Court last week would drastically reshape the legislative boundaries in Prince William County. But so far, the maps have been garnering mostly positive reviews from Republicans and Democrats, alike. 
The new maps create three Prince William-centric state Senate districts, squeeze two incumbent delegates into a single House district and would create two state House seats in the eastern and western ends of the county with no incumbent.  
Overall, the proposed maps reduce the number of U.S. House districts that cover parts of Prince William from three to one, while reducing the county's state Senate districts from five to three and House of Delegates' districts from eight to seven.  
"There's no question these districts are more compact and represent actual communities, as opposed to groups of voters that favor a certain party," said Sen. Scott Surovell, D-36th.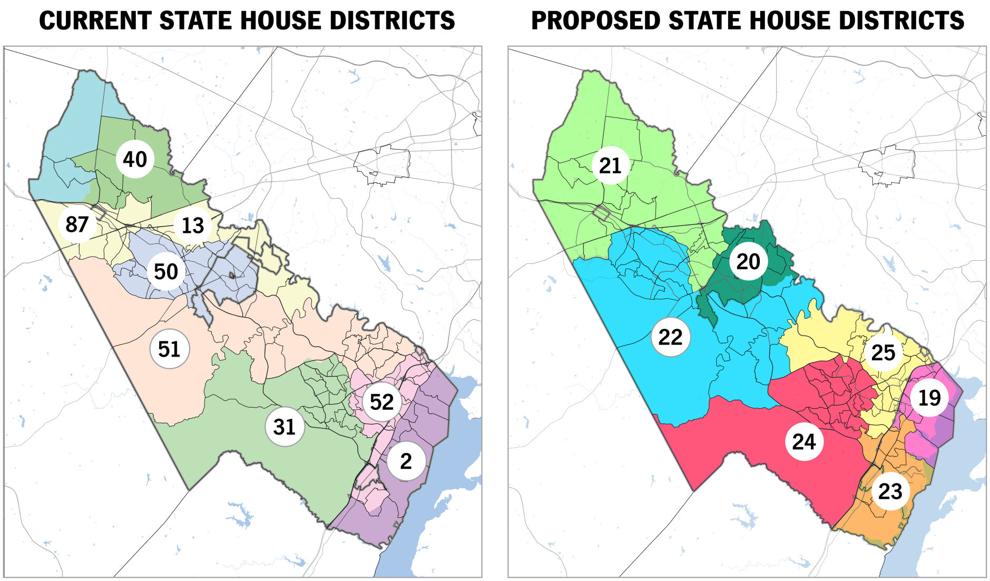 The new maps were drawn by two "special masters" – one each selected by Democrats and Republicans – and overseen by the state Supreme Court after a bipartisan redistricting commission failed to come to an agreement on new state legislative and congressional districts. The maps are not yet final.  
Among the most significant proposed changes are three new state Senate districts that are either entirely or almost entirely within Prince William County. The districts would be split between western Prince William, Manassas and Manassas Park; Dumfries, southeastern Prince William County and north Stafford County; and Woodbridge, Dale City and parts of southern Fairfax County. 
That's a big change from the county's existing districts, which split Prince William five ways and reach as far north as the West Virginia border and as far south as Westmoreland County. Only one of the county's five current state senators lives in the county: Sen. Jeremy McPike, D-29th.  
"Even though it's the second largest jurisdiction in the state, there's only one state senator who lives in the county. I think there's likely to be more when the dust is cleared," Surovell said in an interview on Friday, Dec. 10.  
Surovell, who lives in Fairfax County, would be drawn out of Prince William County in the proposed map and placed in a new Fairfax County-only district. Surovell said he "would hate not to be around" to represent his Prince William constituents any longer. But he added that, under the new map, Prince William is "likely to have more senators, perhaps a congressman and maybe a couple more delegates who live in the county." 
Del. Danica Roem, D-13th, said the proposed state Senate districts are "clearly a good thing" for Prince William County. Roem added that it would be good to have western Prince William County state Senate district "that's not shaped like the boot of Italy."  
Supervisor Kenny Boddye, D-Occoquan, said the new districts "bring together a much more cohesive set of communities rather than being split apart [and] … present the opportunity for two, if not three, state senators being in or very close to Prince William as opposed to just one."  
Va. House districts a 'huge improvement' 
The court's proposed maps create a total of seven Virginia House of Delegates districts that include parts of Prince William County. Five are entirely within county, while a sixth is split between Woodbridge and southern Fairfax and the seventh between southeastern Prince William and north Stafford County. 
"Keeping western [Prince William] together in two house districts is a huge improvement over the old House districts that gerrymandered it between five different districts," said Willie Deutsch, vice chairman of the Prince William Republican Committee.  
Under the new map, Del. Luke Torian, D-52, and Del.-elect Briana Sewell, D-51, are drawn into the same state House district. Meanwhile, one of the proposed House districts on the eastern side of the county – the 19th District -- would have no incumbent, as would a House district in the western side of the county: the 21st District. 
Virginia will continue to have 11 seats in the U.S. Congress, based on 2020 census results. The special masters for the state Supreme Court have proposed redrawing the commonwealth's congressional districts to include a relocated 7th District that would encompass Prince William and Stafford counties.
Some residents are leaving their comments on the proposed districts on the commonwealth's redistricting website, which is open for public input until Monday, Dec. 20. As of Monday, Dec. 13, the website had already received hundreds of comments from all over Virginia.  
"Finally, a map that makes sense. I hope it's approved," said Arilene Alvarez, a Manassas resident. 
"I think this map makes a lot more sense," said Omar Kamara, a western Prince William County resident. "Thank you for correcting that old gerrymandering nonsense." 
"I love the new map by the VA Supreme Court. I love the way they use the entire county to represent the population of the county. This is a 100% fair map and exactly why we chose this model," said Luqman Sh-Hersi, a Dumfries resident. 
The court is holding two virtual public input sessions on Wednesday, Dec. 15, and Friday, Dec. 17, to collect additional feedback on the proposed maps, an indication the special masters may make changes to the legislative boundaries before they are officially adopted by the court. The final timeline is not yet known.