The Fauquier County School Board voted 4 to 1 Monday night to resume the hybrid model of learning on Tuesday, Jan. 19.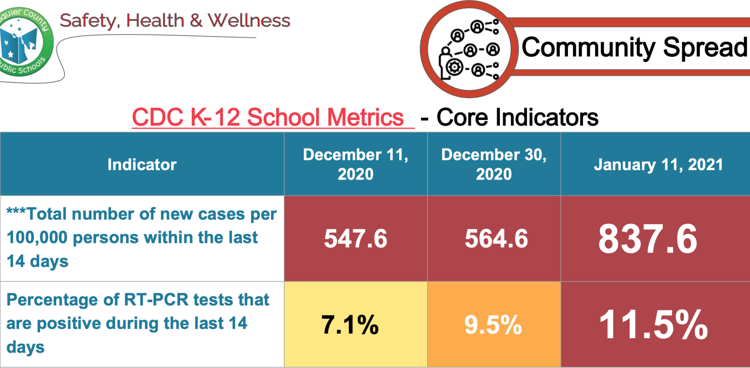 Students whose families have chosen hybrid instruction will return to classrooms two days a week, learn remotely two days via classroom video camera and have one day of asynchronous learning. Students whose families who have chosen virtual learning will learn through the classroom video camera four days a week and through asynchronous learning one day a week. 
About 66% of families have chosen hybrid learning for this semester, which is 3% higher than when school started with hybrid learning in the fall.
School Board chair Donna Grove described the decision as "the perfect compromise that makes no one happy," not parents who want their kids in classrooms five days a week and not parents who want school to remain virtual until the end of the year.
Duke Bland (Marshall) was the only board member to object to the switch from all-virtual learning. He said that the safety of students and staff is his first priority, and metrics for community spread of the coronavirus in the county have never been higher. He said he stands with the recommendations of epidemiologists, he said, and lobbied for schools to stay closed for at least another two weeks.
Bland also pointed out that the school division was forced to go virtual just before Christmas because of a workforce shortage caused by the pandemic. "I believe virtual learning will come back when workforce problems come back."
But his fellow board members were adamant that children's mental health was suffering and families need the support of in-school learning.
The county's high school athletes have already returned to the courts, mats and pools for a shortened season. The winter sports season resumed Jan. 6 with COVID mitigations in place.
Vaccines
Although the metrics for community spread of COVID-19 are indeed worse than they were in December, Superintendent David Jeck offered hope in the fight against the disease. Teachers and staff, who are included in Phase 1b of the Virginia Department of Health's priorities for vaccinations, are eligible to receive vaccines beginning on Monday, Jan. 18. The vaccinations will be administered through the Rappahannock-Rapidan Health District of the VDH.
When the school division sent out a survey to gauge interest in vaccinations, Jeck said that 1,750 of 1,950 employees had returned the survey, "which is extraordinary."
Most staff members -- 80% -- said they want the vaccine, Jeck said. The other 20% were waiting to see if the Pfizer vaccine was going to be offered. Currently, school employees are scheduled to receive the Moderna vaccine, which requires two doses, 28 days apart.
Jeck explained that any school employee who would have face-to-face contact with students would be eligible, including custodians and nutrition workers. "Almost everyone," he said.
New COVID dashboard debuts soon
Tara Helkowski, public information officer for the school division, said that the schools will begin using a new COVID dashboard soon. The new dashboard -- found on the school division website at fcps1.org -- will offer more information than the original version, including which cases are currently active. Also, student and staff cases will be listed separately.
Active cases will be placed on the dashboard the day they are reported and will remain there for 10 days, Helkowski said. After that, the cases are considered "recovered," and are moved to the cumulative portion of the dashboard.
Currently, the dashboard is not set up to provide information about the numbers of staff members and students quarantining because of the novel coronavirus, but Helkowski said she would look into that.
She reminded parents that they should contact school nurses to report positive cases.
Reach Robin Earl at rearl@fauquier.com