The owners of a Fauquier farm slated for a proposed wetland  mitigation  bank say representatives of a gas pipeline  company  are pressuring them to accept an agreement  to allow a new  pipeline to be built on their  property,  preventing  any future work on the wetland bank.   
The Federal Energy Regulatory Commission gave Transcontinental Gas  Pipe Line  Company the go-ahead to begin construction on their  8-mile pipeline expansion  in Fauquier and Prince William counties  on Jan. 31.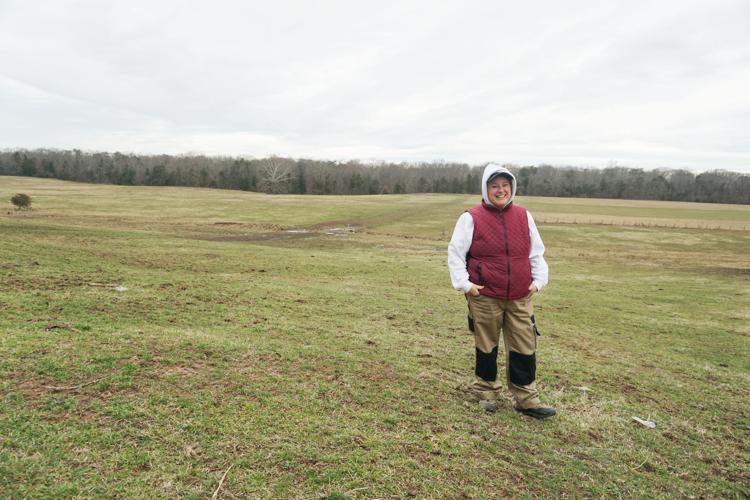 The owners of the  Catlett  property, Shannon Jensen and Larry Smith,  said Transco is pressuring them to accept an agreement or face condemnation proceedings, which would allow the pipeline company to begin construction on the property without the landowners' permission  while compensation is decided in court.  
"They have no signature. They have no approval from us right now," Jensen said. "I don't think they can do this without evidence that they've made a good faith effort with us, and they haven't."  
Jensen and Smith said  they  had  hoped to reach an amicable settlement with Transco, but said it  was  clear the pipeline company is planning to move ahead with construction without  reaching  an agreement.   
"I don't intimidate easily. But I do feel that there is something going on there that shouldn't be going on," Smith said.  "It sounds like their tone of voice has more force behind it."  
Virginia Waters and Wetlands, the  environmental consulting  firm working with the landowners  on the wetland bank,  said  the pipeline route  will  overlap 3 acres of  conservation easement on  the  property needed  for construction of the  wetland bank,  effectively killing the bank.   
Wetland mitigation banks exist to allow developers to purchase credits toward preserving area wetlands as a means of offsetting damage to wetlands or streams in other areas. 
A conservation easement and restrictive deed on the property, located at  2652 Catlett Road,  were recorded with Fauquier County in June 2018.  
"We estimate the new pipeline easement to overlap about three acres of the established conservation easement. But those three acres impacts the entire bank," said Virginia Waters and Wetlands Environmental Consultant Allison Austin.  
The bank, called Millers Stream Crossing Phase II, is  currently pending approval from the U.S. Army Corps of Engineers and the Virginia Department of Environmental Quality.  Virginia Waters and Wetlands began working with the landowners on the proposed wetland bank in January 2018.  
Virginia Waters and Wetlands  Vice President Andrew Hindman  said the bank, if built, would be valued at approximately $5 million, but that Transco is offering the firm and landowners far less than that – about $500,000 – for the necessary right-of-way property.   
Erica Jones, a spokesperson for Transco's parent company Williams Partners, said that as of Monday, Feb. 10, Transco  was  still working with the  firm and the  landowners  to  reach an agreement.  
"We're continuing our negotiations and hope to reach a mutually agreeable solution with the landowner and other stakeholders," Jones said.  
Transco Land Representative Charles Ryan sent a letter to the landowners and the firm on Feb. 4  demanding that the parties  stop  work on the wetland bank. Ryan said the proposed wetland bank, and the easements related to it, violate the pipeline's existing right-of-way agreement granted  to the company in 1949 and 1969.   
"Transco hereby insists that you each confirm in writing that you will not proceed with construction of the Mitigation Bank Project unless it is modified in a manner that Transco agrees  will not violate or impair any of its rights or privileges under the existing right of way agreements," Ryan's letter said.  
Hindman, in a Feb. 6 letter addressed to FERC,  called the pipeline company's actions "blatant bullying."  
"Landowners are being presented with misinformation to pressure agreements for Transcontinental Gas  Pipe Line  Company's new right-of-way along the Southeastern Trail Project. The landowners are visibly shaken and feel threatened," Hindman's letter said.   
Virginia Waters and Wetlands President Joseph Ivers, in a Feb. 5 letter to FERC, said the pipeline company was attempting to intimidate the firm into signing an agreement.   
"Representatives from the Transcontinental Pipeline in Fauquier County were in my office again yesterday intimidating my firm with supposed legal documents and demands for us to take pennies on the dollar or they will take our land, killing our stream and wetland mitigation project," Ivers wrote.  
Virginia Waters and Wetlands staff said  reaching an agreement with Transco at this point is unlikely.  
"To me, it raises a lot of questions about, you know, FERC authorized the pipeline and unleashed a private company onto all the landowners along that pipeline without offering a whole lot of support," Hindman said. "It's unfair to the landowners."  
FERC approved the pipeline's environmental assessment in October 2019. A Williams Partners press release announcing the pipeline's federal approval said the company aims to have the project completed and in service by November 2020.