Ahead of his first day on the job today, new Prince William County Police Chief Peter Newsham said he is open to some police reforms and accountability measures, including a proposed civilian review board and publicly disclosing the police department's use-of-force and traffic-stop data.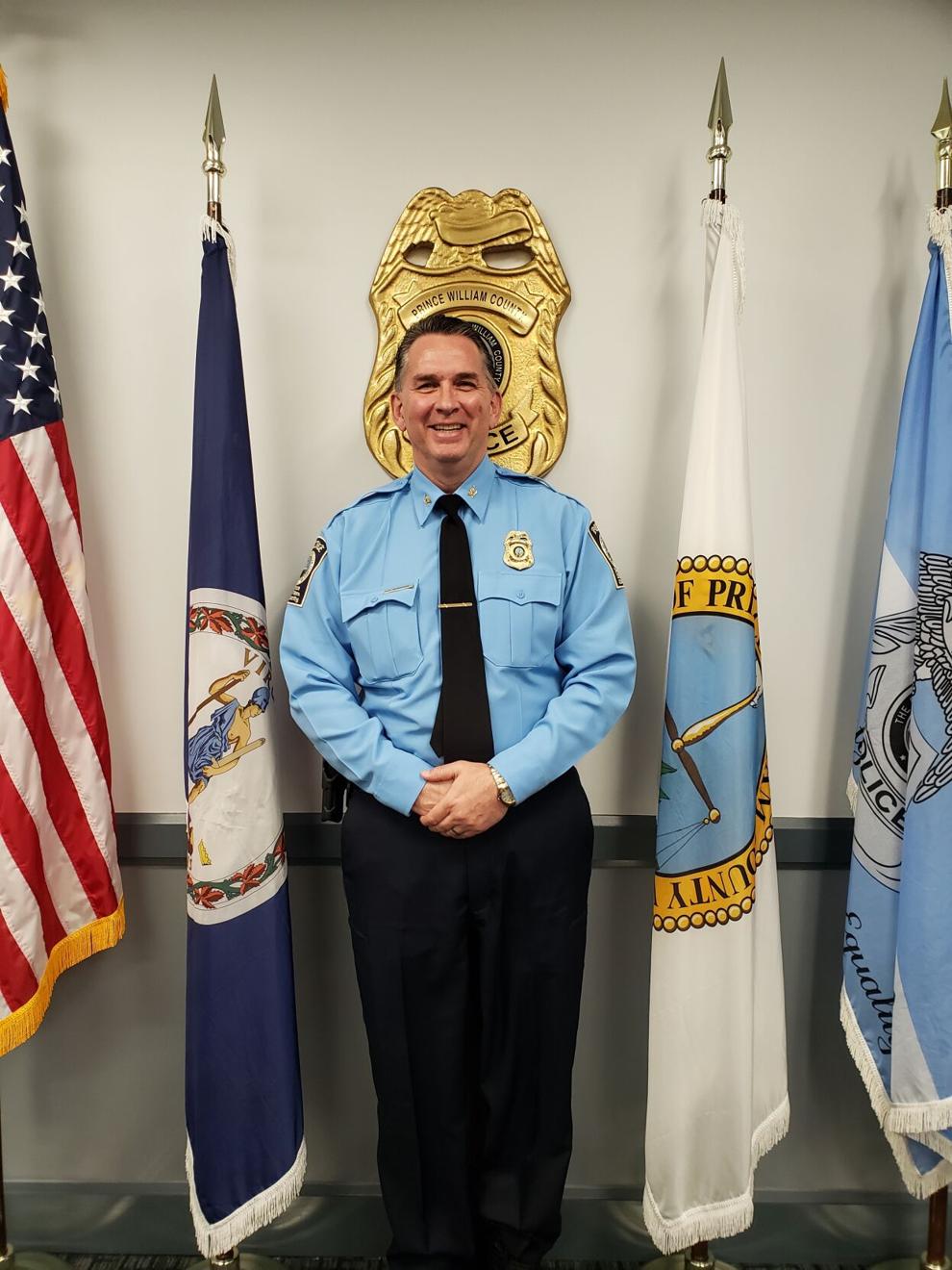 Newsham, 56, previously served as the chief of police of the Washington D.C. Metropolitan Police Department from 2017 until his retirement last month.
Several organizations and activist groups in Prince William, including the Prince William NAACP, CASA in Action and Prince William Mutual Aid, have opposed Newsham's hiring, prompting several small protests in recent weeks, including one that took place Saturday, Jan. 30.
In a wide-ranging interview Friday, Jan. 29, Newsham talked about national and local police reforms, including a local effort to create a civilian review board  in 2021. Beginning July 1, Virginia localities can create civilian review boards with the authority to independently investigate police misconduct and officer-involved shootings and even mete out punishment for officers who break the rules.
Newsham also said he would publicly report police use-of-force data annually. Those reports typically include racial and demographic information. He also said he would consider collecting traffic stop and arrest data to examine possible racial disparities.
African Americans are disproportionately arrested in Prince William County, making up about 40% of arrests, but only 22% of the population, according to a December report by the DCist. 
Newsham also said he would make it a priority to hire more minority police officers. Less than 10% of the Prince William County police force is African American, also reported by the DCist. Newsham also discussed police reform more generally, and talked about the Jan. 6 riot at the U.S. Capitol as well as the subsequent arrests of off-duty police officers who participated. 
Newsham's responses have been edited for length and clarity:
Q:  What are your thoughts on civilian review boards? Do you think they can be a tool for accountability and transparency? 
A: In Washington D.C., we had what is called the office of police complaints and that is an independent agency separate and apart from the police department. They could take complaints from folks in the community who had concerns about how they were treated by the police department. I had a very good relationship with the director of the agency. I think it worked really well in Washington, D.C. 
They would also periodically do reports on issues they thought were important in policing and they would make recommendations to the police department for change. And that actually worked out very well between us and that agency. The large majority of the times that they made a recommendation for a process or something that they wanted changed, we would do it. There were very few times that we didn't do it, and we would explain to the agency why we thought it was not a good idea.
So, my experience in Washington D.C. is that if you do it the right way, it can be very effective. And I also think it provides for the community a place where they can go, particularly for folks who don't trust the police, it provides a place where they can go if they have a concern with the police department.
Q:  What do you see as a benefit of having a police department that looks like the place it's policing? 
A: I'm a firm believer that your police department has to reflect the community that they serve. So, I think that that's going to be one of the priorities that I will have as the new chief is to ensure that we create a police department that looks like Prince William County. And so, to the extent that has not occurred, I will consider it one of my priorities. 
This is an issue where I'm really going to need help from community leaders in Prince William County, because in policing right now, we have a little bit of a problem attracting young people, but particularly young people of color into the profession of policing. So, I'm really going to need community leaders to assist with identifying young people who are interested in doing this job. 
And then the other part of this is to have a police department where young people of color feel comfortable working. And I'm not saying that Prince William County is not like that, but I just need to make sure that it is. And that's going to be one of my responsibilities as well.
Q:  Is it your understanding that's an issue because of the way that police are viewed more broadly? 
A: Absolutely. There's concern from everyone regarding policing across the country and then specifically, I think there's even more concern from young people of color. I also think there's a little bit of peer pressure, that our peers are saying, you know, 'How could you join a police organization?' So, I think that what I'm going to try to explain to young folks is that this is a service profession that we do, and this is what we're about. We're about helping people. And if you want to be a part of that, then join the team.
I think that if you're honest in those discussions and you really show people, as a police agency, how you're trying to help people, I think there's going to be a lot of young people. Because one of the things I've noticed about the younger generation is that they do seem to really want to be involved in service and public service. I just don't think they necessarily look at policing as being one of those organizations. And that's going to be my job … to point out how the police department does help people and that our number one goal every day when we come to work [is] to help folks.
Q:  The Metropolitan Police Department's 2019 use of force report and an ACLU report that analyzed police traffic stops in Washington D.C. showed a disproportionate number of police use-of-force instances and traffic stops of people of color. Could you speak to those reports?
A: When you look at the stop data, I want to say a first issuance was a six-month snapshot in 2019, and then we did one at the end of 2019, and they're going to do one every six months moving forward. That snapshot showed that there was a disproportionate number of stops on African Americans. And that information is really valuable to police. 
And then the harder question is, why? Why are there African Americans, for example, being disproportionately stopped. I think that's important for the county to have that information: who's being stopped, why they're being stopped. Because at the end of the day, what you want to make sure is that when the police do make a stop, that the stops are just, that they're unbiased, that they're constitutional.
And then another piece of this, and oftentimes police agencies miss this, you've got to explain to folks when they're stopped, why they're stopped. What is the information that you had that required the police to make a stop in that instance? And I think if we do all of those things, you're going to put yourself in a better place. I don't know what the stop data looks like in Prince William County. It's obviously one of the things I'll take a real good close look at. If there is disproportionate stops or disproportionate arrests in the county, then I'm going to have to try and get to the bottom of what's causing that.
Q:  Prince William doesn't publish an annual use-of-force report, while both Fairfax and D.C. do. Would you be in favor an annual use-of-force report in Prince William?
A: Absolutely. I think it's necessary. I think people need to see, you know, at the end of the day, sometimes our job requires a use of force. 
If you look at the use of force statistics in Washington D.C., 97% of the times that the police department have to make arrests in Washington D.C., in 97% of those cases, they don't use any force at all. And then in 3% of those cases they use force. And then in 1% of that 3%, they have to use what is described as serious force, which is a use of the taser or a service weapon. And I think that that information is something that the public ought to have. I think the police department ought to be accumulating that. 
I've already had some conversations with folks in Prince William County, and I know that they have the ability to gather that data. So, a long answer to your question is, yes, definitely, I think that's something that we need to do.
Q:  There has been lots of talk about whether police should respond to certain situations, like mental health calls, or if other first responders are better suited to take over that role. Is that something that you are in favor of doing?
A: I think that there's a lot of this discussion going on across the country about whether the police should be doing some of the things that they do right now ... An example which I know a lot of people are talking about is when the police get called to somebody who's in a mental health crisis. And I think in those instances, I do think we need to think about, is that a situation that we really want to put police in. It might be better suited for somebody who's a mental health professional to be able to deal with a situation like that. Sometimes when police are injected into those situations, it can exacerbate it, it can make it worse. We don't want that to happen. 
And then we can look at other things, too, that the police are doing that, people are saying, 'the police, they probably shouldn't be doing that.' So, I do think that those discussions are important. But the other thing that I would caution folks is before we say, 'We're not going to have the police do this anymore.' We've got to make sure that we have somebody in the government who does because communities have grown accustomed to having somebody handle those things. So, I think we can thoughtfully transition it to somebody else in some of those cases. I think you've got to do that first before you say we're just not going to have the police do this anymore.
Q:  Lastly, I wanted to ask you about the Jan. 6th Capitol insurrection. You weren't the acting chief at the time, do you have any experiences you'd be willing to share about it?
A: Not really. I mean, other than I'm kind of... disheartened is the word that comes to mind. When I see what happened at the Capitol, to see the United States of America and having that happen at our Capitol, it impacted me like it did most Americans. It's disgraceful.
With regards to the police response, they're having congressional hearings now to discuss that. I think it would be improper for me to get into any of that. Now, while that investigation is going on, I think if you listen to what most folks are saying it is that they're very critical of the Capitol police. I think from everybody who's looking at this thing, even the interim chief up there on the Hill, she's saying that they were just not prepared for it. And that to me is, I'm a little shocked by that to be quite honest with you.
They have a big police department up there. I know at MPD, we knew [Jan. 6] was a potential for trouble. We've had other events in the city that had that type of potential. It didn't materialize into what they had at the Capitol. But whenever you have that, you've got to prepare for the worst and then hope for the best. And it doesn't seem like the Capitol police did that, which is a shame.
Q:  There's been this slow trickle of information coming out since it happened, including more about the injuries sustained by both the Metro police and Capitol police officers. 
A: It was significant. Some significant people were hurt. And then you're talking about, just the way that the way it looks when you have people storming our Capitol. And it creates, moving forward, a whole new thing for police to think about. Some of those folks were armed, but that was really not an armed invasion. What that was, was a mass of people. They had implements, they had flagpoles and they brought in some bear spray and that kind of thing. But they were still able to have that type of impact on the nation's Capitol. So that's something you've got to be thinking about from a law enforcement perspective.
Q:  There are reports that [off-duty] police officers were at the Capitol that day, some of whom have been arrested and were actually inside the Capitol. How you feel about that?
A: That's disgraceful. I mean, it goes against everything that we do in policing. And so, the people that are involved in that behavior, police leadership seems like they're doing a good job of terminating those folks from being police officers any longer. I think that's one of the things, when you run a police agency, you have to be mindful of. You could have people within that agency who have extreme views, and one of your responsibilities as a chief is to ensure that those people are identified and, what's a good way to say this, that they're no longer a Prince William County police officer. 
Q:  Has that ever been an issue in the D.C. police department? 
A: There are all kinds of misconduct that I've investigated in my career involving police officers … The key is to have a management structure and a team of people that work at the agency who are mindful of that and are willing to identify it and willing to come forward if they see it. So, for example, if there's someone in Prince William County and they have those views, and they share it with a member of the agency, I'm hopeful that you have an agency where people will come forward and say, 'Hey, listen, this is what this person was saying the other day,' so we can get the ball rolling on getting that person removed from the agency. I think that's the best way to approach this kind of thing. 
You can only see and hear so much as a manager. But I think peer pressure in the agency is really the best way to kind of address these things. You've got to be running an agency where that type of stuff is not only not tolerated by management, but not tolerated by any of the officers that work there. Because one person like that will make your entire police department look bad. 
Q:  This last year has been a time of change in terms of how people view police department's role in communities. In a broader sense, how do you view this last year in regard to that discussion? Do you expect things to change over the next couple of years? 
A: Absolutely. I've got to tell you, my experience as a police officer is that we changed dramatically as an agency in the 30 years that I was there. I think that some of the events that have occurred in 2021 are going to accelerate that change. And I think we have to be flexible. We have to be able to listen to the concerns of the community. And at the end of the day, we've got to be willing to change. And that's another thing, I think if you have people in the organization who don't want to change, they probably need to find another place to work.