A group of "rural crescent" landowners has unveiled plans for an 800-acre data center development adjacent to Manassas National Battlefield Park that already has the backing of at least one Prince William County supervisor but is being opposed by local conservation groups.
If approved, it would likely be one of the largest data center deals in Prince William County history. 
The proposal strings together 30 parcels of agricultural land owned by 15 property owners on Pageland Lane in the county's designated rural area to be developed by a single data center developer. 
All the properties are in close proximity to a Dominion Energy transmission line but outside the county's data center overlay district, meaning the project will likely require a comprehensive plan amendment, a rezoning and a special use permit approved by the board of county supervisors. 
Not all the parcels in the plan are adjoining, however. The campus would be located in two clusters along the Pageland Lane corridor, referred to as the north and south sections, where the development would occur. 
Informally titled the "PWC Digital Gateway," the plan is being spearheaded by two longtime rural area residents, Mary Ann Ghadban and Page Snyder, their real estate broker and an unnamed data center user. In an interview Friday, Feb. 26, Ghadban, who is also a developer, said the data center user is preparing to file an application with the county but she declined to name the company with whom they are working. 
Prince William is among the counties with the largest concentration of data centers in the commonwealth. The huge, windowless, box-shaped buildings house computer systems critical for running the internet. They use large amounts of electricity and are often sited along major transmission lines.
Part of the proposed data center development would border Manassas National Battlefield Park, a federally protected park that spans about 5,000 acres. 
Katie Liming, a spokeswoman for the Manassas National Battlefield Park, said Monday the National Park Service is "closely monitoring" discussions about proposed changes in the county's land-use policies, including those along the western boundary of the park. Liming said the park service would provide a formal comment when an application is submitted.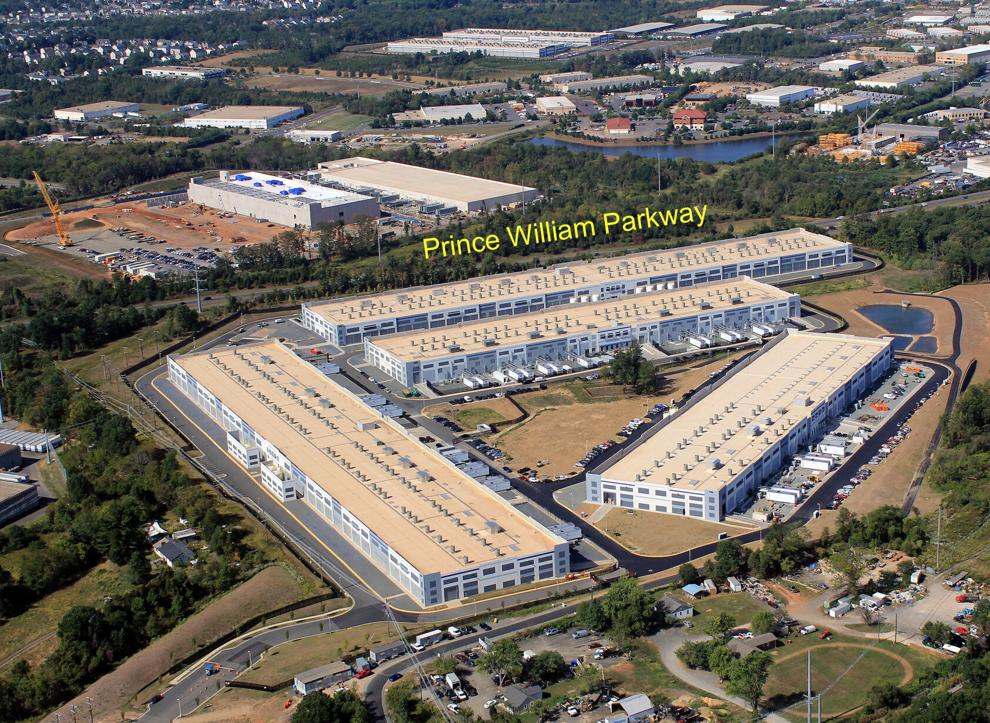 The landowners and data center user are also proposing to fund a $40 million nonprofit foundation as a condition of the project's approval that would directly fund county initiatives. Ghadban said the landowners have already discussed putting money toward a purchase of development rights program, an office of energy and sustainability and county school needs, among other things. 
The foundation would likely be the first of its kind in Prince William created as a condition of a rezoning application. It is unclear at this point exactly how the funds would be administered or whether the foundation would be a part of a proffer agreement.
The proposal for data centers in the rural area comes less than a decade after Ghadban and Snyder bitterly fought a plan to build the bi-county parkway between Prince William and Loudoun counties over concerns that it would have taken property along Pageland Lane without the consent of the landowners. 
But after the bi-county parkway was shelved in 2015, Ghadban and Snyder said increased development in the area, including a 1,000-space commuter parking lot under construction near her property along Interstate 66, new residential development at Heritage Hunt and a 153-acre data center campus on Pageland Lane approved in 2019, have since altered the area's rural character.
"[With] the pressures on Pageland Lane, it's not rural anymore," Ghadban said. 
Ghadban and Snyder also pointed to the potential tax benefits as a major selling point on top of the $40 million proposed for via the foundation if the project is approved. 
Local tax revenues from data centers have rapidly increased over the last decade. In 2020, data centers generated $64 million in local taxes and accounted for 94% of all capital investment in Prince William County, according to the county's economic development department. 
Loudoun County, which has been more aggressive in courting data centers, collected $423 million in local tax revenue from data centers in 2020, according to county officials. 
Neabsco supervisor backs proposal
The proposal has already been endorsed by at least one member of the board of county supervisors' Democratic majority.  
Supervisor Victor Angry, D-Neabsco, said in an interview last week that the project is a "magic pill" for generating new tax revenue that could be used to boost school funding while lessening the tax burden on county residents. And he said he hopes to get the proposal in front of board as quickly as possible.
Prince William County's residential property tax is the sixth highest in Northern Virginia at $1.125 per $100 in assessed value. And while the tax rate has remained the same since 2018, tax bills have continued to climb every year because of rising real estate assessments. The board is still debating a tax rate for fiscal year 2022, which begins on July 1.
"If we can do something about our tax base and do something about generating revenue for this county, we should be wholeheartedly charging at that," Angry said.
Angry also said he is in favor of removing the rural area boundary from the county's land use rules altogether to allow for more development there, including more data centers. He is the first supervisor to advocate for eliminating the current rural area rules entirely, but did not say what policies he would support to replace them.
The rural area takes up about 53% of all county land. But of that, only about two-thirds is developable. Current county policy allows only single-family homes on 10-acre lots and does not allow access to public sewer. Its zoning rules have limited the population there to about 27,000 people while the population in the rest of the county, known as the development area, has ballooned to about 443,000 people. 
Additionally, the county has started to run out of industrial-zoned land within its development area, a problem that has prompted some supervisors to ask the county to look more areas for such uses, including the rural area. 
Although Angry is the first supervisor to call for removing the rural area boundary, other Democratic supervisors have said they are open to incremental changes. Supervisor Andrea Bailey, D-Potomac, has advocated for placing a data center within the rural area in her district near the edge of Prince William Forest Park, but has since backed away from the idea. 
At-large Chair Ann Wheeler (D) said Friday that she would support adding more data centers "across the county" but declined to comment on this specific project. In the past, Wheeler has said she is open to allowing new industrial uses in the rural area under certain circumstances in an effort to attract new businesses. 
Supervisor Margaret Franklin, D-Woodbridge, said she had spoken with the landowners about the data center proposal but had not yet made any decisions. Supervisors Kenny Boddye, D-Occoquan, and Bailey did not return requests for comment. 
Republicans, conservationists oppose rural area data centers
The board's three Republican supervisors have largely opposed any changes to the current zoning of the rural area. Supervisor Jeanine Lawson, R-Brentsville, on Monday called the proposal an "absurd development idea," adding: "Even Loudoun County, the data center capital of the world, protects its rural area from this industrial use." 
Lawson has said in the past that she would not support adding data centers to the rural area over concerns that they could potentially require new transmission lines to come into the county and public sewer lines to be extended into the rural crescent. 
Supervisor Yesli Vega, R-Coles, did not entirely reject the proposal but said that the board should abide by the county's current land use rules, which would not permit data centers along Pageland Lane. 
"If the board decides to redraw the data center overlay district, then so be it. But if and until that happens, then everyone should be playing by the rules," she said.
Supervisor Pete Candland, R-Gainesville, whose district would include the proposed data center project, did not return phone calls requesting a comment. 
Conservation groups have begun raising concerns about the project's impact on Manassas National Battlefield Park. 
Kim Hosen, executive director of the Prince William Conservation Alliance, said creating a data center campus near the park would be detrimental to an asset "that offers long-term benefits to tourism goals and protects our public drinking water."
"Data centers are notoriously loud, have high energy demands and replace wildlife habitat with impervious surfaces. Such facilities are more appropriate for an industrial area than a rural community bordering a national park," Hosen said. 
Hosen added that she believes any offers made by landowners and developers to mitigate the environmental impacts from data centers would "do little to offset the substantial environmental damage to a significant historic and environmental asset." 
Increased competition for data center development
In 2017, the Prince William Board of County Supervisors approved a 10,000-acre "data center overlay district" along the county's existing power corridors. It allows by-right uses for data centers, meaning data center applicants don't need to go through a lengthy special-use permitting process to get their projects started. 
But in the last year, at least two applications have been filed for data centers outside the overlay district, neither of which has yet reached the county board. Two more data center proposals outside the overlay and within the rural area, including the plan put forth by Ghadban and Snyder, have been discussed but no applications have been filed. 
The issue has raised questions about how much land is left within the data center overlay district, and whether there's not enough "viable" land in the district suitable for new data centers. But, so far, county officials have not been able to provide a clear answer about how much land is left within the area. 
The county's Economic Development Director Christina Winn said in an interview on Monday that the county is assessing how much land remains, but that the data will not be available for several weeks. Winn said assessing what land can be used for data centers is impacted by what land is for sale, the parcels' size and topography and whether they are near the necessary infrastructure. 
"It's really about what's available versus what's viable," Winn said. "... When you look at the data center overlay, there's a lot of small parcels that would need to be assembled to actually make a viable site."
Winn said that data center users approach the county's economic development department with proposals on "almost a weekly basis." But she said the county cannot act on many of those proposals because what is available "does not meet the requirements of that data center project." 
The data center market is becoming increasingly competitive, according to Josh Levi, president of the Data Center Coalition, a data center industry trade association. Levi said that because of recent technological innovations, data center users in Northern Virginia no longer need to be near Loudoun County and are looking for land further south, including in Fauquier and Stafford counties, to site their buildings. 
Asked whether Winn is concerned about data center users "leapfrogging" Prince William County to develop elsewhere if they can't find viable land, Winn said the county would need to find ways to remain competitive.
"That need to be close to Loudoun isn't really a factor anymore," she said. "So, in short, the competition is a lot wider. And we've got to continue to maintain our competitiveness."