More than 88,000 people in Prince William County have cast early ballots in this year's general election, bringing the county's voter turnout up to 30% with two weeks left until election day, according to county election officials. 
The number of early voters, both from people voting in-person at early voting locations and those who have returned absentee ballots, has already surpassed the number of early and absentee votes cast in 2016. 
Matt Wilson, a spokesman for the Prince William County Office of Elections, said the huge numbers of early votes is both "unprecedented" and "expected" given the new voting laws put in place this year by the Virginia General Assembly making it easier to vote. 
"It's going to be close to 100,000 early votes this year," Wilson said. 
Three polling places opened in Prince William County on Sept. 18 and another five satellite voting offices opened on Monday, Oct. 19. Wilson said the county elections office is expecting up to 4,000 early votes every day until the election. 
"The numbers are only going to get bigger and bigger," Wilson said.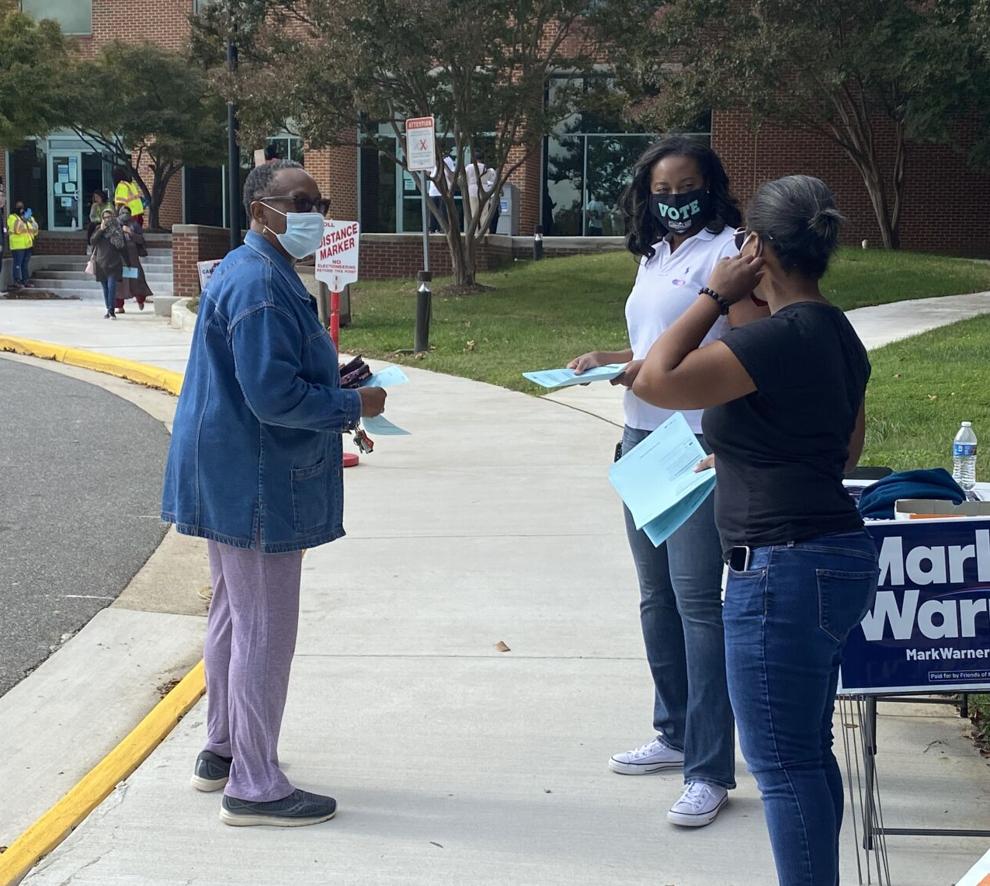 As of Oct. 19, 52,000 people have voted early in-person. Another 36,000 have returned absentee ballots, Wilson said. 
The Prince William Board of County Supervisors voted earlier this year to fund the five additional satellite voting locations throughout the county to accommodate early voters. At-large board Chair Ann Wheeler said the county's office of elections has been "knocking it out of the park." 
"Kudos to our office of elections for putting in place excellent health safety protocols. They have also been effectively handling what has been a huge increase from previous years and what will possibly be a record-breaking year for turnout," Wheeler said. 
Wheeler added that, with new laws passed by the Virginia General Assembly this year, "voting in Virginia has never been easier." 
"The expanded availability of in-person early voting has allowed Prince William County residents to participate in the democratic process in a safe and efficient manner," Wheeler said.
Across the country, early voting has been attributed to Democratic enthusiasm, but that might not be the case in Prince William County, if early vote totals are any indication.
Early voting numbers have been highest in voting precincts in western Prince William County, with turnout in two precincts – Heritage Hunt and Alvey – topping 50%. Both precincts voted for President Donald Trump in 2016. 
Thirteen of the county's 90 voting precincts have seen turnout already top 30%. Trump won seven of those precincts in 2016, while former first lady Hillary Clinton won six. 
On Monday, Oct. 19, both Del. Jennifer Carroll Foy, D-2nd, and Supervisor Margaret Franklin, D-Woodbridge, voted at the Dr. A.J. Ferlazzo building, one of the five additional polling sites that opened for the first time that day.
Foy, who is vying for the Democratic nomination to run for governor in 2021, said making it easier for Virginians to vote was a top priority for Democrats who won control of all three branches of Virginia's government last fall for the first time in a generation. 
"It's not a partisan issue. Everyone should have access to the ballot who is eligible. So we want to make it safe and easy and efficient for people to cast their ballot," Foy said.
Virginia's now ranks 12th among the 50 states in ease of voting, a dramatic rise from the state's nearly last-place ranking in 2016, according to a study by political scientists at Northern Illinois University, Jacksonville University and Wuhan University in China. The three rank states based on an index they developed that incorporates laws for both registering to vote and casting a vote in each state.
Still, both Foy and Franklin said they can think of still more ways to make it easier for Virginians to vote. Foy said she pushed this year to send a mail-in ballot to every registered voter, as some states decided to do during the pandemic, but was ultimately unsuccessful in that effort.
Franklin said she is looking into moving at least some of Prince William County's polling places from elementary schools, which are known for their limited parking, to more expansive locations such as commuter parking lots.
Both said they are not surprised to see more people voting this year .
"There's a sense of urgency. People know this is the most pivotal and consequential election of our lifetimes. And so they're voting because of … COVID-19, the economy, the over 210,000 people dying, many of them needlessly, because of the federal failure," Foy said. "People understand what's at stake and what's at risk, so they're showing up in historic numbers."
Chris, a 36-year-old Air Force veteran who declined to give his last name, said he came to the Ferlazzo building to vote Monday to avoid the possibility of long lines on Election Day. Also, he said he'd already made up his mind to vote for former Vice President Joe Biden, who he said is a better candidate when it comes to his core concern: equality.
"I feel like everyone should be treated equally and I don't think that's being shown around the world today," he said.
Also, he said he's tired of the political divisiveness that seems to be affecting every aspect of everyday life, including, he noted, online dating.
"It's on all the dating profiles. If you're for a certain political party, certain people don't even want to associate with you," he added. "It was never that way before. Things have never been so divided."