A long line of voters snaked around the back of the Woodbridge DMV Friday morning even before the doors opened at 8:30 a.m. By about 11 a.m., the first 200 local votes had been cast in this year's presidential contest a full 45 days before Election Day.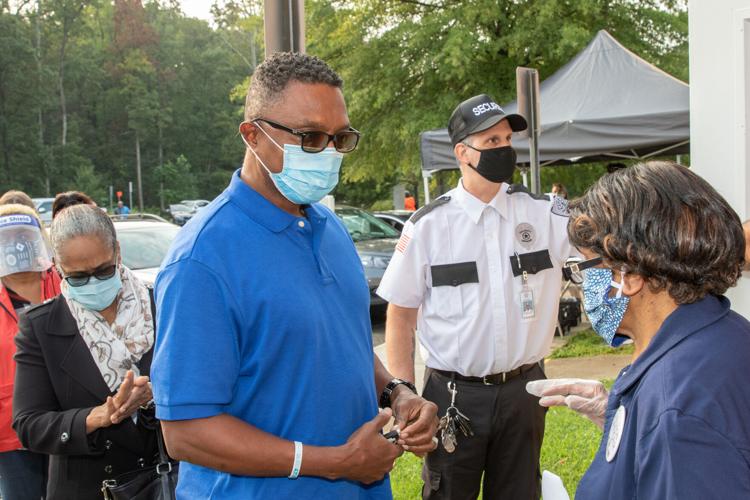 Schelley Hall, of Woodbridge, was at the front of the line. He said he arrived at the DMV at 6:30 a.m. because he was determined to cast his vote for former vice president Joe Biden as soon as possible.
"I didn't want to take any chances of not getting my vote in today," Hall said. "The country's become so divisive. We need someone with more heart and more gentleness in how they go about the business of the country. We need someone with empathy, and we don't have that right now."
While Hall might have been the first in line, he wasn't alone in expressing an urgency to vote Friday, the first day of early voting for the Nov. 3 election in Virginia. Polling places were crowded across the county as well as Northern Virginia, election officials said. 
In Fairfax County, which opened only one early voting location, people waited three to four hours to cast their ballots, according to Matt Wilson, spokesman for the Prince William Office of Elections.
But they stayed in line, Wilson said, just as they did at Prince William County's three early voting spots: the Woodbridge DMV, the county's Office of Elections in Manassas and at the Haymarket-Gainesville Community Library.
At the office of elections, voters were lined up outside the door by 7 a.m., Wilson said.
To deal with the crowd at the Woodbridge DMV, election officials called in police officers to direct traffic and sealed off part of the parking lot to set up a theme-park-style queue with yellow rope and plastic posts. By about 11 a.m., things were flowing smoothly, with wait times reduced from more than an hour to about 30 minutes.
The situation was similar in Manassas, where the line had mostly dissipated by noon on Friday. Still, there was a "steady flow" of voters throughout the day, Wilson said.
Like many voters in line Friday morning, Hall expressed strong feelings about his choice in the presidential race. Hall said he's concerned about President Donald Trump's handling of everything from the coronavirus pandemic to the Black Lives Matter protests and the economy. Hall said he recently lost a cousin to COVID-19 and has had other relatives hospitalized because of it. 
"I'm voting for someone who I don't think will be as deceitful as the person we're dealing with right now; someone who recognizes science for what it is, as opposed to thinking they know more than the scientists, which is absurd," Hall added.
Tara McKight, of Woodbridge, also waited about two hours to cast her ballot. She said she was there to vote for change.
"The change has to happen, for sure. So I want to make sure I get my vote in," she said. "I don't have any eloquent words for it. My motivation is for him to go away," she said of the president.
But Democrats weren't the only voters at the polls Friday. The opportunity to vote early also drew fans of President Trump's.
They included Jean and Walt Seiberling, of Occoquan, who said they arrived at 7:30 a.m. to cast their votes for the president. Jean said Trump "has done fantastic." Her husband agreed.
"He's been doing a good job handling the whole COVID plague, and then the economy, keeping that on track and managing multiple aspects of the country, while being attacked," said Walt Seiberling, 73. 
The Seiberlings agreed the pandemic's death toll has been "tragic" but gave Trump administration credit for "doing everything they can to mitigate that."
"He took action early on and brought industry in to help with ventilators and the masks. And the [process to develop a] vaccination has started early," Walt Seiberling added.
For the first time this year, Virginians do not have to have an excuse to cast an in-person, absentee ballot. That was part of several recent changes Virginia lawmakers have made to the election process and likely a big reason for the crowds on Friday, said Keith Scarborough, secretary of the Prince William Board of Elections.
Scarborough said Virginia is now "one of the most progressive states" when it comes to voting. Election officials are also encouraging voters to cast their ballots via mail and have changed the rules in that regard, as well. 
Mail-in absentee ballots – which began to be mailed to voters on Friday – will include a postage-paid return envelope and will not require voters to obtain a signature from a witness. Mailed ballots must be postmarked by Nov. 3 but will be counted as long as they arrive at the office of elections by noon on Friday, Nov. 5, Scarborough said.
If voters request a mail-in absentee ballot and decide to vote in person, they are asked to bring their mail-in ballot to the polls so it can be canceled. If they vote in person before receiving their mail-in ballot, they will be asked to complete a special gold-colored form that will result in their mail-in ballot being canceled by election officials, Scarborough said.
Early voting will continue from 8:30 a.m. to 5 p.m. Mondays through Fridays and from 8:30 a.m. to noon on Saturdays until Saturday, Oct. 17, the same three locations that opened Friday:
Haymarket Gainesville Community Library, 14870 Lightner Road in Haymarket 
Main Office of Elections, 9250 Lee Ave., Suite 1, in Manassas 
DMV Woodbridge Customer Service Center Elections Office, 2731 Caton Hill Road, Woodbridge
Any Prince William County resident can vote at any of the above three locations no matter where they live in the county.
Starting Monday, Oct. 19, and continuing through Saturday, Oct. 31, the following additional locations will be open from 8:30 a.m. to 7 p.m. Mondays through Thursdays and from 8:30 a.m. to 5 p.m. on Fridays and Saturdays. 
Piney Branch Elementary School, 8301 Linton Hall Road, Bristow 
Charles J. Colgan Sr. High School, 13833 Dumfries Road, Manassas
Dr. A.J. Ferlazzo Building, 15941 Donald Curtis Drive, Woodbridge
James J. McCoart Administrative Building, 1 County Complex Court, Woodbridge
Dumfries Community Center, 17755 Main St., Dumfries
Reach Jill Palermo at jpalermo@fauquier.com