Dominion Energy has donated $5,000 to Democrat Candi King in the run-up to Tuesday's special election for the Virginia House of Delegates 2nd District, which is home to Dominion Energy's Possum Point power station and its coal ash ponds that border the Potomac River.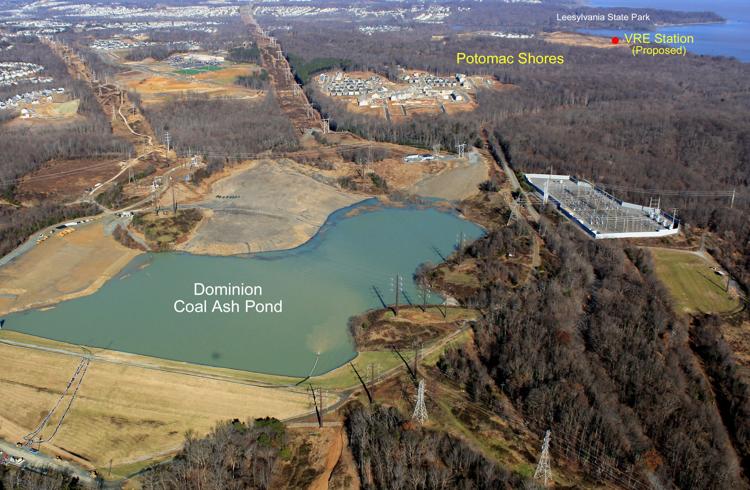 The power company is required to clean up about 5 million tons of toxic coal ash at the power plant as a requirement of a new state law passed in 2019 by either recycling the ash or moving it to a lined landfill. The company has not yet decided which option it will choose, or when it will begin the cleanup process. 
The donation also comes amid a growing boycott against accepting campaign donations from the power company by Virginia political candidates, some of whom say they want to avoid the appearance of influence through campaign donations. Dominion is among the state's largest political donors. 
So far, more than 40 candidates have pledged not to take money from Dominion in 2021, including the current 2nd District Del. Jennifer Carroll Foy, who is resigning the seat to focus on her run for Virginia governor. 
King, however, has not taken the pledge. But she has defended her decision, echoing Shirley Chisholm, the first Black woman elected to U.S. Congress, saying that, if elected, she would be "unbought and un-bossed." 
"There is not a company that can donate to me and purchase my votes," King said in an online candidates' forum held prior to the Dec. 13 Democratic primary for the Jan. 5 special election.
King added that Dominion, Virginia's largest publicly regulated utility, needs be held accountable to its customers, and that, "too often, companies like Dominion get away with highway robbery." Dominion was found to have overcharged Virginia ratepayers by $502 million between 2017 and 2019, according to an August 2020 report by the Virginia State Corporation Commission.
"They are able to overcharge people and they are able to not repay people fairly, and that needs to be addressed," King said.
In an interview Saturday, Jan. 2, King did not say whether she thinks Dominion should move its coal ash away from Possum Point or bury it on-site, but that the utility should be "listening to the environmentalists and scientists about the safest way to remove the coal ash."
"Businesses should not be determining the safest way to remove this," King said. "Dominion has had years to remedy this situation, so they should be listening to the experts."
King has outraised her opponent, Republican Heather Mitchell, ahead of the special election. King raised $103,000 compared to Mitchell's $27,000.
According to the 2019 state law, Dominion Energy must recycle at least 25% of its coal ash and dispose the rest of it in a synthetically lined landfill. The utility has about 27 million cubic yards of coal ash stored in pits at four Dominion power plants around the state.
The power plants – and the coal ash – are located next to major Virginia waterways: the James, Elizabeth and Potomac rivers. Although the law doesn't require it, the Potomac Riverkeeper Network is calling on Dominion to recycle the ash or move it away from the Potomac to protect the river from further contamination.
The coal ash buried at Possum Point has been an ongoing issue for residents who live nearby, many of whom have reported that the drinking water at their homes has been contaminated. Well tests conducted by Dominion in 2017 showed elevated levels of six contaminants linked to coal ash, including boron, chloride, cobalt, sulfate, nickel and zinc. 
Boron is considered by the U.S. Environmental Protection Agency to be an indicator of coal ash contamination.
Mitchell, who previously served as an aide to former Prince William Board chair Corey Stewart, said last week that she believes the coal ash at Possum Point needs to be moved to a landfill away from the power plant. 
"As an aide to the Prince William Board of County Supervisors Chairman when Possum Point was a major concern of the community, I know first-hand how coal ash has devastated the community," Mitchell said. "Coal ash must be transported away from Possum Point."
Dominion currently has no timeline set for when it will remove the coal ash from Possum Point. So far, the company has ruled out trucking the ash away to another landfill but has said it could haul the ash by train or barge.
Dominion spokeswoman Peggy Fox said Thursday, Dec. 31, that the company is "still reviewing all options for the safe removal of the coal ash at Possum Point."
Fox added that Dominion Energy's political contributions are paid by shareholders, not customers, and that the donations never come with "strings attached." 
"We don't ever put strings attached to donations. You know, we never ever say, 'We'll give you this, if you do that.' We just don't do that," Fox said. "I'm sure that we've given to politicians who have voted against our interests. So, we don't ever like to be part of the political landscape."
Reach Daniel Berti at dberti@fauquier.com