More than 1 million tests for the virus that causes COVID-19 have been conducted in Virginia since the pandemic began, including more than 68,000 in the Prince William Health District.
Local physicians involved in testing efforts, however, caution that the tests aren't always accurate and can result in false negatives, and to a lesser extent, false positives, depending on a number of factors.
"For any test to be 100% sensitive is not very common," said Dr. Wade Kartchner, the health director for the Rappahannock-Rapidan Health District, which includes Fauquier County. "And when sensitivity of a test falls below 100%, this means that some negative tests are actually cases." 
Kartchner said false negatives are sometimes the result of human error, such as swabbing a patient incorrectly. Much of the variability, though, comes from whether people have symptoms when they are tested.
"Research shows that the likeliest time for a test to be positive when a patient actually has a disease is three days after symptoms start," Kartchner said.
"The sensitivity is not great prior to symptom onset [but then] improves to 80% to 90% at around the third day after onset of symptoms, and then starts to decrease again after that," Kartchner said.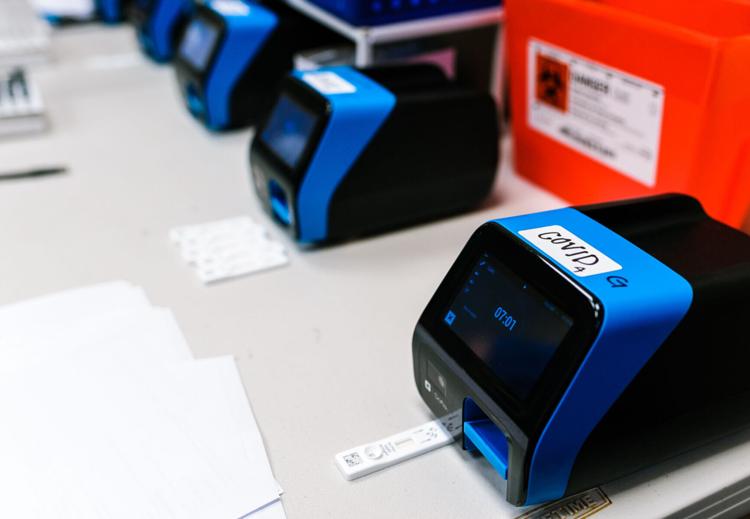 Dr. Steven von Elten, a physician at Piedmont Family Practice who administers the coronavirus testing program at Piedmont Urgent Care, agreed with Kartchner's assessment.
Three days before the onset of symptoms, von Elten said, it is highly unlikely a test will detect the presence of the virus, even if an individual has an active infection. 
Two days before the onset of symptoms, testing detects about 20% of active COVID-19 infections. Because the virus emerged so recently and large-scale peer-reviewed studies are still relatively few, there is little consensus about the exact detection rate.
The sensitivity rate increases substantially with the onset of symptoms, von Elten said. If a person is swabbed during the first day they experience symptoms, the test detects an infection about 60% of the time. By three to eight days after the symptom onset, the sensitivity rate rises to 80% or more. 
"If you're symptomatic, you still have to stay home and isolate yourself," von Elten recommended. "No test is 100% reliable."
The swabbing method itself, von Elten explained, is also key in obtaining accurate results. The nasopharyngeal method used at his clinic is the most reliable method that is practical in a clinical setting, he said.
There is concern, von Elten said, about symptomatic people who have tested negative getting "cavalier" and not taking necessary precautions to prevent infecting others. "Please, please, please follow the [Centers for Disease Control and Prevention] guidelines," he said. 
The CDC recommends that symptomatic individuals who test negative "should keep monitoring symptoms and seek medical advice about staying home and [whether] to get tested again."
Kartchner echoed this sentiment. "[I]f one is sick and has a negative PCR [test], the public health recommendation would still be to stay home until symptom-free for 72 hours."
Both Kartchner and von Elten said false positives from coronavirus testing are far less common than false negatives, but are not unheard of.
"Since the PCR test uses unique genetic sequences of the SARS-CoV2 virus, the specificity can approach 100%. This means that if one tests positive, they can reliably bank on having the illness. The greater issue is the sensitivity, since it relies on timing of the specimen and the technique used," said Kartchner, adding that false-positive results can still arise from "cross-reactivity" with another strain of coronavirus or from simple human error, like mixing up samples.
Antibody tests, which measures the body's response to a past COVID-19 infection, can also be problematic. False negatives from antibody tests can occur if not enough time has passed for an individual to develop antibodies. 
False positives can occur if people have developed antibodies to other coronaviruses that are similar to those produced when a person has COVID-19.
In any case, there is no understanding yet as to whether antibodies to the novel coronavirus provide any protection from future infections, Kartchner said.
Reach Coy Ferrell at cferrell@fauquier.com