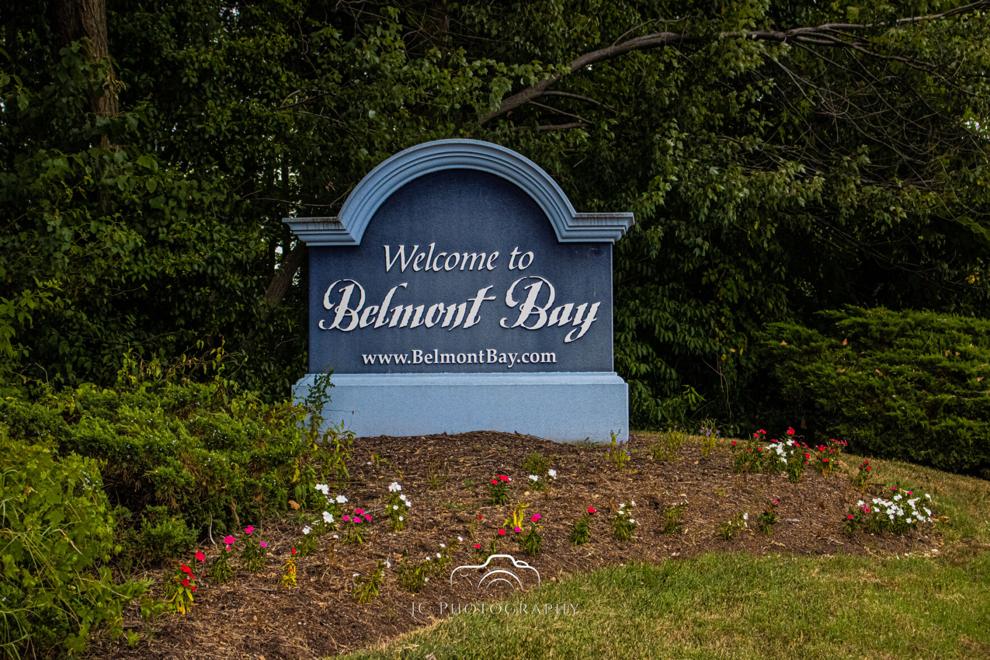 The developer that brought Woodbridge's Belmont Bay to life more than two decades ago is proposing another 1,400 homes, 90 acres of parkland and more commercial space in a plan aimed at giving the riverfront community a fresh shot in the arm.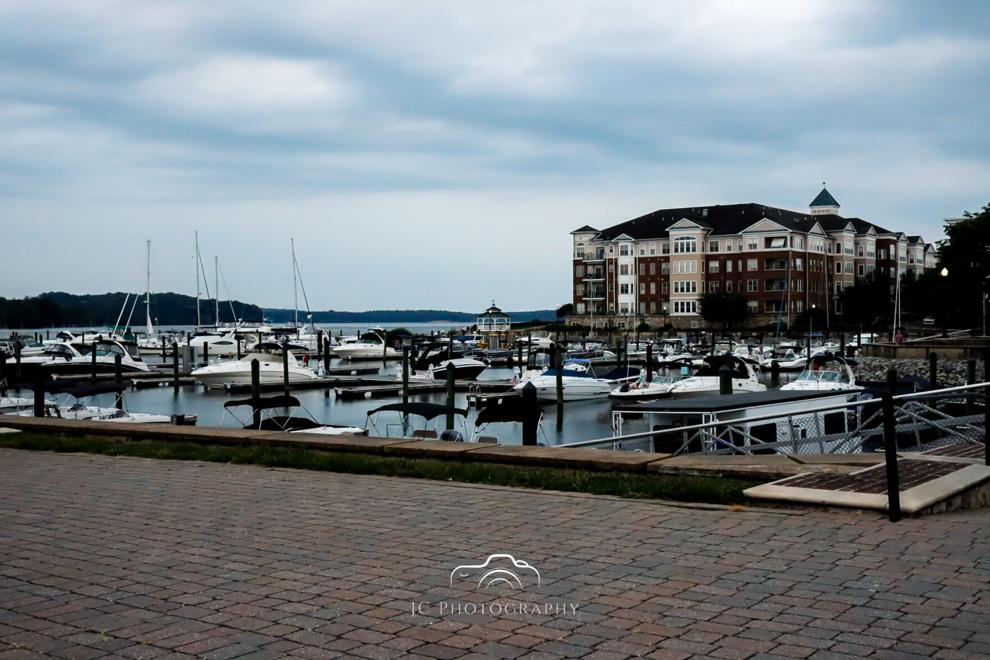 The Caruthers Companies, based in Northern Virginia, has submitted a redevelopment plan for the community that spans 170 acres and is estimated to cost about $550 million. 
The plans are focused around a mixed-use "marina district," designed by Sasaki, a Boston-based architecture firm. The district would sit between George Mason University's Potomac Science Center and the Belmont Bay Harbor marina. The area is currently vacant land that backs up to the existing Belmont Bay community.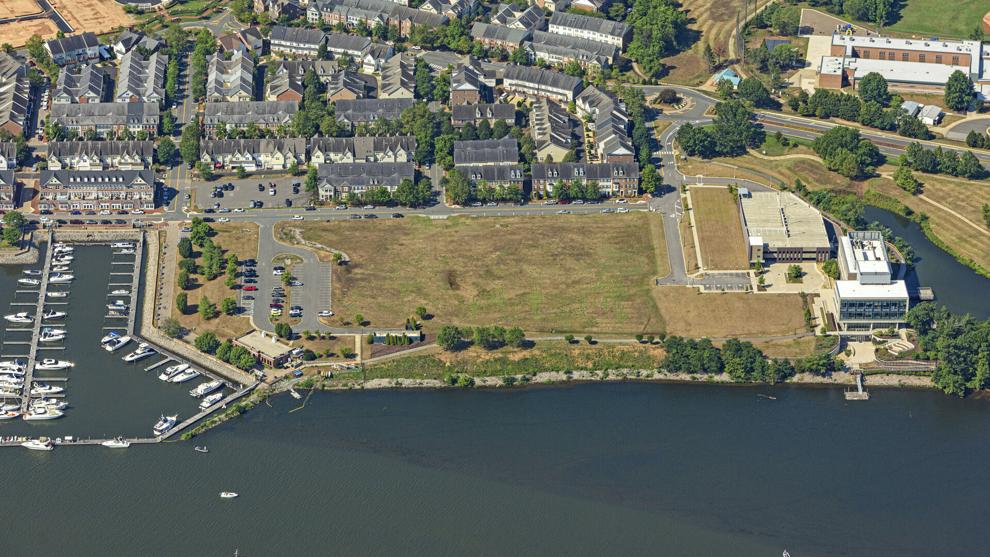 The marina district plan includes several mixed-use buildings with up to 473 rental apartments, retail space and a public waterfront park with a boardwalk, dining hall and an outdoor live performance stage. The park would feature a tree-lined area, known as a "bosque," and a cobbled "woonerf" street, a Dutch-style pedestrian walkway roughly translated as "a living street." 
The plan also envisions a launch for a recreational ferry, which is being considered as a first step toward – or possibly a replacement – to the long-discussed commuter ferry. 
"Instead of doing this moonshot commuter ferry that costs millions of dollars, let's get a boat out there that takes a taxi ride up to Old Town and maybe National Harbor on Saturdays and Sundays. We love that idea," Jay Sotos, development director for Belmont Bay, told the Prince William Times.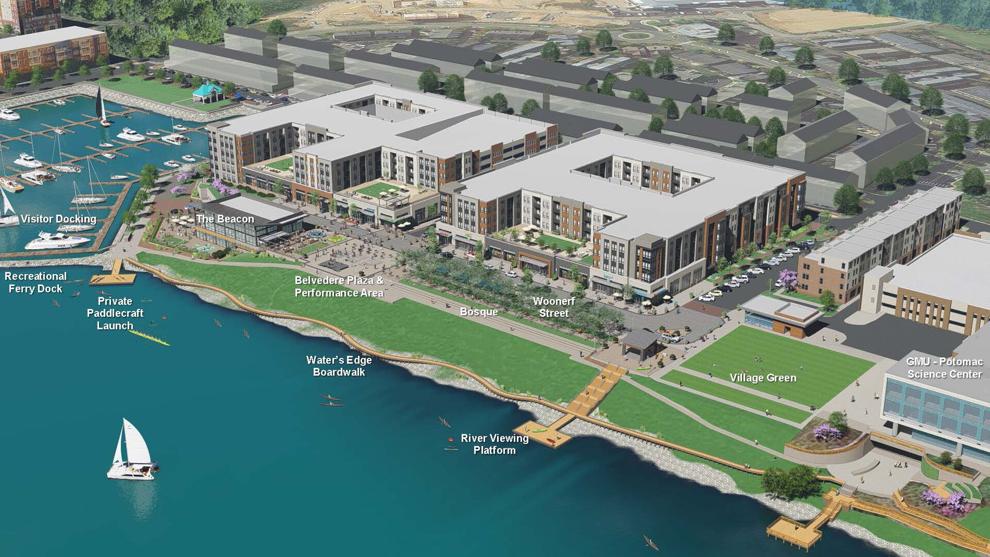 West of the Potomac Science Center, Caruthers is proposing to reforest and rehabilitate 30 acres of waterfront property formerly occupied by the long-closed Osprey golf course. The land would be designated as passive-use parkland, meaning it would be owned by Prince William County's Department of Parks, Recreation and Tourism but would have limited development or amenities. 
Another 60 acres of the golf course inland and west of the marina will also be reforested and rehabilitated. The golf course closed in 2015. All 90 acres will be given to Prince William County as public, passive-use parkland. 
"Two-thirds of the golf course will be county park. And we're going to be restoring it with reforestation and replanting native meadows," Sotos said. 
The plan would redevelop the remainder of the golf course, about 45 acres, with up to 575 apartments and single-family homes bordering the Occoquan Bay National Wildlife Refuge and the Occoquan River. 
Another 226 additional homes are proposed within the existing Belmont Bay neighborhood off Dawson Beach Road. And up to 327 rental units with more commercial development is proposed across from the Woodbridge VRE station, near the entrance of Belmont Bay on Express Way.
In total, the proposal would allow up to 1,390 new homes and apartments. 
The plan also calls for a "road diet" along Belmont Bay Drive, which would reduce the current four-lane road to two lanes. It would add new bicycle lanes, parallel parking and the possibility for new landscaping and lighting along the road. 
Plan complies with recently approved small-area plan
The Belmont Bay community was conceived in the 1960s by Arlington-based developer Preston Caruthers. Today, a third generation of family members is leading the company. 
"We are thrilled to move forward with the application and have our project become a catalyst for North Woodbridge while honoring the vision of my grandfather," Preston Miller, principal at The Caruthers Companies, said in a press release. 
The plan complies with the North Woodbridge "small area plan" approved by the supervisors in 2019, which is intended to spur investment in underutilized properties in North Woodbridge.
Christina Winn, executive director of the Prince William County Department of Economic Development, said the Belmont Bay plan would help "activate the waterfront, bring a placemaking feature to spur economic growth and attract a highly skilled workforce."
"We are excited for this opportunity and for Belmont Bay to leverage their potential destination status for residents, visitors and small businesses," Winn said in a press release. 
The plan needs both a rezoning and special use permit, both of which were submitted to Prince William County in July. The Prince William Planning Commission and board of county supervisors will likely hold public hearings on the plan in 2022.
Residents split on revitalization plan 
The plan to finish Belmont Bay is facing opposition from some residents and the Belmont Bay Homeowners Association, while other residents say they support the expansion. 
The Belmont Bay HOA submitted a petition in February, before the rezoning was filed, requesting that the board of county supervisors reevaluate the proposal with more public input. The petition cites concerns specifically about the creation of new, county-owned parks in the community that they say will "increase existing community safety issues" and add to existing parking challenges.
Several Belmont Bay residents expressed their apprehension about the plan at a July 21 planning commission meeting, which took place several days after the rezoning application was filed. Frim Nowicki, a Belmont Bay resident, said the rezoning would allow too many new homes in the neighborhood. 
"What was once a bucolic peaceful retreat from the workday … would become a nightmare to circumnavigate with increased residential density resulting in crowds, traffic, noise, garbage and possibly an increase in crime," Nowicki said. 
Joann Arrington, another Belmont Bay resident, said she is concerned about the rezoning's impact on nearby environmental resources, like the Occoquan Bay National Wildlife Refuge. 
"This rezoning will have a very negative impact on our very sensitive environment and wildlife," Arrington said. "... If the rezoning application is allowed to pass, the environmental gem that now exists in Prince William County will be destroyed."
Other Belmont Bay resident's think the community could use a boost.
Jeff Ovall, a Belmont Bay resident, said in an email on Monday that the proposal would help bring more traffic to the area to support new and existing businesses.
"There are vacant storefronts across from our marina that should be thriving businesses considering their beautiful waterfront views but sit empty because there isn't enough traffic to support them," Ovall said. "There is luscious greenery that could become family parks but instead are sitting idyll with only a few people using them for dog runs. With so much promise, it's hard to believe we don't even have a restaurant or coffeeshop in our neighborhood."
Nicole Canole, another Belmont Bay resident, said in a text message she supports the rezoning effort. Canole called it "a unique opportunity to breath incredible life into Prince William County and make it Woodbridge a premier place to live."
"The influx of new development means more money through retail and taxes. It means bringing in more families with higher incomes and better schools," Canole said. 
Woodbridge Supervisor Margaret Franklin (D), whose district encompasses Belmont Bay, said she is working with Belmont Bay residents and the homeowners' association to address their concerns. Franklin said her goal is to bridge the gap between the developers and residents and "guarantee that any development project is fully inclusive of feedback from residents who will be mostly impacted." 
"As we seek to revitalize the Route 1 corridor through the small area plan, it is imperative that all communities in North Woodbridge are part of that discussion including Belmont Bay," Franklin said in a July 26 statement.
"We still have a number of issues to iron out including public park space, density, and impact on the roads throughout the Belmont Bay community but I'm confident that if all sides remain open to discussions that we will all work towards a compromise."