Over Superintendent Steven Walts' strong objections, the Prince William County School Board voted Tuesday to allow students in grades four through 12 to return to schools as soon as late February, depending on COVID-19 metrics and the progress of vaccinating teachers and staff.
The school board will revisit the situation at their next meeting on Wednesday, Feb. 17.
Already, about 13,500 pre-K through third grade students, as well as special education students and those learning English, have returned to in-person learning. Most are attending on a "hybrid schedule," with students in schools two days a week and learning virtually from home the other three.
The school board called the Jan. 12 special meeting when they failed to reach an agreement on Walts' new timeline despite a protracted discussion that stretched to nearly 3 a.m.
The board voted 5-3 Tuesday, Jan. 12, to accept Lateef's motion, which effectively nixes Walts' recommendation in favor of delaying return-to-school dates by just one month from the current schedule, depending on COVID-19 numbers and vaccinations. 
That means fourth, fifth, sixth and ninth graders could return to schools as early as late February, while students in seventh, eighth, 10th, 11th and 12th grades could come back in early March.
Voting in favor of the motion were Lateef  (At Large) along with school board members Diane Raulston (Neabsco), Jenn Wall (Gainesville), Justin Wilk (Potomac) and Lisa Zargarpur (Coles). Voting against the motion were school board members Adele Jackson (Brentsville), Lillie Jessie (Occoquan) and Loree Williams (Woodbridge).
Walts: 'My plan is based on the health and safety' 
The vote came after Walts expressed strong objections to the revised timeline, which he called "unrealistic" based on the fact teachers are unlikely to be fully vaccinated by late February or even March. 
Walts noted that not one teacher has yet been vaccinated against COVID-19. According to the Prince William Health District, the county's teachers and staff won't begin getting the two-shot sequence until Jan. 30 at the earliest. Depending on the type of shots teachers receive, the shots must be spaced either 21 or 28 days apart.
Walts' recommendation to delay older students' return until April was also based on what he said would be the difficulty of maintaining the school division's mitigation strategies in middle and high schools. Walts noted the school division is able to "cohort" students in the younger grades and special education classes, keeping them in the same small groups and limiting their exposure to the novel coronavirus. That strategy is not possible, however, in the middle and high schools, where students must change classes, Walts said.
Also, Walts noted that social distancing would be more difficult in the much larger middle and high schools, especially in crowded hallways, which would also make contact-tracing more difficult. 
Walts' April timeline also built in a two-week pause after Spring Break to accommodate for a possible surge in COVID-19 cases due to traveling and gatherings.
Walts said he's been especially concerned by news reports noting the possibility of airborne spread even beyond the recommended 6 feet of social distancing, as well as the new variant of the virus, first discovered in the United Kingdom, which has proven to be more contagious. That mutation has been identified in several states, including Maryland as of Tuesday.
"That's why I have serious concerns," Walts said of Lateef's new timeline. "My plan is based on the health and safety and lives of students and staff."
Lateef: 'the vaccine changes everything'
But Lateef and other school board members said they believed waiting until April 20 and 27 to return older students would be waiting too long.
"I believe the vaccine changes everything. … The question is whether we get [them] or not," Lateef said.
Lateef said he believes a one-month delay from the most recent return-to-school timeline would give the school division time to see if COVID-19 metrics improve and whether efforts to speed up the vaccine distribution come to fruition.
The previous plan would have allowed older students to return to schools on Jan. 26 and 27 and Feb. 2 and 3. 
Lateef said the school board would revisit at their next meeting on Feb. 17 the staff's vaccination status and the results of this week's return of second- and third-grade students.
"If in February things are not where we want them to be with the vaccine … I will accept that we have to wait," Lateef added. "My concern is to push it off to the end of April is, I think, just too far."
"I see no point in even returning to school for only six weeks in the school year," said Wilk of Walts' plan to wait until April to return students to in-school instruction. 
Wilk also proposed allowing Tier 1 teachers to remain virtual. "Tier 1" is a term that refers to teachers and staff with documented health conditions that could make them more susceptible to complications of COVID-19. 
The school board took no vote on that proposal, however, and the Prince William Education Association has said that Tier 1 teachers and staff are already teaching and working in schools in person without the choice to remain virtual.
Custodian's death 'a heartbreaking reminder' 
Jessie objected to even current grades being in school given the county's 20% percent-positivity rate on COVID-19 tests and the spike in recent cases among students and staff learning both in school and virtually. 
Jessie homed in on the school division's surveillance reports, which show cases rising in November and December and spiking in January.
According to data presented Tuesday, there have been 390 COVID-19 cases among staff since November, including 128 among those working virtually and 262 among those working in schools in person. 
Among students, there have been 628 cases among students attending school virtually and 116 among students studying in person. 
The cases have risen over time, something school division officials attributed to a rise in community spread of the virus. Among students attending virtually, there were 122 cases in November, 243 cases in December and a 263 cases reported in just the first nine days of January.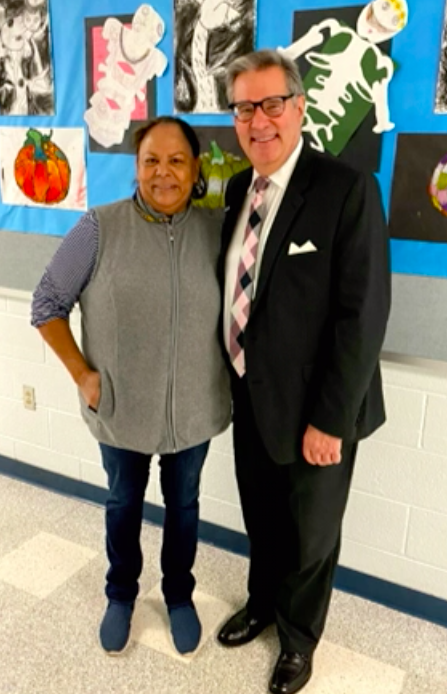 Walts said she was beloved by students and staff.
"People loved her, they respected her and she was great with the kids," Walts said, calling her death "a heartbreaking reminder of the seriousness of the virus."
Earlier Tuesday, school division officials said they don't believe Mejia contracted the virus at school given that she was exposed to someone at home who tested positive to the virus.
"When I heard about the custodian today, I lost it," Jessie said. "I don't think any of our kids should be in school. I don't think we should bringing in second and third graders. … I realize the surge is in our schools, and I don't think we should bring in any more kids."
Jessie called for all students to be virtual until the vaccine can be distributed and COVID-19 metrics improve. But no other school board members joined her call to pull back students already learning in schools.
Several speakers at the beginning of the meeting, however, questioned why the school board is so determined to bring students back into schools. 
Of about 30 people who spoke during the hour-long citizens' time before the school board debate, about 24 spoke in favor of keeping schools closed to in-person instruction while about five spoke in favor of returning students to classrooms as soon as possible.
Those who spoke in favor of returning students to schools complained of the pitfalls of online learning and the need to address students' emotional well-being. 
Those who spoke against it, including a woman who said she is suffering from COVID-19 and described it as "life-altering," expressed concern about Tier 1 teachers as well as the safety of students and staff.
Several urged the board to wait to return students and teachers to schools until they can been vaccinated.
Stan Glass, a Woodbridge dad of a high school junior, noted that the daily death toll due to the pandemic is akin to "a 9-11 every day."
"What is the motivation to bring our students back in the classroom when it is apparent that virtual learning is working for the students?" Glass asked. 
"I don't understand your motivation in allowing this. I think everyone needs to take a pause and consider, what if it were your child who got COVID and died? There is no take back. There is no do-over in doing this."