Prince William County schools are moving forward with a plan to bring pre-K and kindergarten students back into school buildings for in-person learning starting Tuesday, Nov. 10, despite current health metrics that show the county to have the highest rate of COVID-19 infections in Northern Virginia.
During a school board meeting Wednesday night, Superintendent Steven Walts told the school board the local health district's COVID-19 metrics place the school division in the "highest risk" category in one "core" and one "secondary" indicator in the Centers for Disease Control and Prevention's metric for assessing the risk of re-opening schools.  
As of Thursday, Nov. 5, Prince William's number of new cases per 100,000 residents over the last 14 days – a core indicator of the CDC tool – topped 200, placing it in the "highest risk" category. The same was true for the county's percent increase in cases over the last seven days, which is a secondary indicator. That number was 10.6%. Anything over 10% is in the "highest risk" category.
The Prince William Health District has had the highest rate of infection among 100,000 residents of any health district in Northern Virginia for the last several days.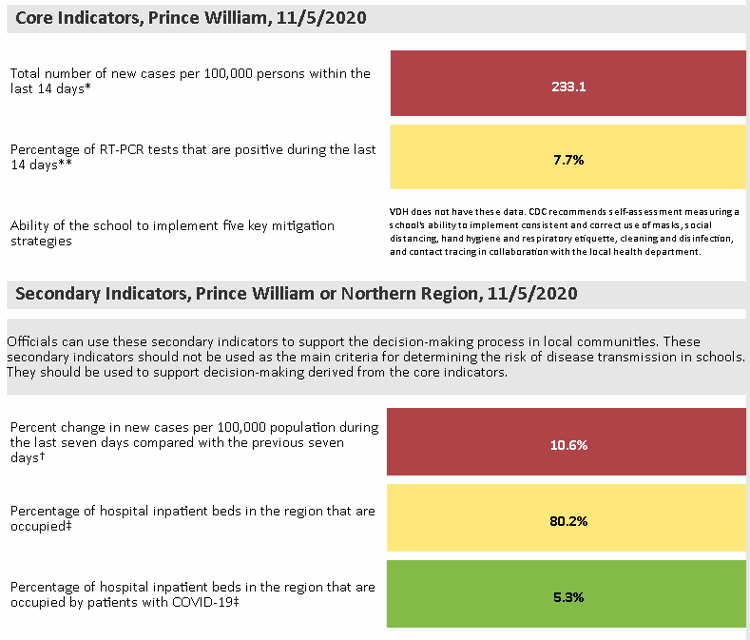 The county is in the "moderate risk" category in its percent-positivity rate on COVID-19 tests over the last seven days, also a core indicator. The county's percent-positivity rate is 7.7%. Anything between 5 and 10% is considered at moderate risk. The number of hospital beds in the region that are currently full is also in the moderate risk range at 80%.
Walts also told the board the school division has had a total of 130 positive COVID-19 cases among students and staff since the school year began Sept. 8, despite having only about 1,200 students attending in person. While some of those cases have required students and staff to quarantine, most have involved those working and learning virtually from home and were not directly connected to a school building. None of the cases have met the Virginia Department of Health's definition of an "outbreak," which is two or more cases among unrelated people stemming from exposure in the same place.
Walts noted, however, that if all affected students and staff had been working and learning inside the school buildings when they got sick, 71 of the division's 100 school buildings and centers would have been impacted.
"We continue to monitor local health metrics, and the trends are not positive, as COVID cases grow locally, regionally, and nationally," Walts said.
Still, Walts said the school division considers the county's overall risk to be in the "moderate to high" range on the VDH metric for local schools. In that range, the VDH advises school divisions to revert to the state's Phase 2 reopening guidelines, which allow in-school instruction for special education students, English-language learners and students in pre-K through third grade.
If "multiple" primary or secondary indicators enter into the highest-risk category, the school division "may enter Phase 1 guidance, which is the most restrictive for allowing in-person teaching and learning," Walts added.
Under Phase 1 guidelines, school divisions are advised to allow only students with disabilities to return to school.
Still, Walts said he is not proposing any changes to the current schedule for implementing the hybrid plan, which is set to begin for pre-K and kindergarten students Tuesday, Nov. 10.
Under the plan, students whose families chose to return to school in person will be permitted to return to school two days a week – either Tuesdays and Thursdays or Wednesdays and Fridays – depending on their assigned "houses." Monday will continue to be a virtual learning day for all students. Students in first grade will begin the hybrid schedule on Dec. 1, while all other grades will phase into hybrid instruction over several weeks in January and February.
The school board initially planned to launch the hybrid return-to-school plan at the start of the second quarter in October. But Walts delayed the move because of the local health district's high COVID-19 metrics. The current numbers are actually higher, however, than they were when Walts announced the delay Oct. 7.
At that time, Prince William County's number of new cases per 100,000 residents over 14 days was 134, which was in the "higher risk" range, and it's percent-positivity rate, at 6.1%, was in the "moderate risk" range.
The discussion about return-to-school plans came at the end of another marathon school board meeting that began at 7 p.m. but did not end until after 1 a.m.
The school board members who attended the meeting in person wore face masks but School Board Chairman Dr. Babur Lateef and Gainesville Representative Jen Wall took them off at times to speak. All students will be required to wear masks at all times "when 6 feet of distancing is not possible" while in school buildings and in school buses unless they are unable to do so because of a medical or developmental condition, according to the school division's return to learn guidelines.
Walts announced that families will have another chance to switch to in-person instruction for the third quarter, which begins Jan. 26. Parents will be able to update their preference via "ParentVUE," the school division's online parent portal, between Jan. 4-8.
The school division is moving forward with plans to outfit schools with the necessary technology to allow teachers to instruct students in their classrooms and virtual students working from home simultaneously. The upgrade of the school division's network to 100 gigabits is complete, and headsets and webcams are being delivered to schools this week, Walts said.
Also, the school division is expected to fully distribute the 47,600 computers it ordered for students one month early by winter break, Walts said.
School board members OK with less than 6 feet social distancing
Walts has been under pressure to allow students return to school by parents and some members of both the Prince William Board of County Supervisors and school board, including Lateef, who had criticized Walts' current plan as not being "aggressive" enough with regard to returning students to in-person learning.
On Wednesday, Lateef said other school board members said the school division's ability to mitigate the spread of the virus in the schools is more important the level of COVID-19 spread in the community.
They also acknowledged, however, that the school division cannot ensure 6 feet of distance between students and staff at all times, which is one of five mitigation strategies stressed in the CDC metric. Students will be closer than 6 feet apart on buses, in hallways and in some classrooms depending on the number of students and the size of the classrooms.
Still, some school board members said they consider a minimum of 3 feet of social distancing – with a goal of 6 feet whenever possible – to be sufficient.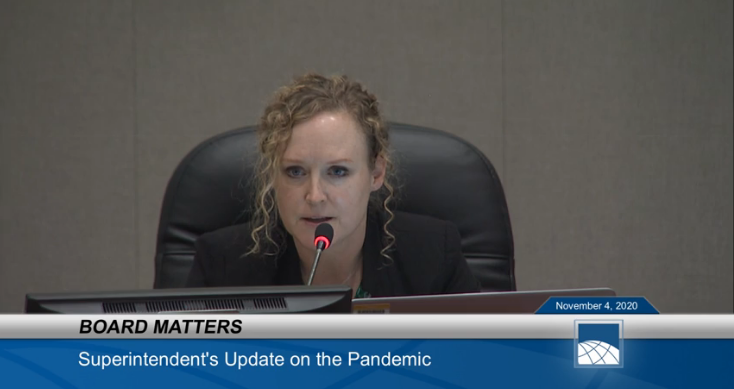 "The guidance isn't 6 feet at all times ever," said Wall, who has been a strong advocate for returning students to in- person instruction along with Lateef and Potomac Representative Justin Wilk.
"It's 3 feet at minimum, and 6 feet to the largest extent possible. And with that language, I think it's clear that we can meet that," Wall said. "So, it's not going to be perfect all the time, but what I think we're doing here is setting up an impossible standard that we're never going to be able to meet. … I think we've gone beyond what's required."
Occoquan School Board Representative Lillie Jessie, who has been among the board's more cautious voices regarding in-person learning, said she, too, wants students to return to school but noted, "We are surging with this COVID."
"I think we've got to be cautious and respond to what we see once these kids get back in school," she added. 
Lateef countered that the pandemic is not going away and that "cases and quarantines are inevitable and will happen."
"The most critical aspect of this entire effort … is our ability to mitigate because that's gonna be the only thing we can control, because this is with us for years now," Lateef said, adding that he is already urging school division administrators to plan for returning all students to school next fall.
Such a return, he said, might include standing up a separate program for teachers and students who want to remain all-virtual during the pandemic.
Jessie, however, noted that returning more students to school could require big changes, such as where classes are held. Woodbridge High School, she noted, has almost no windows and might not be optimal during the pandemic.
"I don't think we should be so anxious to get them back," she added. "I think I'd rather err on the side of caution. But at the same time, I want these kids back in school."
Coles District Representative Lisa Zargarpur noted that the only CDC mitigation strategy the school division cannot ensure consistently is the 6-foot social distancing. She said the schools' overall mitigation strategies should be enough to prevent the spread of the virus.
"This CDC thing is telling us how to go back to school -- not how to stay out of school," Zargarpur said.
Wall echoed her remarks, saying that schools should be considered "as safe as hospitals" given the mitigation strategies and extra cleanings.
"I don't know if there's any better place to work, if you have to be in person, than a Prince William County school," Wall said.
Lateef noted that once all students are permitted to go back into the building in February, which is when middle and high school students are scheduled to return under a hybrid schedule, students will have been out of school for nearly a year.
"I think we have been cautious. I think the division is doing everything they can to try to mitigate. We've received a lot of money to work on this mitigation, and these are the things we can control, we just can't control the virus," Lateef said.
During part of the meeting, the school board heard from high school principals about the effort to reduce the workload many high school students and their parents have complained about since the start of the school year.
Lateef, who has two high school-age children, said high schoolers seem to be working longer and harder and getting worse grades in the virtual program. The principals said they are working with teachers to moderate assignments and help students work on time management skills.
Reach Jill Palermo at jpalermo@fauquier.com