Despite having the highest COVID-19 school metrics in the region, Prince William County schools has no plans yet to change its schedule for allowing students to return to in-person learning.
During a school board meeting Wednesday night, Superintendent Steven Walts and other senior school division staff said Prince William County schools will not tie its decisions about in-person learning to any specific pandemic parameters, as school divisions in Fairfax and Loudoun counties have in recent days.
Instead, Prince William schools will consider the county's overall pandemic metrics – with a particular eye toward clusters or outbreaks in schools, regional hospitalizations and death rates – in deciding when or if to halt in-person learning, Denise Huebner, associate superintendent for special education and student services, told school board members during the Nov. 18 meeting.
Further, Huebner, who leads the school division's pandemic team, said decisions about in-person learning could vary from school-to-school, or even by grade level or classroom, in response to an outbreak.
"Considerations that may trigger a need to look at the adjustment of the risk threshold from 'moderate' to a higher level of risk -- or the highest level of risk -- would be an increase in hospitalizations, a lack of hospital beds," Huebner said. "An increase in the death rate would [also] be an indicator, or a trend that's recognized of kids being hospitalized and becoming infected."
"This will vary from situation to situation and may include classrooms, grade levels and or entire schools at times," Huebner added.
Walts said the school division is monitoring local and state COVID-19 trends and noted the current trend "is one of increasing transmission of COVID-19."
But Walts said he is not recommending any changes to operations at this time "due in large part to the limited number of students we have in the buildings currently coupled with our extensive mitigation efforts," he said.
Walts added, however, that if "more indicators reach the highest level" changes to operations could include "recommendations to delay further return of students or other mitigations."
The school division currently considers itself to be in the "moderate to high" level of the Virginia Department of Health's COVID-19 "Guidance for Schools." The designation stipulates that in-person learning should be considered for certain students with disabilities and English-language learners as well as students in pre-K through the third grade.
About 4,800 Prince William County students are currently attending school in-person, a number that includes about 3,600 pre-K and kindergarten students, who began attending school on a two-day-a-week hybrid schedule Nov. 10. About 1,200 students with disabilities and English-language learners began attending school four days a week on Sept. 8.
First grade students whose parents opted for in-person instruction are scheduled to return to elementary schools on a hybrid schedule on Tuesday, Dec. 1, which at this point will not change, Walts said.
Prince William exceeds 'highest-risk' thresholds in 3 of 6 CDC school metrics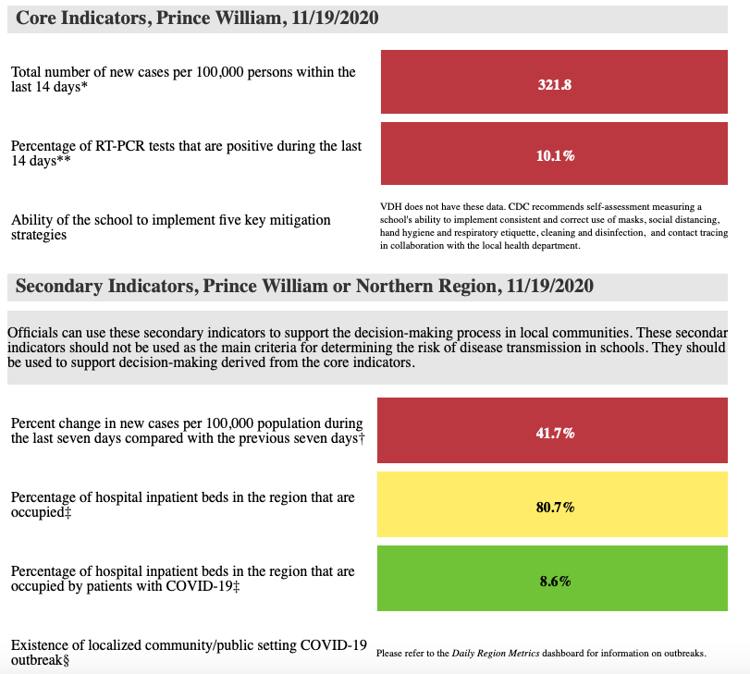 As of Thursday, Nov. 19, the Centers for Disease Control and Prevention's school metrics showed Prince William County Health District to have three of six pandemic metrics in the red or "highest risk" range.
They included the number of COVID-19 cases reported per capita over the last 14 days, which is 321.8; the percent-positivity rate on COVID-19 tests, now at 10.1%; and the percent increase in cases per capita week over week, which is now at 41.7%. 
According to the CDC, anything over 200 cases per 100,000 residents is in the "highest risk" range, as is a percent-positivity rate over 10%. An increase weekly cases per capita over 10% is also in the "highest risk" category. Prince William County's numbers surpass all three thresholds.
The county's numbers are in the "moderate" range for the percentage of hospital beds occupied, which was 80.7% on Thursday, and in the "lower risk" range in the percentage of hospital beds filled with COVID-19 patients, which stood at 8.6% on Thursday.
Theresa Polk, the school division's supervisor for school health services and also a member of its pandemic team, said there has been an increase in local COVID-19 hospitalizations but not enough to warrant a change in the school division's plans.
"There are still quite a number of beds available in the hospitals," Polk said.
Cases of COVID-19 among students and staff are being tracked and made available on the school division's website. There have been 112 COVID-19 cases logged among students and staff so far in November. Sixteen of those cases involved students and staff learning inside school buildings, while the rest were virtual. 
The dashboard does not indicate how many students and staff members are or were in quarantine because of COVID-19 cases or exposures. An email to the school division seeking that information was not immediately answered Thursday.
School Board reactions mixed
School Board members remained mostly quiet in response to Walts' assessment with the exception of Occoquan District Representative Lillie Jessie who said she was "not happy" with the fact Walts did not offer specific parameters for returning students to school based on the pandemic metrics, as other Northern Virginia school divisions have.
"You've decided that after Dec. 1, you are bringing first graders in, you said as health numbers permit it," Jessie said to Walts. "What numbers would have to happen for you to make a change?"
In response, Walts reiterated the school division is not looking at a single metric. 
"We consider all the different metrics," Walts said.
Earlier this week, Fairfax County called off its plans to allow 6,800 pre-school, kindergarten and special education students to return to school because COVID-19 metrics exceeded that school division's parameters, which require cases per capita over 14 days to be less than or equal to 200 and the percent-positivity rate to be less than 8%. 
As of Thursday, Fairfax County had 238.9 cases per capita over 14 days and a percent-positivity rate of 7.6%.
The Loudoun County School Board decided this week to halt in-person instruction if COVID-19 cases per capita over 14 days rise to more than 200 and its percent-positivity rate exceeds 10%, putting each measure in the "highest risk" category. As of Thursday, Loudoun had 214.1 cases per capita over the past 14 days and a percent-positivity rate of 8.4%.
In an interview Thursday morning, School Board Chairman Dr. Babur Lateef said it's "inappropriate" and "unfortunate" that some school divisions and the press are focusing on specific pandemic metrics.
Lateef said he agrees with Walts' and school division officials' decision not to halt in-person learning and to make decisions about reverting to virtual instruction on a school-by-school basis if needed. 
"We can't punish everybody for something that's happening in one location," Lateef said about the possibility of varying decisions by school. "We don't shut all schools down because one area has an issue."
Lateef reiterated that he believes the school division's ability to mitigate the spread of the coronavirus within school buildings is more important than the level of community spread of COVID-19, which is what the CDC school metrics attempt to quantify. 
Lateef also noted that the school division has already brought special education, English-language learners, preschool and kindergarteners to school buildings, mostly without incident.
Lateef also said he doesn't expect Prince William County schools to necessarily limit the return-to-school plan to only pre-K through third grade students even if the local COVID-19 metrics remain the same when fourth- and fifth-graders are slated to return in January. But he said that decision would be made by Walts. 
In general, Lateef said he believes allowing students to return to school in person should be the "default" position for all school divisions.
"The decision to return is not ever decided on one, two or three metrics alone. We look at all indicators and our ability to mitigate under the current circumstances. It is a complex decision. Decisions made will have intended and unintended consequences. Those all need to be thought through," Lateef said.
Regarding parameters set by Loudoun and Fairfax county schools, Lateef noted that both of those school divisions had more robust return-to-school plans in the works. Loudoun County, for example, is planning to open its schools to students in grades three through five on Dec. 1, if local COVID-19 numbers stay below highest risk levels.
"They were putting out a more aggressive return-to-learn plan than we were. Now they're halting it," Lateef said of Fairfax County. "Our plan is a more cautious plan that we believe we can stick to because we are going to be mitigating along the way."
Reach Jill Palermo at jpalermo@fauquier.com