Amy Ashworth and Tracey Lenox, the two attorneys vying for the Democratic nomination for commonwealth's attorney, agree on a lot, including that there's been racial discrimination in the administration of justice in Prince William and that the county should reinstate a drug court for nonviolent offenders arrested for low-level drug possession.
Two law-enforcement officers vying to be the Democratic nominee for Prince William County sheriff also hold similar positions.
Both Josh King, a Fairfax County sheriff's deputy and U.S. Army veteran, and Brian Fields, a Dumfries town councilman, former police officer and National Guardsman, agree on what could be a key issue in the fall campaign against Republican incumbent Sheriff Glen Hill.
Both say the county should end its controversial 287(g) agreement with Immigration and Customs Enforcement that authorizes Prince William sheriff's deputies to act as immigration agents in the county jail.
King says the 287(g) program is inappropriate in a majority-minority community and "has been used to discriminate against people of color."
"I want to find another way of dealing with this immigration problem, but I don't think us trying to detain and deport [undocumented immigrants] is the way," King said.
Fields notes his own family is comprised of immigrants. Both Fields' wife and his nephew, who he and his wife are raising, immigrated to the U.S. from Central America, Fields said.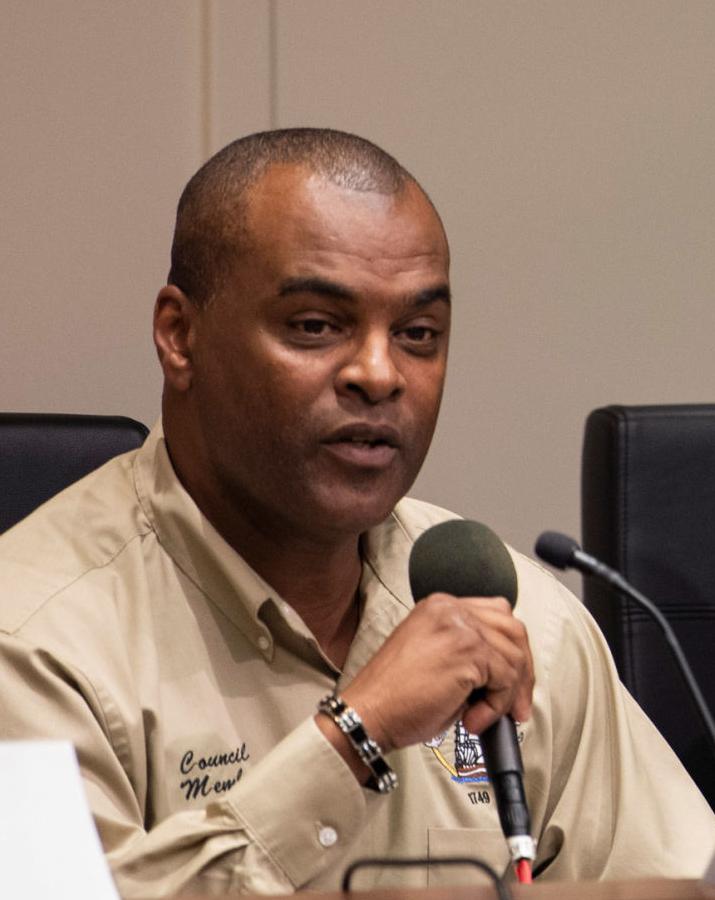 "Who better than myself to [keep from] tearing apart families? When many of these families are just like mine?" Fields said during a debate in the Manassas City Council chambers Friday, May 31. "I will not stand for it anymore, I will not go for it. I will try to keep our families together."
During the debate, sponsored by the City of Manassas and Manassas Park Democratic Committee, four candidates vying for the county's top law-enforcement sought to set themselves apart from their opponents despite several areas of common ground.
Ashworth, now a private attorney with Farrell & Croft in Manassas, said her experience as a prosecutor sets her apart. Ashworth is the only candidate in the race who worked as a prosecutor for incumbent Commonwealth's Attorney Paul Ebert, who is not seeking re-election after 50 years in office.
Ashworth spent 11 of her 23 years as an attorney working as a county prosecutor. She worked in the "special victims' unit," prosecuting child and adult sexual assault and cases, for nine years, she said.
"I can walk into that office on day one and know how to prosecute any case that comes before that office, because I've done it. I've prosecuted everything from speeding tickets to murder and I'm prepared to do it," Ashworth said.
Ashworth also notes she was the only Democrat who stepped up to challenge Ebert, a fellow Democrat, even before he announced in February he would not seek re-election.
Ashworth has not shied away from criticizing Ebert's management of the commonwealth's attorney's office, saying he did not do enough to recruit minority attorneys and did not focus enough resources on domestic abusers.
"There's a lot of good things about that office, things to build upon, but there's a lot of things that need to change," Ashworth said. "We need to focus on the crimes that cause the most harm. We need to focus on violent crimes. We need to focus on juvenile offenders and stopping the school-to-prison pipeline."
Lenox, meanwhile, has Ebert's endorsement in the race. She points to her 25 years as a defense attorney and 11 years as a substitute judge. As an attorney, she said, "I've literally tried every kind of case that would come before the commonwealth."
"I often sat in judgment, listening to cases being argued from both sides," she said. "So my experience is really deep and broad."
Lenox is now manager of the criminal division of Nichols & Zauzig. She serves on a county task forces examining the local opioid addiction crisis and the use of cash bail, which both she and Ashworth say should be significantly reduced because it keeps only those too poor to post bond behind bars while they await trial.
"It's a penalty on poor people," Lenox said.
Ashworth said the county needs to do more to support a pre-trial supervised release program, particularly in domestic violence cases. She said she would also assign a dedicated prosecutor to domestic abuse cases to build a stronger rapport with victims and successfully prosecute more perpetrators.
Both Lenox and Ashworth said they would actively recruit more minority attorneys to work in the prosecutor's office. Ashworth said she would require her attorneys to live in the judicial district -- Prince William County, Manassas or Manassas Park -- if she is elected.
Lenox said she would commit to collecting more data on outcomes, including plea deals and sentences, so the office is less of a "black box."
"Building a fair system is going to require robust data collection," Lenox said. "We  know the way justice has been administered in the last 25 years has not been equal… across all the communities of Prince William County."
Whoever wins the June 11 primary will face Republican Mike May, a private attorney and former Prince William County supervisor, in the Nov. 5 election.
Sheriff candidates want better training
In the sheriff's race, both Fields and King say the sheriff's office needs to have better training to help deputies recognize the signs of mental illness and deal compassionately and effectively with people with special needs.
Both also said the sheriff's office needs to work with the jail board to improve services for people who are incarcerated because of mental illness or substance abuse or because of issues relating to their military service.
Both also said they would create more opportunities for children to meet with sheriff's deputies under positive circumstances.
"Officers in uniform are not the boogeyman. We need to educate, not incarcerate," Fields said.
"The first time that a law enforcement officer has contact with a children with special needs should not be with handcuffs, or at a traffic stop," added King. "It should be at a local community event. I want to host more events with families with special needs."