Del. Luke Torian, one of the Virginia House of Delegates' most powerful Democrats, has been drawn into the same district as Del. Elizabeth Guzman, one of the House's most progressive Democrats, under new redistricting maps finalized by the Supreme Court of Virginia. 
Both delegates live in eastern Prince William County in the Woodbridge area. About two-thirds of the voters in the new district, now known as District 24, come from Guzman's previous district, the 31st District. One-third of the district's voters are from Torian's previous district, the 52nd District. 
Both lawmakers declined requests for comment about whether they would seek re-election in the new district. 
Torian, 63, who also serves as head pastor of First Mount Zion Baptist Church in Dumfries, was first elected in 2009. Torian became chair of the house appropriations committee in 2019, leading the powerful committee in 2020 and 2021 in ironing out the state budget. 
Guzman, 48, a social services administrator for the City of Alexandria, was elected in 2017. She has championed progressive causes such as paid family leave and laws allowing undocumented immigrants to obtain driver privilege cards. As a member of the Prince William-Manassas Regional Jail Board, Guzman helped end Prince William County's 287(g) agreement with U.S. Immigration and Customs Enforcement, or ICE, in 2020. 
The new redistricting maps were drawn by two "special masters" – one each selected by Democrats and Republicans – and overseen by the state Supreme Court after a bipartisan redistricting commission failed to come to an agreement on new state legislative and congressional districts.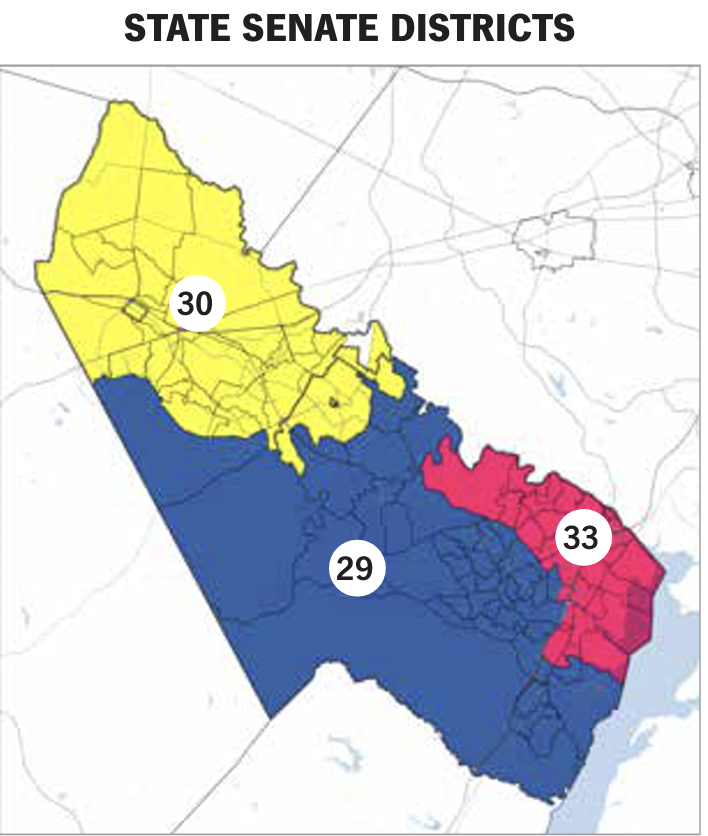 Also at the state legislative level, Prince William County will now have three state Senate districts that are either entirely or almost entirely within the county. The districts – the 29th, 30th and 33rd – would be split between western Prince William, Manassas and Manassas Park; Dumfries, southeastern Prince William County and north Stafford County; and Woodbridge, Dale City and parts of southern Fairfax County.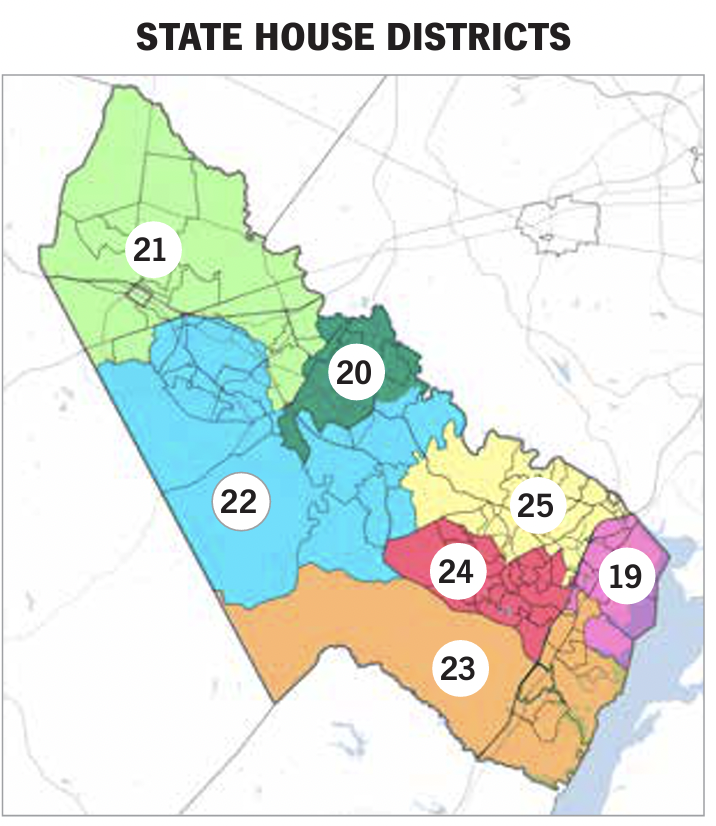 There will be seven total House Districts in Prince William County, down from eight. The new maps create two new state House Districts in the eastern and western ends of the county with no incumbent – the 19th and 21st Districts.
At the federal level, Prince William County will have two representatives in U.S. Congress under new redistricting maps. The western and mid-county area along with Manassas and Manassas Park will be within the redrawn 10th District. The eastern side of the county will be in the 7th  District.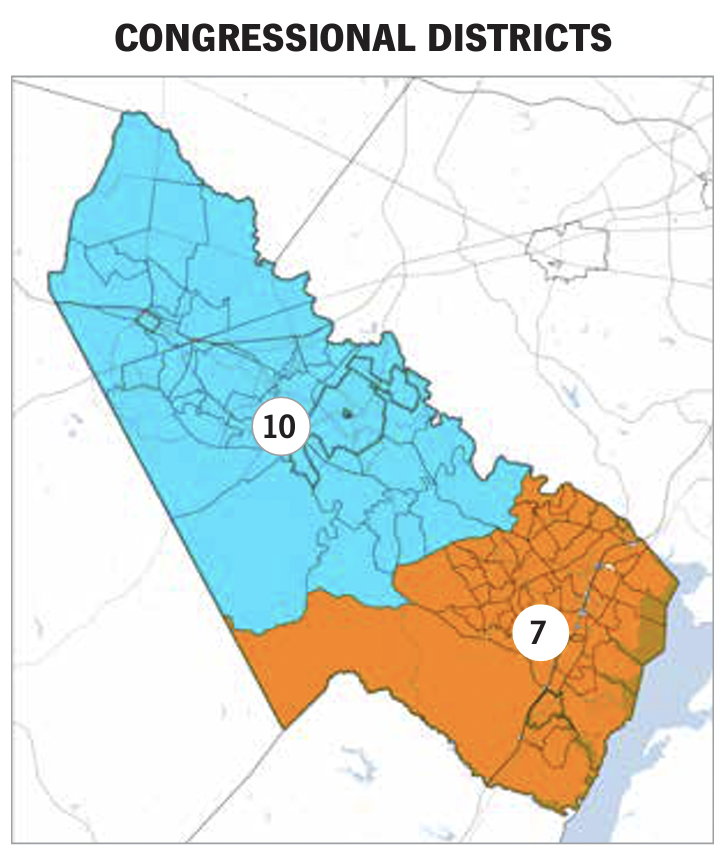 The 10th District is currently held by Rep. Jennifer Wexton (D), and the 7th District is held by Rep. Abigail Spanberger (D). 
Spanberger is drawn out of the previous 7th District, which was located in Central Virginia, south of the new district. The new district encompasses eastern Prince William County; the City of Fredericksburg; Stafford, Spotsylvania, Caroline, Culpeper, Greene, King George, Madison, and Orange counties; and part of Albemarle County.
Spanberger, 42, of Henrico County, announced on Wednesday, Dec. 29, that she will seek re-election in the newly drawn district, even though she does not live within the district. 
"Nearly 200,000 Virginians in the new Seventh District have already been my constituents under the current district lines, and I look forward to continuing my service representing them as well as my future constituents. I will continue to work hard on behalf of their families, their businesses, their farms and our local economies in the years to come," Spanberger said. 
Wexton, 53, of Leesburg, announced on Wednesday, Dec. 29, that she will seek re-election in the 10th District. Wexton was first elected in 2018 and re-elected in 2020. 
Several Democratic elected officials and former elected officials from Prince William County had previously announced their interest in running for U.S. Congress in the 7th District after initial drafts of the maps released earlier this month. The initially proposed 7th District encompassed all of Prince William County, Stafford County and the City of Fredericksburg. 
State Sen. Jeremy McPike, D-29th, Guzman, Prince William County School Board Chair Dr. Babur Lateef, and former House delegates Hala Ayala and Jennifer Carroll Foy, all said they would consider running for U.S. Congress in the 7th district under the first version of the map. 
As of this week, none had formally filed to run for the seat.  On Twitter, Lateef called the new maps a "VA Supreme Court fail." 
"PWC split into [two] districts, splitting a majority-minority community. This continues the gerrymandering that has weakened the second largest county in Virginia for too long insuring underrepresented minorities remain underrepresented," Lateef said. 
Tonya James, the chair of the Prince William County Democratic Committee, said in a Thursday, Dec. 30 interview that the new congressional and state legislative maps are a step in the right direction for Prince William. 
"With regard to the congressional map, I would have preferred to see the totality of Prince William in one congressional district. However, I do see an opportunity for the most diverse locality in Virginia to be represented adequately by two Democrats. I believe that that we will be able to keep both of those seats," James said. 
But James added: "I don't necessarily believe that the redistricting process worked well this time, and hopefully the General Assembly will fix it before the next census comes."
Elections for U.S. Congress will take place in November 2022. Elections for the Virginia state senate and house of delegates will be held in November 2023.