The Prince William County Planning Commission has signed off on a plan that aims to re-brand Dale City into a more economically viable community that could accommodate between 4,475 and 13,919 new residents and 6,000 to 19,000 new jobs by 2040. 
The commission approved the Dale City Small Area Plan on Wednesday, Oct. 2, in a 6-1 vote. It now heads to the Prince William Board of Supervisors, which will decide whether to adopt it into the county's comprehensive plan. It's one of six proposed "small area plans" supervisors initiated in 2016 to prepare for future growth. 
The Dale City plan, which encompasses approximately 3,036 acres, calls for mixed-use developments as well as high-density and suburban neighborhoods with an estimated 1,835 to 5,362 new homes. 
The plan allows for a mix of new units and various densities depending on their location, according to Alex Venegas, a former county planning commissioner who is now a member of the planning staff.
Additionally, while the plan outlines areas where the county would like to direct growth, the plan does not automatically rezone land. Requests for rezonings would still have to be initiated by developers or applicants and "would have to undergo the normal public hearing process," Vanegas said.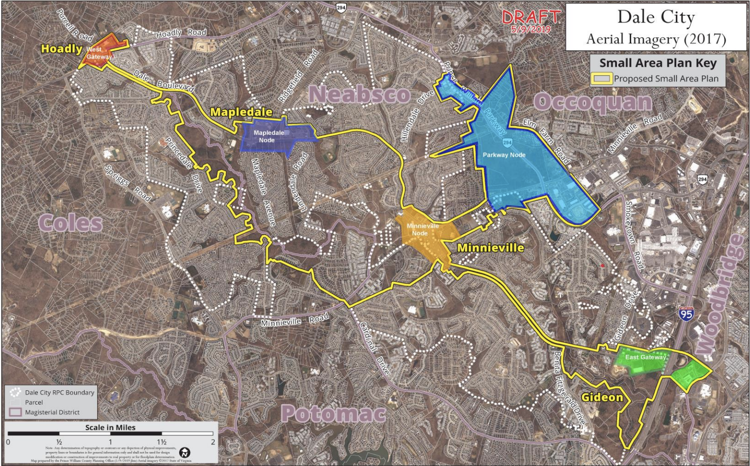 Nodes of development
The plan breaks up the area into "nodes" along the Dale Boulevard corridor, at intersections with Hoadly Road, Mapledale Avenue, Minnieville Road and Gideon Drive, and in the Prince William Parkway area. 
Three of them, Gideon, Hoadly and Minnieville, would be centered around expanded "transit centers" -- OmniRide stops with associated commuter lots.
The plan envisions directing higher-density development around the transit centers as a strategy to promote the use of public transportation and reduce traffic congestion. 
The plan allows for pedestrian-friendly, mixed-use developments and high-density housing with target heights between four and 12 stories. 
New transportation infrastructure is incorporated into the small area plan's design, including the three OmniRide transit centers as well as increased pedestrian and bike connectivity and new streets to provide alternative routes around intersections. 
The plan also makes way for a new, $70 million grade-separated interchange at Minnieville Road and Prince William Parkway that the county says will improve traffic flow in Dale City and around Potomac Mills. The project is among those included in a $355 million mobility bond referendum that will be on the ballot in the upcoming Nov. 5 election. 
With the added residential and commercial growth, officials said the area will need a new elementary school, community library, fire station, senior center and police satellite field office to serve the influx of new residents. 
Lone opponent voices concern about schools
Only Planning Commissioner Richard Berry (Gainesville), voted against the small area plan. He voiced concerns about whether it adequately addresses the needs of public schools. Prince William schools have battled overcrowding for decades and currently rely on 184 portable classroom trailers. 
"There are parts of this plan that I do like, particularly the mobility aspect of it. However, I'm very concerned under the level of service for the schools. I don't think this plan appropriately addresses the needed infrastructure for growth," Berry said. "You want kids in schools, not in mobile [classrooms]."
Planning Office Director Rebecca Horner said her office is planning to "comprehensively add in the information that's been adopted by the board and the small area plans" into the schools' chapter of the county's capital improvement plan to address the issue.
The Dale City Small Area Plan will be the second to go before the board of supervisors for formal approval, although the board has not yet picked a date. 
Supervisors unanimously approved the North Woodbridge Small Area Plan during their evening meeting Tuesday, Oct. 8.
The North Woodbridge plan paves the way to add between 9,800 and 13,945 dwelling units – mostly apartments and townhomes – over the next 20 years.
The plan envisions an additional 23,000 to 32,000 residents in three areas: a proposed new town center near Va. 123 and Interstate 95; in Belmont Bay; and in Marumsco. As of 2015, the population of North Woodbridge was about 13,313, according to county documents.
Four other small area plans – for Innovation Park, the Parkway Employment Center, Va. 29 and Independent Hill – are also underway. Prince William County is expected to grow from its current population of 468,000 to about 569,500 by 2040.
When can the county expect the plans to pan out? That depends on a lot of things, Venegas said. 
"Market conditions, legislative initiatives, regulatory requirements, citizen's needs and the overall economy all play a critical role in the timing of development," Venegas said in an email.
"We try to anticipate internal [and] external constraints and opportunities in the process, but as any of the aforementioned variables and others not listed are subject to change, it could have an impact … As a result, build-out within these areas could occur sooner or take longer to achieve." 
Reach Daniel Berti at dberti@fauquier.com