Prince William County officials have unveiled some of the long-awaited details of new strategies they say could better preserve open space in the county's "rural crescent."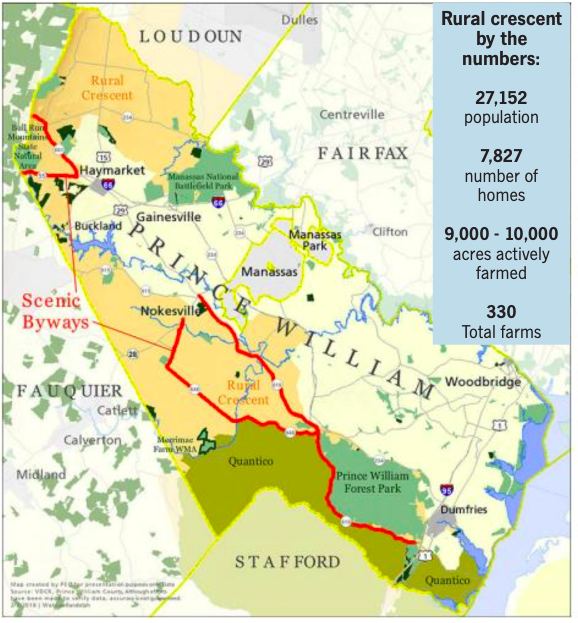 Some of the proposals, however, are already being criticized as too aggressive by those who worry that allowing public sewer connections in the rural area or changing the existing one-home-per-10-acre limit on development will lead to unbridled growth.
About 100 people gathered at the Hylton Performing Arts Center on Tuesday, July 30, to hear the details of five strategies that could add as many as 10,390 homes – and an estimated 33,000 people – to the rural crescent, which the county supervisors established back in 1998 to put the brakes on suburban sprawl. 
The options include two proposals for rural "cluster" zoning; two proposals that would allow landowners to transfer their development rights to a designated "transitional ribbon," which is also currently part of the rural crescent; and a "purchase of development rights" program that would enable the county to use tax dollars to pay large-tract landowners to not develop their land.
The strategies were among those included in a rural preservation study the county commissioned back in 2013. The study recommended them as zoning tools that could allow the county to achieve its goal of preserving 39 percent of its land as open space. 
Without such strategies, the study's authors contend, the county risks having its remaining open space and agricultural land divided into 10-acre residential lots.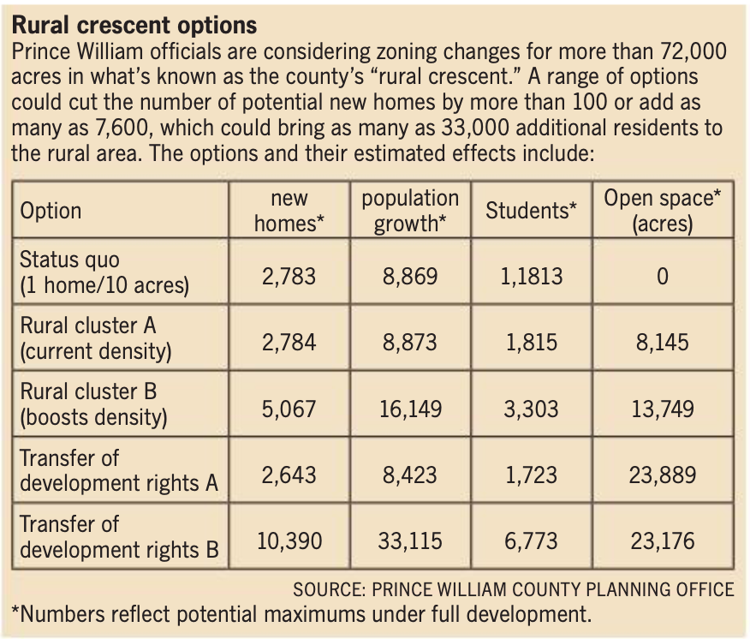 Cluster developments, TDRs
About 27,000 people live in the rural crescent, which currently includes about 7,800 homes. Under the current zoning rules, another 2,784 new homes could be built in the area by right, which could boost its population by an estimated 8,869 people, according to the county.
Two new strategies proposed to better conserve open space known as "cluster developments" and "transfer of development rights" programs would permit new residential developments to connect to the public sewer line and potentially  add as many as 33,000 new residents. 
But development would have to be clustered on larger tracts of land that set aside open acres in conservation easements under both programs.
Two cluster development proposals – rural cluster A and rural cluster B -- were detailed during the July 30 meeting.
The option dubbed "rural cluster A" would maintain the existing density rules of one home per 10 acres, but sewer connections would be available to new homes on either 3- or 5-acre lots sited on tracts of at least 50 acres. Also, at least 50 percent of the land in such a development would have to be placed in a conservation easement. 
The option dubbed "rural cluster B," however, would add more than 5,000 new homes and more than 16,000 potential new residents by reducing the size of qualifying lots to 20 acres and allowing for denser development in some areas, although those specifics are still under discussion, Planning Director Rebecca Horner said in an email.
Under the two transfer of development proposals, property owners would be allowed to transfer their development rights to a proposed "transitional ribbon," an area of about 4,000 acres on the edges of the county's rural crescent and development areas.
County officials proposed two different TDR programs – TDR A and TDR B -- each with different outcomes. 
TDR A would preserve the existing one-home-per-10-acre density rule, while the other would boost density in the transitional ribbon to as high as one home per 1.5 acres. The latter option could bring more than 10,000 new homes to the rural area and boost the area's population by more than 33,000.
The tradeoff with the higher-density options, according to county planners, would be that more land would be placed in conservation easements. 
The cluster development option that allows more density could preserve more than 13,000 acres in open space, while the transfer of development rights program that allows more density could preserve more than 23,000 acres of open space, according to county planners.
In part, this would be because the remaining areas zoned A-1 or "agricultural" in the rural crescent would see even tighter development restrictions, rising from one home per 10 acres to one home per 50 acres.
A "purchase of development rights" proposal, meanwhile, would use county tax dollars to purchase by-right development options from landowners with at least 20 acres or from those who combine their acreage to equal at least 20 acres. The land would be permanently set aside in a conservation easements largely prohibited from future development. 
The rural preservation study recommends the county place about 10,000 acres in conservation easement through a PDR program. The challenge is cost. The county estimates it would cost about $137 million to purchase 10,000 acres worth of development rights.
County officials had been considering using developer proffer funds to pay for such a program. But a 2016 state law would make that largely unfeasible, meaning the county would have to raise money through bonds or other means to buy private landowners' development rights.
Quick opposition
The prospect of introducing sewer connections, more homes and more people into the rural crescent was almost immediately criticized by groups wary of such changes despite the promise of more continuous open space.
By Friday, Aug. 2, the Coalition to Protect Prince William County had launched a petition urging the Prince William County Board of Supervisors to reject proposals that would change the rural area's no-sewer policy and result in higher density.
The group's executive director, Elena Schlossberg, called the plans "not credible" as a rural preservation programs if they effectively shrink the rural crescent area and allow homes on much smaller lots. 
"If there was ever any question about whether this is all about developing the rural crescent, there's no question now," Schlossberg said.
Schlossberg said inviting an thousands of new homes and residents into the rural crescent will require the county to invest in infrastructure such as roads and schools at a time when such facilities still are still needed in Prince William's eastern development area. 
"This plan will rob from the citizens and residents of both the rural area and the development area," Schlossberg said an Aug. 2 email to the coalition's supporters. "… If this plan is approved, money will have to be spent on supporting the build-out in the rural area, the development area will go lacking, everyone's taxes will go up, and the entire county will be sprawl, looking like another Centreville or Springfield."
Similarly, Ralph Stephenson, leader of the Prince William Citizens for Balanced Growth, called the set of proposals a "residential-developer-inspired plan to gradually fill the rural crescent with thousands of new houses."
At the July 30 meeting, however, Mike Coster, a Nokesville-area real estate agent and developer, said allowing public sewer connections in the rural crescent makes sense not only to preserve open space through cluster developments but also because of safety concerns. Without access to public water, the fire department must truck in water into the rural crescent.
Also, Coster said cluster developments could provide their own infrastructure through developer proffers, which can be offered on a voluntary basis. 
Coster said he also likes the idea of adding an agritourism and arts overlay district to the county's comprehensive plan to promote commercial uses in the rural crescent in addition to traditional farming.
"If this coincides with the cluster development, it would be a phenomenal idea," he said. "You take the open space created through a cluster development and allocate it as an agritourism area. It works every time."
The county will be taking comments on the rural cluster options until Aug. 16. Comments are being collected on the Prince William County Planning Office's online rural preservation page. 
The third and final meeting about the future of the rural crescent will be held on Tuesday, Sept. 24, from 5:30 to 8:30 p.m. also at Hylton Performing Arts Center.  
Reach Jill Palermo at jpalermo@fauquier.com