Prince William County Supervisor Jeanine Lawson, former state delegate Rich Anderson and several Republican candidates for office joined about 120 people in a "Reopen Prince William County" rally Saturday afternoon outside the Old Courthouse in Manassas.
The rally was organized by Christopher Lee and Zach McDonald, two Prince William County residents who are members of a local Facebook page by the same name. Attendees brought American flags and Trump 2020 flags and carried homemade signs with slogans such as "Flatten the curve of ignorance" and "the media is the virus, tired of the lies."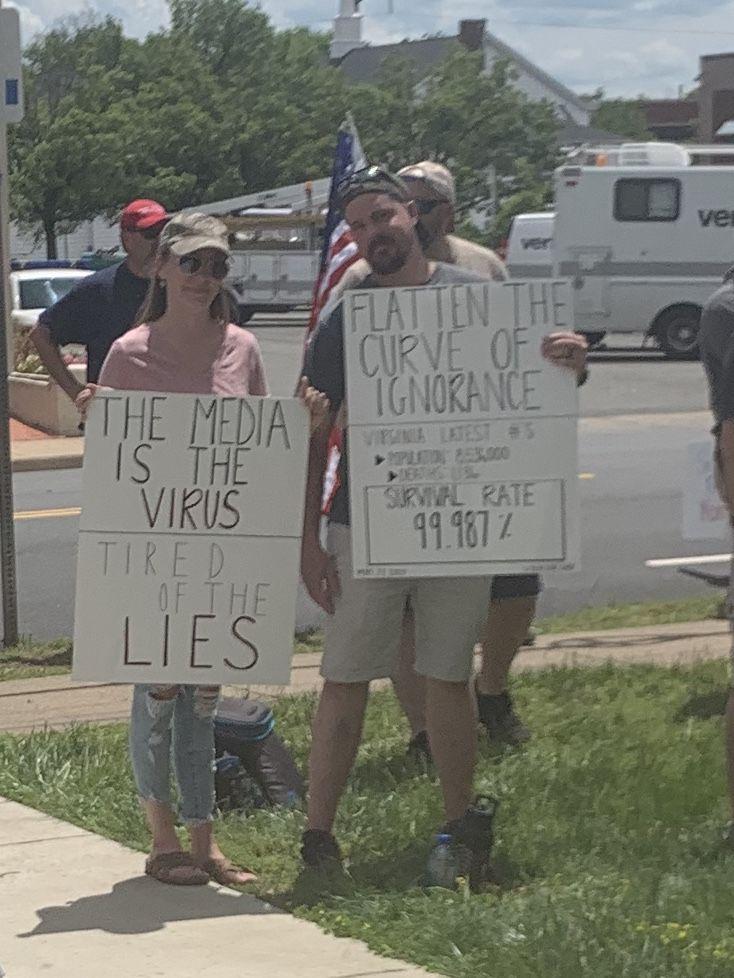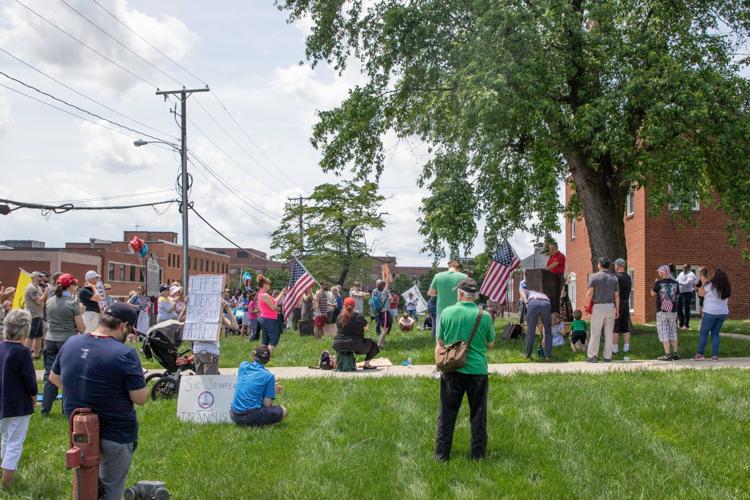 Speakers included Lawson and Anderson as well as Tom Speciale, a Woodbridge resident vying for the Republican nomination to challenge Sen. Mark Warner (D) in November, as well as Jeff Dove and Aliscia Andrews, both candidates for the Republican nomination to unseat Rep. Jennifer Wexton in Virginia's 10th District.
Lee said the Reopen Prince William County group has no direct ties to the Republican Party, but that he had invited GOP candidates and local elected officials to participate.
"You could say there are people in the Republican Party who share our views," Lee said in an interview prior to the event.
Only three people in the crowd wore face masks, and social distancing did not seem a high priority. Several people stood shoulder-to-shoulder and greeted each other with handshakes and hugs.
Speakers were critical of Gov. Ralph Northam's handling of the COVID-19 crisis, saying the outgoing shutdown has hurt businesses and harmed the community. They also made light of Northam's executive order calling for social distancing and warned that any new order to require Virginians to wear masks – something the governor hinted at Friday – would amount to government overreach.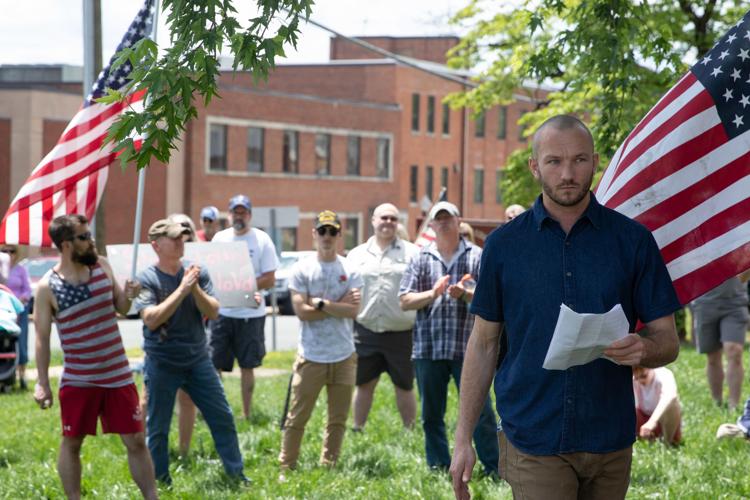 Chris Concannon, who lives in Warrenton and organized the May 9 "Reopen Fauquier County" rally, took the microphone to read from Northam's Executive Order 55. When Concannon came to the part that says people "must at all times maintain social distancing of at least 6 feet from any other person" unless they live in the same household, Concannon turned toward the crowd and said, "Look at us now!" to laughs and applause.  
"We're all family!" someone shouted from the crowd.
"Let's just call ourselves family. Let's just call ourselves one big family right now," Concannon said.
Concannon went on to say the state's coronavirus restrictions had "stripped" away people's livelihoods and "flushed the economy down the toilet."
He then downplayed the seriousness of the virus, calling it "a mild, seasonal influenza," and inaccurately stated that "53" Prince William County residents had so far died from COVID-19.
As of Saturday, 95 local residents had died of COVID-19, including 84 residents of Prince William County, seven in Manassas and four in Manassas Park, according to the Virginia Department of Health.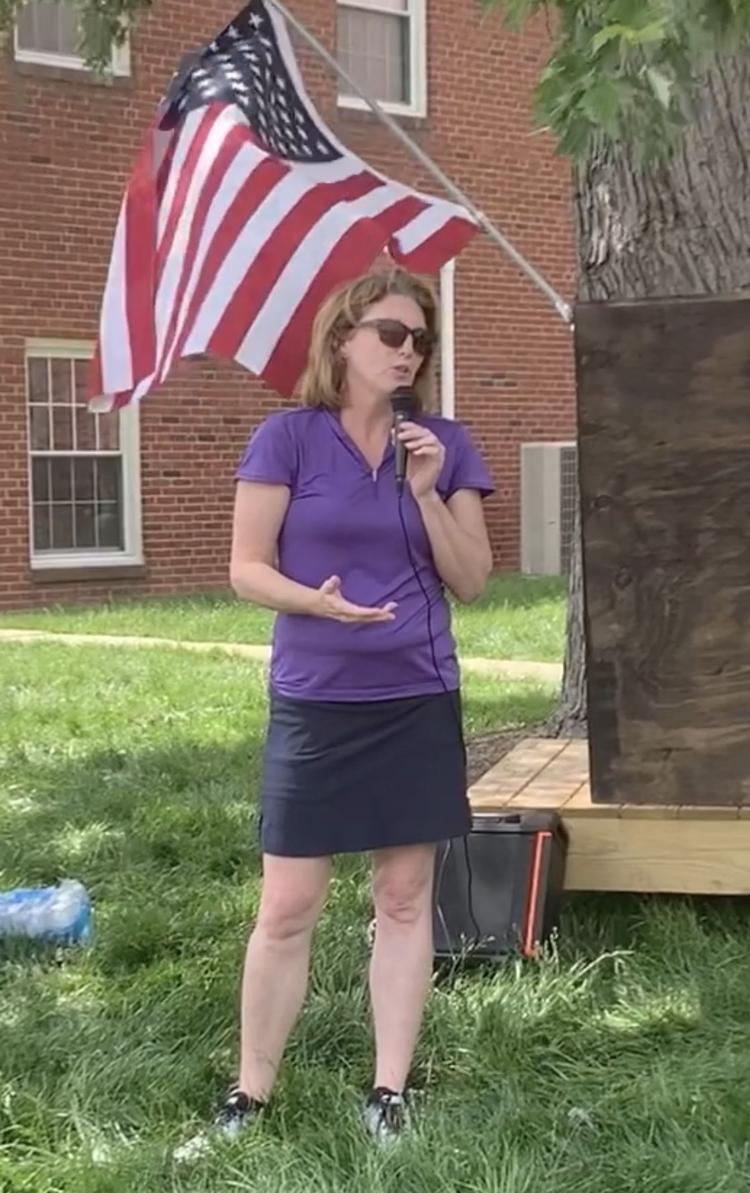 Lawson, R-Brentsville, was also critical of Northam during her speech, saying: "What is going on with this governor is ridiculous," and calling him "indecisive."
Lawson then encouraged the crowd to keep up their fight against pandemic restrictions. Much of Virginia entered phase one of the state's three reopening phases on Friday, May 15, but Northern Virginia, the City of Richmond and Accomack County, which have had higher numbers of cases, hospitalizations and deaths than the rest of the state, will remain in phase zero until at least 11:59 p.m. on Thursday, May 28. 
"Keep growing your army. I am here to help you. I love freedom; you love freedom," Lawson told the crowd. 
"Let's fight this and debunk all the lies that are coming out of the leftists over this virus. We've had enough. It's time to reopen this economy. Get dads and moms back to work to feed their kids. All we're asking for is some reason and consistency. I think we can get that done," she added.
Like the other speakers, Lawson did not wear a mask to the rally. When asked if she objects to the idea of a statewide mask rule, she said: "I'm OK with people making that decision for themselves."
Prince William County sheriff's deputies monitored the rally. Organizers met with Sheriff Glen Hill's staff before the event and were not required to get a temporary activity permit because the rally was not expected to block roadways or sidewalks, said Sherrie Johnson, Prince William County's spokeswoman.
"This is expected to be a peaceful political rally similar to ones conducted in neighboring jurisdictions," Johnson said in an email. "It is important to note that anyone has the First Amendment right to peacefully demonstrate, which is why no permit is required for this event."
Anderson: 'It's vital that we resist'
Anderson, also a Republican, lost his 51st District delegate seat to Del. Hala Ayala (D) in 2017 and unsuccessfully challenged her again in 2019. Now he's running for chairman of the Republican Party of Virginia, a contest that's expected to take place in the coming months.
During his speech at the rally, Anderson downplayed COVID-19, saying it's caused "roughly 4,000 hospitalizations" in the commonwealth. "And yet, that compares to roughly 850,000 hospitalizations each year, and so it is an overstated case," Anderson added.
As of Saturday, COVID-19 had so far killed 1,159 Virginians and nearly 100,000 people across the U.S. Still, Anderson said it's the government restrictions in response to the virus that have "levied a devastating human toll on people," saying they have been "a calamity of gargantuan proportions."
"So what must we do?" he continued. "It is time to protect against these domestic enemies of our Constitution … It is vital that we resist. It is an American principle. It is our American heritage and our American legacy. And don't ever miss the fact that the other side has formalized a vicious resistance movement that has denied you your civil liberties."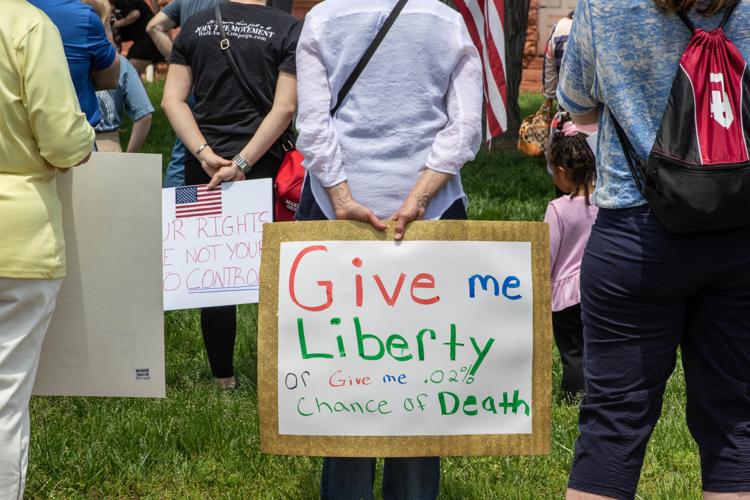 Anderson was also critical of Northam, saying he is "leading as an authoritarian" who has "seized unprecedented power that is not granted by the Constitution."
Referring to news that Northam might impose a mask order on Tuesday, Anderson called the idea "excessive" and "intrusive." 
"I believe that this coronavirus does present a threat, and we therefore need to protect against it; but reasonable protections that do not trample the Constitution and individual liberties of liberty-loving Virginia," he said.
Speciale on masks: 'None of the science supports any of it'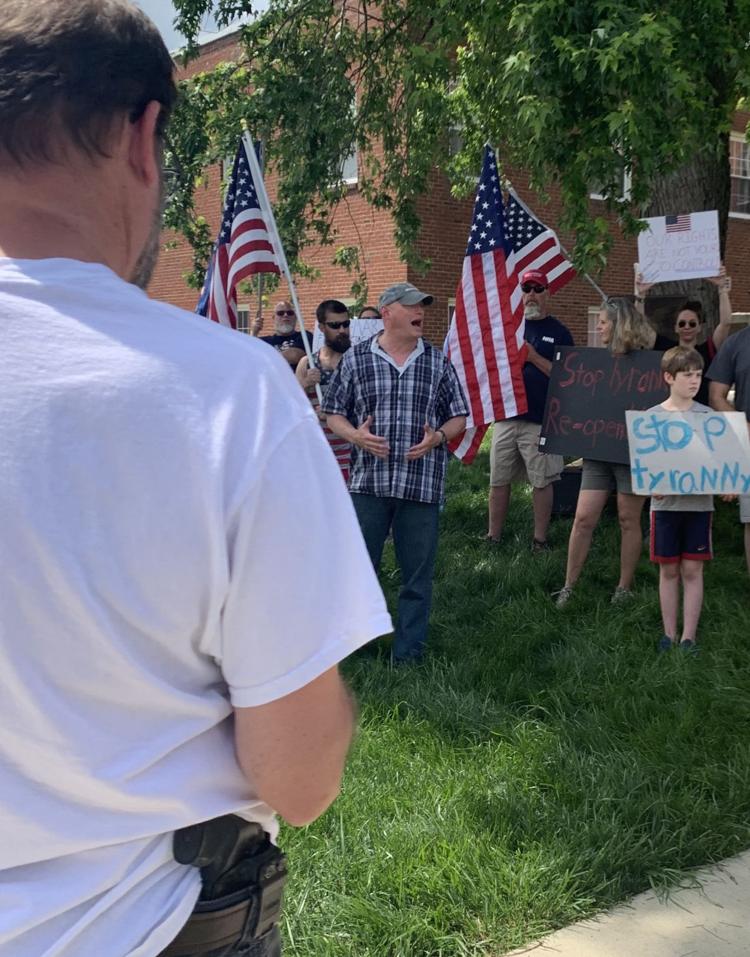 The loss of civil liberties as a result of Northam's executive orders, which speakers said are "unconstitutional," was a major theme of the event. Speciale, an Army reservist, Woodbridge resident and a GOP candidate for U.S. Senate, said Virginians face "an enemy of our liberty."
"They are the people who will tell you -- and terrify you -- that you must wear a mask to protect yourself from an invisible virus, and none of the science supports any of it," Speciale said. "But they will use it as a tool of power because that's what they're about. They're about power."
In response, people in the crowd called out: "Yes!" and "That's right!"
"The First Amendment, it says you cannot tell us to stay home. You cannot tell us to wear a mask. You cannot tell us to bankrupt our businesses," Speciale added.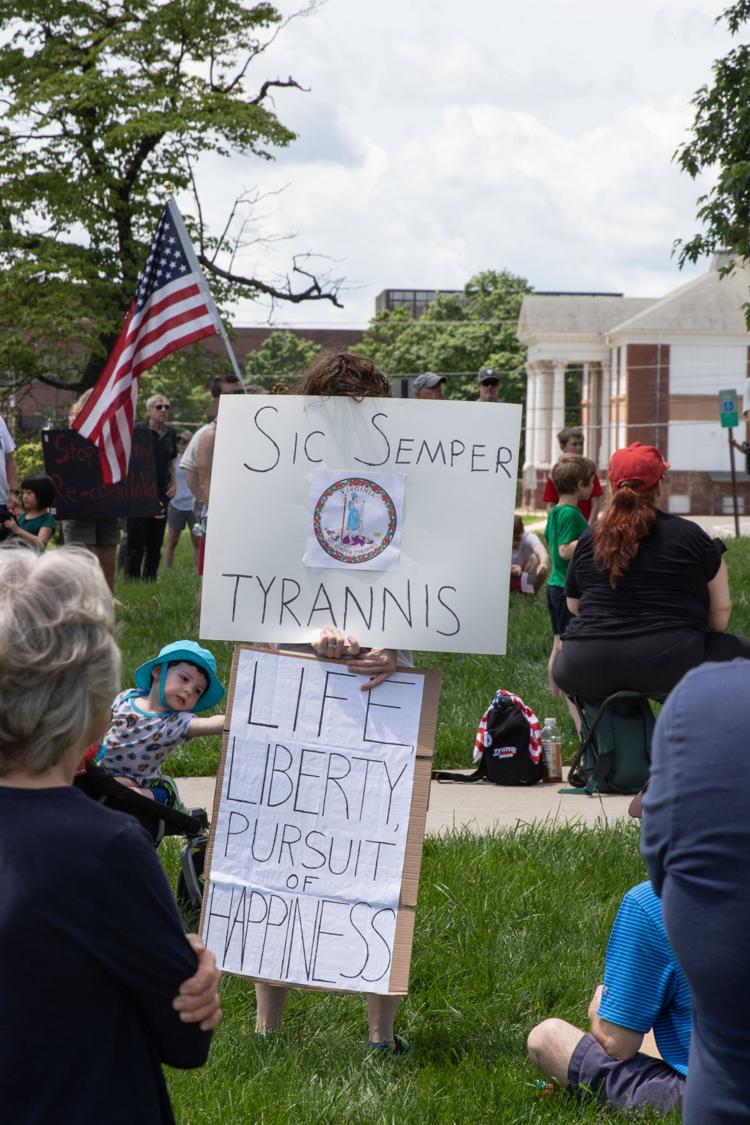 After initially recommending against them, the Centers for Disease Control and Prevention recommended on April 3 that people wear cloth face coverings or masks when out in public. On its website, the CDC says face coverings "provide an extra layer to help prevent the respiratory droplets from traveling in the air and onto other people." The novel coronavirus is most commonly spread through respiratory droplets and can be spread through people carrying the virus without experiencing symptoms.
Speciale faces two opponents in the June 23 primary: Alissa Baldwin, a Prince William County native who is now a civics and economics teacher in Nottoway County public schools, and Daniel Gade, an Alexandria resident, retired U.S. Army lieutenant colonel and amputee who was injured in the Iraq War.
Tim Parrish, who said he is running to be the next chairman of the Prince William County Republican Committee, said the pandemic restrictions are "unconstitutional" and "a direct threat to our liberty."
"You told us to flatten the curve and we crushed it. You told us to wash our hands and sanitize our services, and we bought every product on the shelf to do just that," Parrish said. "We kept our end of the deal. We've done our part. The only question that remains is, when will you do yours?"
Blogger encourages 'civil disobedience'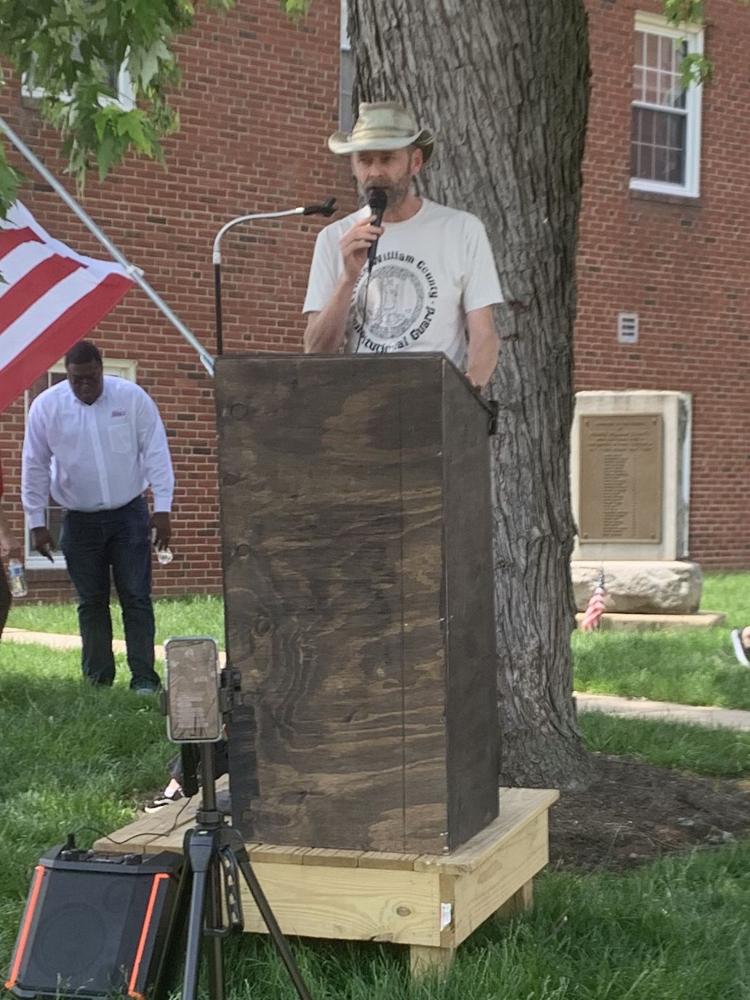 Local conservative blogger Greg Letiecq told the crowd that he'd been cited with a no trespassing notice by a Prince William County Park Ranger earlier this week after he took down the caution tape surrounding county-owned playgrounds near his Manassas-area home.
Letiecq called the playgrounds' closure "the height of government stupidity," and he urged other rally-goers to follow his lead and remove the tape from other county play structures.
"My call is for you to go out there and pick this up and cut that stupid caution tape off of all the playgrounds," Letiecq said. " … I want people to go and take deliberate action to engage in civil disobedience, and this is the closest opportunity you have. Because if we just sit back on social media, they will continue to ignore us. If we revolt, they cannot."
Prince William County's Department of Parks, Recreation and Tourism closed the county's 50 playgrounds March 19 in response to the state's social distancing guidelines, which aimed to slow the spread of COVID-19. 
Brent Heavner, spokesman for the department, confirmed that Letiecq had been issued a "no trespass" notice on Monday, May 17. Heavner said the parks department replaced the caution tape by the afternoon of Sunday, May 16, shortly after Letiecq removed it.
Jack Inge, of Dale City, said he came to the rally to join others in rallying against the state's restrictions on businesses, which he said are at great risk by the ongoing coronavirus shutdown.
"I feel our freedoms are being taken away from us by not seeing our businesses being able to open," Inge said. "And I believe that we have got to make a decision as to whether we want to support what the governor is saying -- to wear a mask and to stay in our homes and just not do anything -- or are we going to let our country, our businesses go under?" 
Reach Jill Palermo at jpalermo@fauquier.com