The number of traffic and pedestrian deaths in Prince William County reached a decade-high in 2021. 
Since Jan. 1, 32 people have lost their lives in traffic accidents in the county – the highest on record since at least 2010, according to the Virginia Department of Motor Vehicles. That includes a record-tying seven pedestrians who were struck and killed by vehicles in 2021. 
The last time pedestrian deaths reached seven in a single year was in 2012.
"There's a variety of circumstances that resulting in these crashes. We've had a number of pedestrians hit throughout the year. What we know is that the largest contributing factor is speed," Prince William County Police Chief Peter Newsham said in a recent interview with Prince William Times. "I think we need to slow folks down in the county. And I also think we need to let people in the community know that speed kills."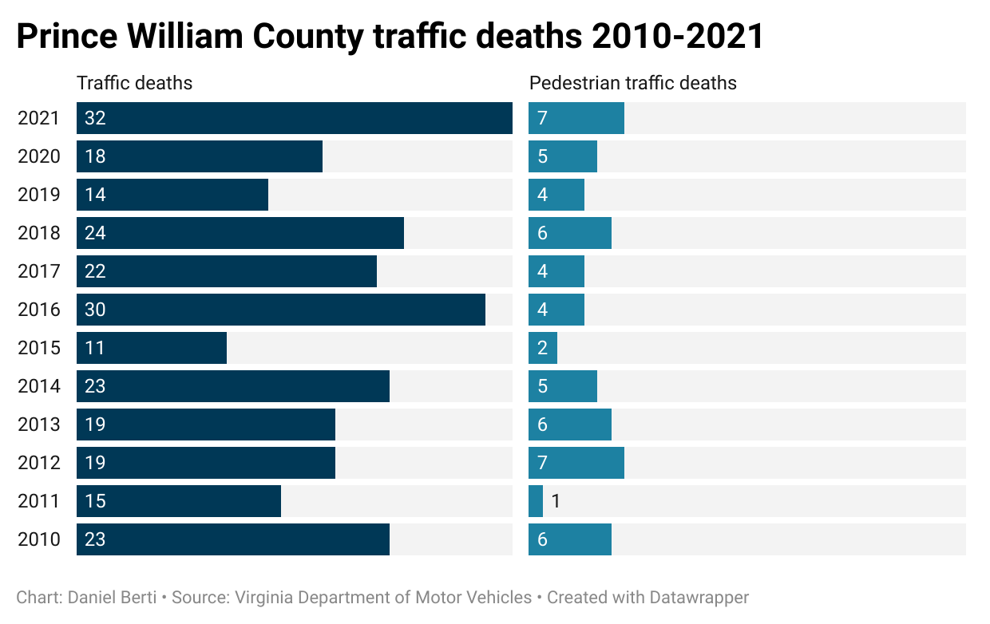 County supervisors recently discussed implementing automatic traffic enforcement measures in certain areas of the county to help alleviate traffic accidents and fatalities. But so far, no action has been taken. 
The county board also recently directed county staff to examine the possibility of creating a pedestrian bridge over U.S. 15 near Battlefield High School after a 13-year-old boy was struck and killed by a car while he was crossing the street during the middle of the day on Oct. 22. 
Newsham said he "wholeheartedly" supports implementing automatic traffic enforcement measures in certain areas of the county to help slow traffic. 
Automated traffic enforcement typically uses cameras to capture images of drivers committing traffic violations, such as speeding and running red lights. 
From 2010 to 2020, about 20 people were killed every year in traffic accidents in Prince William County, according to the Virginia DMV website. Prior to this year, 2016 saw the highest number of traffic fatalities in the county recorded in a single year: 30.