Prince William County is seeking additional state and federal funding for a $53 million commuter garage on Opitz Boulevard after a failed effort to build a new stadium for the Potomac Nationals left a $17 million hole in the project's budget. 
The parking garage, once intended to accommodate commuters as well as P-Nats fans, is now intended to relieve capacity at nearby commuter park-and-ride lots.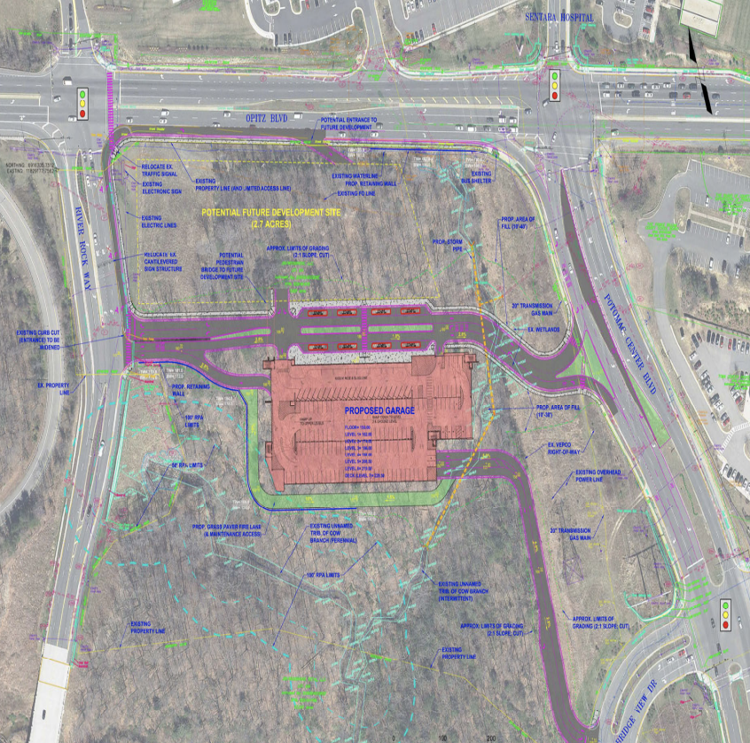 The cost of the 1,400-space garage increased from $37 million to $53 million "once the private developer was no longer part of the process," according to county documents. 
The garage is planned for a site adjacent to the Stonebridge at Potomac Town Center, which is near Opitz Boulevard and Interstate 95 and will be situated to allow easy access to the I-95 Express Lanes.
The Prince William Board of County Supervisors approved a request from the county's transportation department to designate the project a "revenue sharing project," allowing county staff to seek an additional $17 million in state and federal funds to move the garage forward. 
The project received $37 million in state "SMART Scale" funding in 2017. The state funding is also tied to a planned widening of Neabsco Mills Road from Northern Virginia Community College to U.S. 1. 
Any new funding will have to approved by the Northern Virginia Transportation Authority and the Virginia Department of Transportation. The project is scheduled to be complete and open to the public in the summer of 2023.