The Prince William County Planning Commission will consider adding 3,900 acres to the county's existing domestic fowl overlay district, an area where residents can keep chickens and other domestic birds on their properties.
Homeowners within the district are allowed a certain number of "bird units" based on the acreage of their property. Those units can be broken down in different ways. One "bird unit" allows a homeowner to have up to 10 chickens, which is equivalent to 20 pigeons, six ducks, four turkeys or one ostrich. 
The domestic fowl overlay district was created in 2011 and covers almost all of the semi-rural residential and agricultural zoned areas of the county. The expansion will add the last remaining semi-rural residential areas into the district in the Coles and Occoquan districts.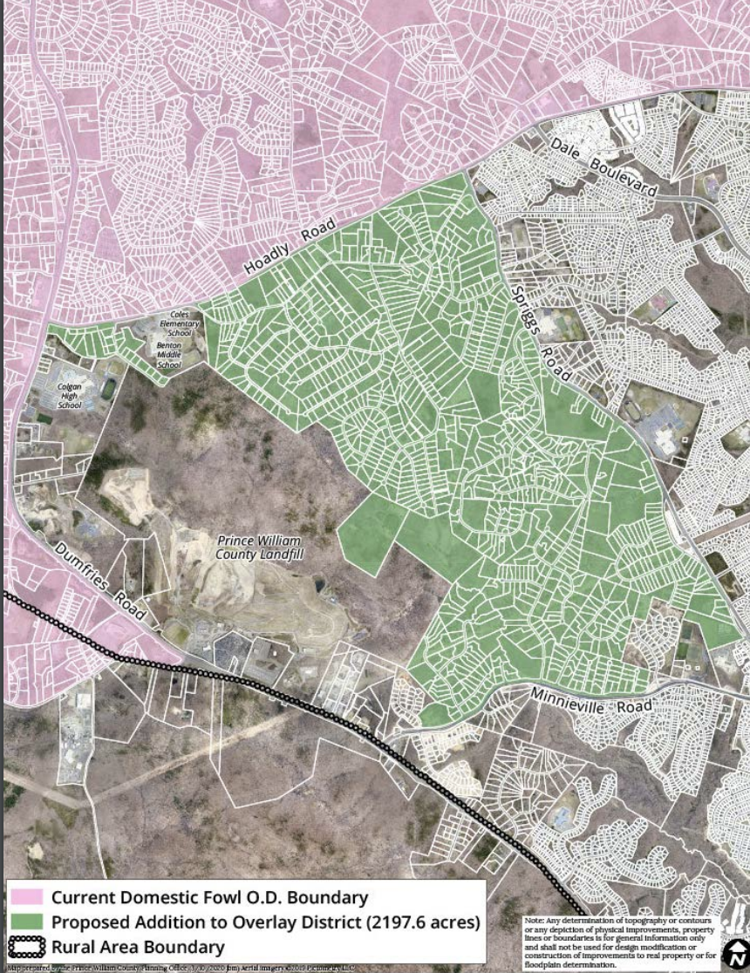 The proposal will add 1,811 acres to the overlay district in the Bacon Race area off of Davis Ford Road in the Occoquan district. According to county staff, they are the only properties in the Davis Ford Road area that are not part of the overlay district.
At a planning commission work session on Sept. 2, county staff said that several property owners in the area have asked to be allowed to keep domestic fowl on their properties. Several properties are "illegally keeping domestic fowl" in that area already, county staff said. 
The proposal will also add 2,800 acres to the overlay district in the Coles District off Hoadly Road behind the county landfill. 
It will remove about 70 acres of the overlay district from the Gainesville and Brentsville districts that are not eligible to keep domestic fowl even though they are within the overlay district. 
The proposal will impact a total of 1,864 parcels in the county. 
The expansion would not mean that all homeowners added to the district would automatically be allowed to keep domestic fowl. A special use permit is required for any property that is zoned semi-rural residential, and homeowners' associations can choose not to allow domestic fowl in their neighborhoods. 
However, any property zoned agricultural that is under 10 acres and located within the domestic fowl overlay district will be allowed to keep domestic fowl by right. All properties zoned agricultural that are over 10 acres can keep domestic fowl by right. 
The planning commission will decide on Wednesday, Sept. 16, whether to recommend the expansion to the Prince William Board of County Supervisors. 
Reach Daniel Berti at dberti@fauquier.com