As the need for food rises among residents who have lost jobs due to the COVID-19 crisis, Prince William County government is partnering with food banks and nonprofits to create a "community feeding task force."
The nonprofit Action in the Community Through Service, better known as ACTS, is the lead agency on the project, said ACTS Program Director Aaron Tolson. 
"Through our Prince William Food Rescue program, we have been working with most of the food pantries and food banks and various food distribution partners for months. So, we already have established relationships. We already have food being redirected to these locations, so it made sense for us to take the lead," Tolson said. "We already had most of the infrastructure in place."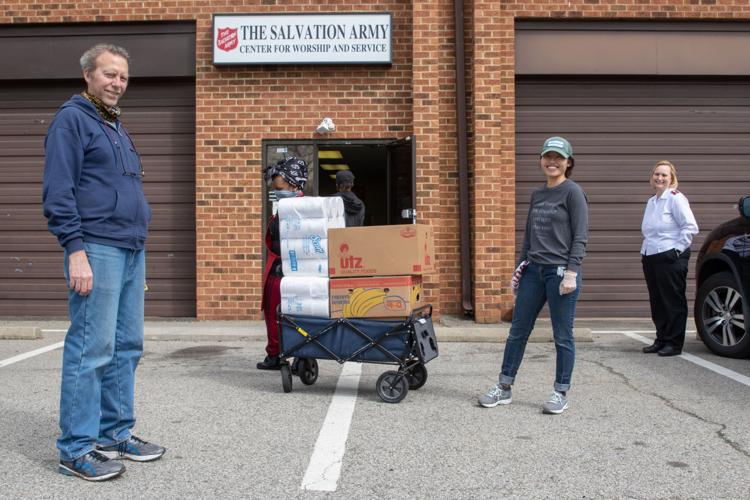 Tolson said ACTS is working with Prince William County's Emergency Management Office and other partners to build a hub-and-spoke distribution system to deliver food to residents and organizations throughout the county. 
Right now, the hub of the operation is based in a warehouse on Breeden Avenue in Manassas temporarily donated by Didlake, a nonprofit that facilitates employment opportunities for people with disabilities. The county is also looking for a more permanent location with more space and loading docks, Tolson said.
Once the task force begins its operations, the warehouse will support frequent deliveries to the spokes: food pantries and other community partners who will help deliver the food to residents. The task force is working to finalize its list of distribution partners, according to a county press release. 
"We don't have anything in the warehouse at the moment. We're still getting the space set up and getting everything put together so that we can start receiving bulk food," Tolson said. 
Food banks and pantries hit hard by COVID-19
As food insecurity has spiked across the county, ACTS' food donations have slowed, Tolson said.
Part of the problem is that grocery stores, a main source of food donations, have been contributing less as their shelves have been cleared out by anxious shoppers. 
"With the recent rush on grocery stores … the grocery stores have had to reevaluate their orders. There's not much for them to donate," Tolson said. 
Restaurants have helped fill the gap for food banks, as many have had to close their doors or cut their hours to comply with Gov. Ralph Northam's executive order limiting restaurants to take-out sales only. 
"We knew that with some of these restaurants having to scale back or shut down, they would probably have some product that was perishable that would go bad," Tolson said.
'Like Uber for food banks'
So far, ACTS has mainly relied on its existing "Prince William Food Rescue" program to deliver food directly to some county residents' doorsteps during the COVID-19 crisis.
Launched last year, the food rescue program uses a cell phone app to coordinate volunteers who pick up donations from area grocery stores and restaurants and deliver them back to ACTS food pantry in Dumfries or to other nonprofits.
ACTS has now expanded the program to make home deliveries to about 80 shut-in seniors for whom visiting the food bank or  grocery store would put them at risk for catching COVID-19. ACTS expects to add another 100 senior residents to the program this week. 
Right now, he said, there are about 15 "rescues," or deliveries each day, but Tolson said the number will likely double when the new seniors are added to the app. 
Tolson said the organization may begin working with organizations helping homeless individuals in need of food assistance. 
"They don't have the volunteer capacity to deliver food, so they've reached out to us to see if we can roll them into our app," Tolson said.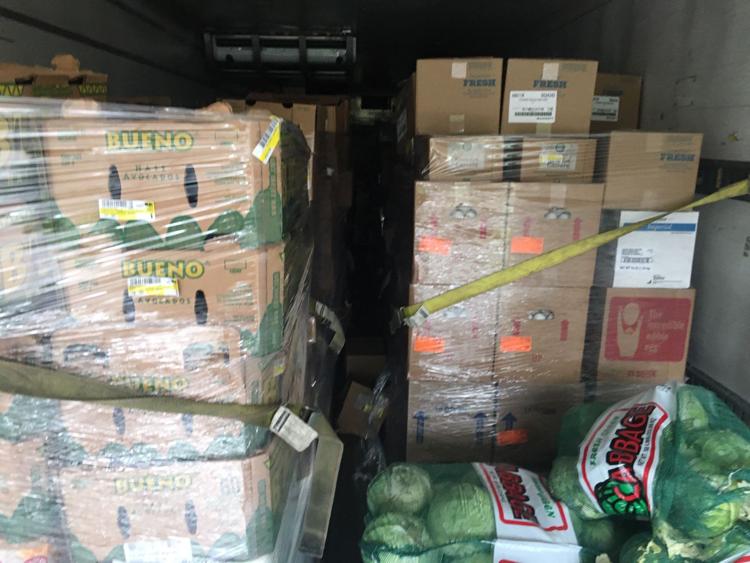 How does it work? Those interested in volunteering simply download the Prince William Food Rescue app on their cell phones from an online app store. The app alerts users to food rescues in their area, telling them how much food is to be delivered and where it needs to go. Volunteers can then choose a rescue by claiming the deliveries through the app. From start to finish, rescues usually take about 40 minutes. 
"It's like Uber for food banking," Tolson said. 
"As we continue to ramp up, we're going to have more food rescues available. More need is going to require more folks who can jump in their car and take 40 minutes to help move food from one place to another," Tolson said. 
Monday's deliveries: Meat, toilet paper
On Monday, April 6, ACTS' volunteers Ken Eggers and Elizabeth Scott, both of Woodbridge, claimed two different "food rescues" for the Salvation Army in Woodbridge. The app sent Eggers to Lidl in Dumfries, where he picked up four packages of cooked shrimp, six to seven packages of salmon and a single package of ground beef.
Meanwhile, Scott was dispatched to Wegmans, where she picked up various items, including much-coveted toilet paper.
Salvation Army Captain Marjorie Rowe had her cart ready for both of them when they arrived.
"We were actually praying for deliveries, because we've had no frozen meat. I've had to tell people they can come for a food box but we don't have meat," she said.
Eggers said he volunteers daily. Scott said she does several times a week, as she has little kids at home. 
"When we arrive at the store, we text a number to let them know we are there. They come out and drop items. And when they've gone back inside, I get out and pick it up" to put it in the car," Scott said. "I call or text when I arrive here and then they come out to unload."
Scott said she has also brought rescued food to the county senior centers.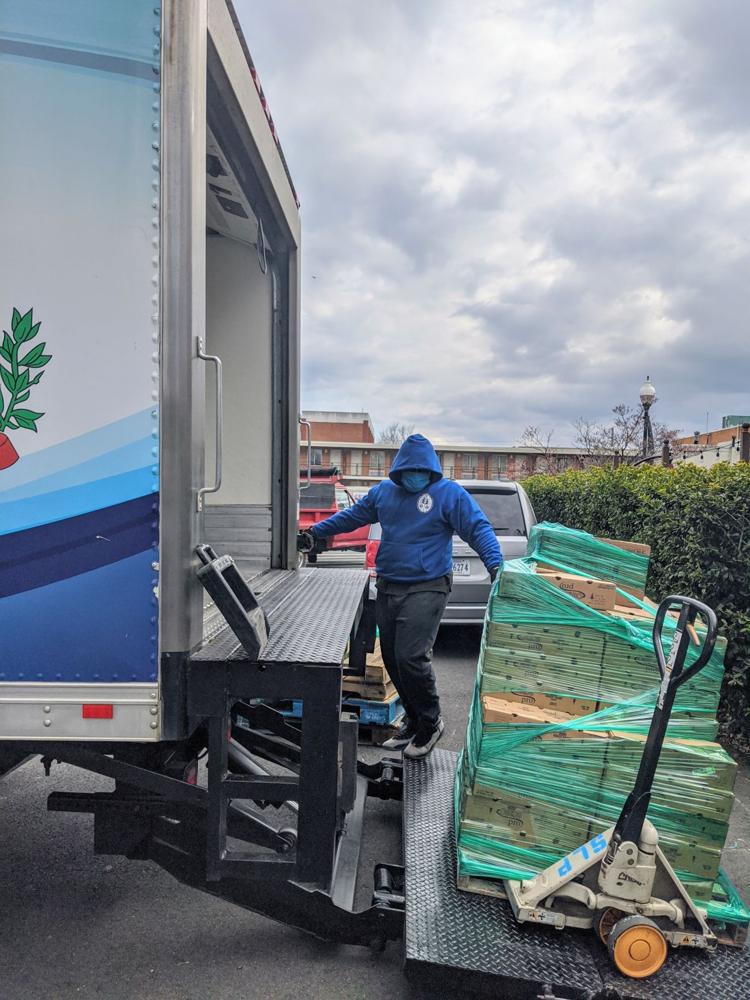 Launching the 'Kommunity Relief Bank'
Chrissy Fauls, founder and executive director of the nonprofit WHY, Inc., recently set up another "spoke" operation at Three Monkeys restaurant in Old Town Manassas, which is now an ACTS Food Rescue drop-off point.
Fauls' organization primarily works to raise awareness about addiction, trauma-informed care, human trafficking and internet safety. Professionally, she works as a first aid and CPR trainer for tattoo parlors. Since the coronavirus pandemic put all of that on hold, Fauls switched to helping families access donated food and supplies. That's the goal of the "Kommunity Relief Bank," which she recently opened with a small group of volunteers.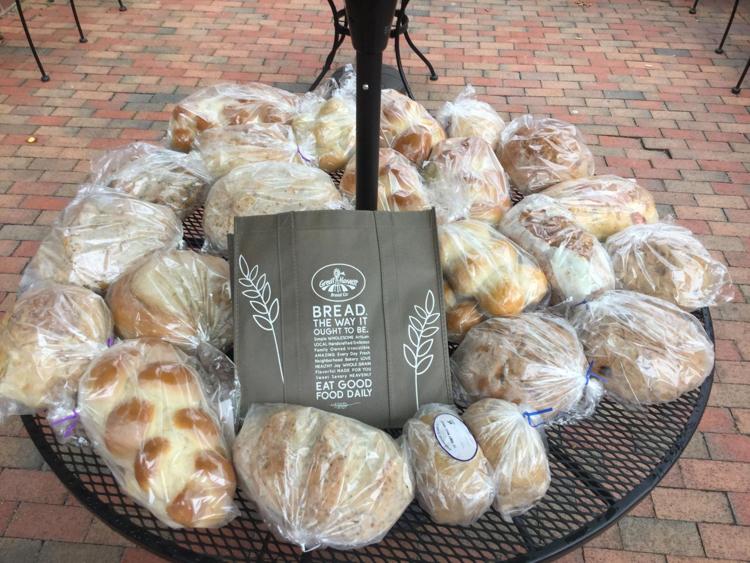 Last week, their first in operation, they received several donations. A local Smoothie King brought fresh fruit. A nonprofit brought boxes of menstrual supplies. Great Harvest sent fresh bread. Most significantly, a Sysco truck unloaded about 19,000 pounds of yogurt, bananas, avocados, lettuce, tomatoes, cabbage, potatoes and kale – all of which was split among several food banks, including the Kommunity Relief Bank.
Three Monkeys' staff cooked some of the food and boxed meals that volunteers delivered to shut-in seniors.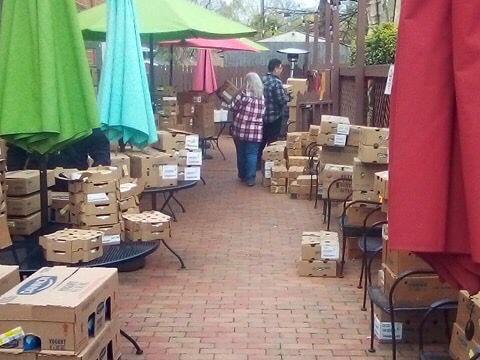 Fauls arranged some of it on chairs spread amid Three Monkeys' patio, and invited people she knew are struggling to take what they need.
"Everybody has their own job in this. If you're sick, stay home. If you are somebody who has money and you can go buy a shipment, go and do that," she said. "Now is the time for our village to come together. I've been preaching this forever and ever, but now really is the time we need to do that." 
Delia Engstrom and Jill Palermo contributed to this report. Contact news@fauquier.com