The Prince William County Board of Supervisors has approved a new "small area plan" that aims to mix residential and commercial development with public transit in a mostly undeveloped area along the Interstate-95 corridor near the border of Prince William and Fairfax counties. 
"The Landing at Prince William" is designed to add between 2,500 and 5,500 new residents and between 5,500 and 11,500 new jobs to the area by 2045.
It includes plans for a town center and urban neighborhood around an existing commuter parking lot on Horner Road, now the largest in the county.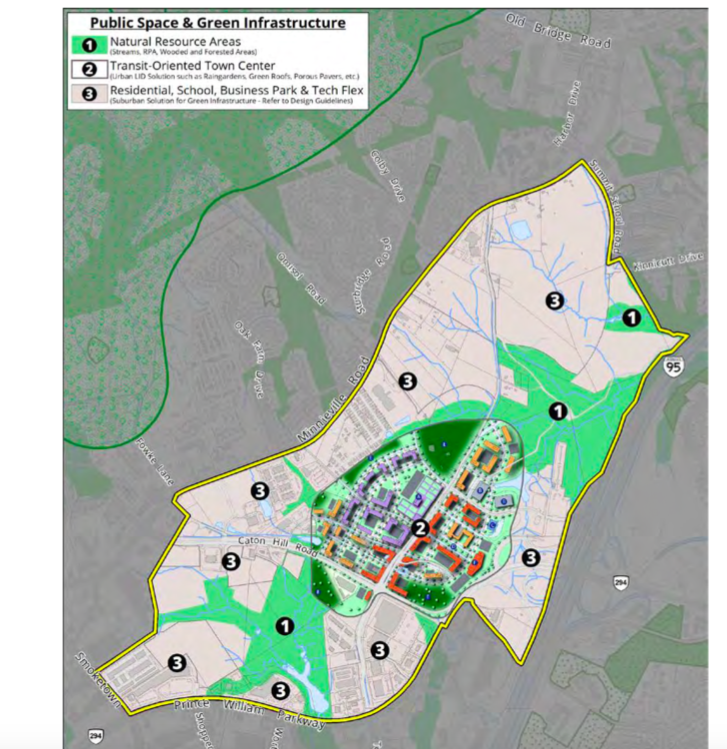 The plan also includes proposals for low-intensity, mixed-use neighborhoods, areas zoned for industrial use, a new OmniRide bus transit center and an area reserved for the potential construction of a new public school.
With the added residential and commercial growth, the area will need a new community library, fire station, senior center and police satellite field office to serve the influx of new residents.
The supervisors approved the "Landing at Prince William" plan during their meeting Tuesday, Nov. 19. It's one of six proposed small area plans supervisors initiated in 2016 to prepare for future growth in the county, which is expected to add 100,000 residents by 2040. 
The other proposed small area plans have been approved or are in the works for North Woodbridge,  Dale City, Innovation Park, Route 29 and Independent Hill. 
Small area plans are intended to direct growth to key areas of the county, adding residential density that could allow for more efficient mass transit options to help manage the county's chronic traffic congestion.
Small area plans are unique in that they are exempt from Virginia's proffer law, meaning the county can bargain with residential and mixed-use developers for monetary proffers that can be used to offset the burden of new residents on public services, such as schools, parks and public safety resources.
David McGettigan, the county's long range planning manager, said the exception in the proffer law in this case could enable the county "to get monetary proffers to help fund school expansions and school projects."
The supervisors previously approved a small area plan for North Woodbridge and is scheduled to consider a small area plan for Dale City in December.
Reach Daniel Berti at dberti@fauquier.com