Prince William County officials are boosting a $380 million mixed-use, "town center" redevelopment project slated for North Woodbridge with a $750,000 economic development grant, the first of its kind dedicated to such a project.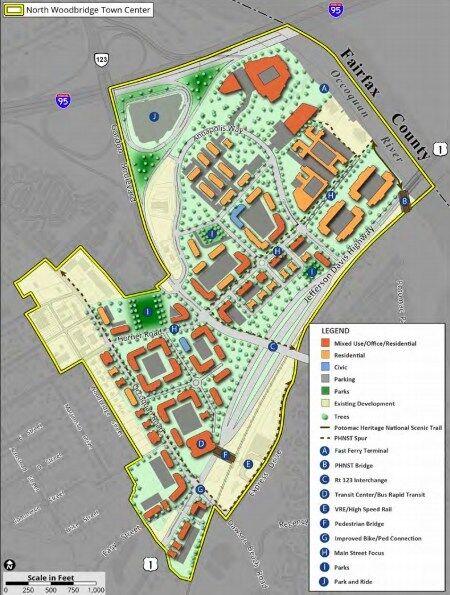 The 19-acre redevelopment is being pursued by North Woodbridge TC, LLC – which includes developers IDI Group Companies and Boosalis Properties -- and will consist of multiple phases being built over the next five to 10 years. It's planned to include 850 new apartments and up to 160,000 square feet of retail space at the corner of U.S. 1 and Occoquan Road across from the Woodbridge VRE station. 
"IDI spearheaded redevelopment efforts in Woodbridge with Rivergate, our signature riverfront community consisting of 720 luxury apartments in two buildings. We're thrilled to participate in this next major project in north Woodbridge's new town center," Carlos Cecchi, of the IDI Group, said in a press release.
The development comes on the heels of the Prince William Board of County Supervisors' approval of the North Woodbridge small area plan in 2019, which aimed to create more opportunities for transit-oriented and high-density development in the area. The plan envisions an extension of the Metro's Blue line to Woodbridge, although that has yet to be formally proposed or even studied and is likely a long way off. 
The board of supervisors unanimously approved $750,000 in grant funding for the project from the county's Economic Development Opportunity Fund (EDOF) at their Tuesday, Dec. 15 meeting, "to close the project financing gap due to the challenges in financing non-income producing land," according to a county press release. 
It is the first project of its kind to receive a grant funding from the EDOF. The county recently amended its "targeted industry" list to help identify and foster redevelopment areas, allowing companies or projects locating in a designated redevelopment area to qualify for incentives.
The money is a "pay-for-performance" grant, which requires the developer to achieve specific milestones in order to receive the incentive, the county press release said.
Supervisor Margaret Franklin, D-Woodridge, said the development would help revitalize the existing gateway corridor along U.S. 1 and noted that the project is "a catalyst for transit-oriented development" and "represents the first step in realizing the goals of the North Woodbridge small area plan."
"If you are familiar with that area, you know that it can be a bit of an eyesore, but we're finally going to do something with it," Franklin said. 
Prince William County planners have stressed the importance of creating more residential units with higher densities in existing "activity centers" in the county that have easy access to public transit to help cut down on the county's existing traffic congestion. 
The Metropolitan Washington Council of Governments has recommended that 75% of all future housing development in the county be in existing activity centers or near public transit. 
Christina Winn, executive director of the Prince William County department of economic development, said that creating a town center in North Woodbridge would "drive further economic growth, attract new businesses and create new jobs throughout the area."
"We're already seeing the momentum as more businesses and investors are interested in North Woodbridge and eastern Prince William County because they recognize the area as the next new emerging market due to its strategic location, transportation network, and expansive water views," Winn said.
Reach Daniel Berti at dberti@fauquier.com