Lots of eastern Prince William County residents knew Al Brooks personally; but even if they didn't, he was likely a familiar face. Brooks was known as the tall, older African American gentleman who volunteered at the Woodbridge DMV, often in a three-piece suit, to politely ask people if they were registered to vote.
When early voting began before each election, Brooks was a daily fixture at the DMV. He spent hours there each weekday, again mostly dressed in a three-piece suit or a crisp dress shirt and tie, encouraging people to vote and to cast their ballots for local Democrats.
But those who knew Brooks best said his volunteer work, while a passion, was just a small part of his lifelong mission to create for more opportunities for people of color. Chief among his goals over the years was to change Prince William County's political landscape. As the number of Black and brown residents in the county grew – making Prince William the largest minority-majority county in Northern Virginia -- Brooks was determined, his longtime friends and associates said, to elect more people of color at both the local and state levels. 
But he also insisted that candidates be sincere and serious in their intention to serve the community -- and that they do their homework.
"For you to have a seat at the table, you have to have someone who looks like you," said Tammi Lambert, a longtime friend of Brooks' who worked with him on the local African American Democratic Club. "He really believed in representation. He said, 'You can't complain if you don't have a seat at the table, but you have to be informed.'"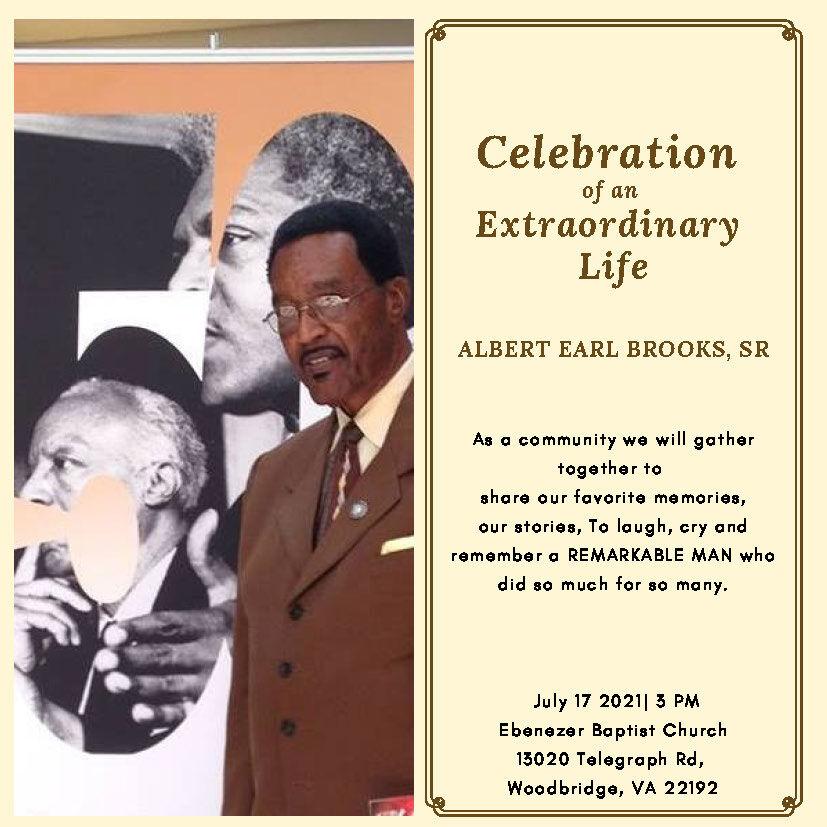 Brooks died March 25, at the age of 77 after suffering several health challenges. He will be remembered in a memorial service today, July 17, from 3 to 5 p.m. at the Ebenezer Baptist Church in Woodbridge.
The gathering will include speeches and remembrances from a long list of elected officials, many of whom Brooks helped get elected, said Emmitt Fletcher, an organizer of the memorial service who said he has known Brooks since they both arrived in Dale City in the 1970s.
Because of COVID-19, Brooks' family could only have a small service for him in April. Brooks is survived by his wife Barbara; three adult children, daughter Alise and sons Albert Jr. and Anton; five grandchildren and two great-grandchildren. The larger memorial service is meant for the wider community to formally recognize Brooks' contributions, Fletcher said.
"We lost a giant community leader, a person who was very compassionate and very caring about other people," he said.
From North Carolina to New York to Woodbridge
Brooks was born in Tabor City, North Carolina, in 1943. He was mostly raised in Buffalo, New York, and served in the Army. After being honorably discharged, Brooks worked several jobs while earning a bachelor's degree in social welfare, history and law from the University of New York at Buffalo, according to his obituary.
After graduation, Brooks served as executive director of the Buffalo Affirmative Action Plan. His fight for civil rights eventually took him further south to Maryland, where he continued his work at the U.S. Department of Transportation as a political appointee of then-New York governor Nelson Rockefeller. 
In 1977, Brooks and his family relocated to Woodbridge while Brooks continued working for the Office of the Secretary of Transportation as a civil rights specialist and external complaints coordinator. 
He then moved to the U.S. Department of Labor, where he was an equal opportunity specialist and civil rights officer. While at the Department of Labor, Brooks worked on loan as executive director for RTP, a program under the A. Philip Randolph Institute's Educational Fund. The A. Philip Randolph Institute is a Black labor civil rights organization founded by Brooks' mentor, A. Philip Randolph. The program Brooks oversaw aimed to train African American men who were historically denied employment in the trades industry and to continue the push for desegregation in labor unions, according to Brooks' biography, which was compiled for the memorial service.
Brooks was also a member of the National Association for the Advancement of Color People, the National Urban League, the Prince William County Democratic Committee, the Jaycees and the Dale City Sports Club.
'Who canvasses in a suit?'
During his later years, Brooks was known for his dapper dress and his dedication to voter outreach and boosting the prospects of local candidates of color.
Woodbridge District School Board Representative Loree Williams (D) said she first met Brooks shortly after she first decided to run for the school board in 2013. Brooks asked her if he could help her canvass – or meet voters door to door – before the election.
"He shows up – and this has to be noted -- he shows up in his traditional, five-button-down vest and his dress shirt and his dress shoes, and I'm like, who canvasses like this?  I'm thinking what is going on with this guy? Who canvasses in a suit?" Williams said with a laugh.
Williams said she quickly understood, however, that Brooks was serious about voter outreach and cared deeply about carrying himself with respect and dignity. 
The experience, she said, taught her an important lesson about reaching voters. She had come with a "walk list" of targeted addresses based on voter turnout. Brooks told her to put the list away because they would be knocking on every door – not just a select few. Doing so was important, he told her, because every voter matters and walk lists are often unreliable in areas like Woodbridge.
"It was in that time and space, when I first walked with him, that I realized that this matters. That every person matters. … That every house in my district matters because it's such a transient area," Williams said. "For me, it was instrumental in teaching me who lives in my district and why that matters."
From then on, Williams said, she developed a friendship with Brooks and loved listening to his stories about his work with civil rights pioneers, his time spent singing with the Temptations and his political struggles and victories over the years. Williams said Brooks referred to her as his "second daughter."
"It was just a joy and a pleasure to get to know him and hear his stories," she said. "He left a lasting impression on what it means to carry yourself in a certain way… how to be kind and speak your truth. There are a lot of the things he demonstrated to me and my kids through his commitment to his cause."
Rivera Williams, a former Marine who lived in Prince William County from 2001 to 2017, said Brooks was "a father figure" to him. Williams said he got to know Brooks through the African American Democratic Club, which Brooks founded with former Dumfries vice mayor Willie Toney. The goal of the club -- and indeed Brooks' political mission in Prince William County -- was to help people of color understand both the importance of local government and of having people of color serve in elected posts. When the club began its work, only two elected officials were people of color across the county. Now, most of the county's elected boards are either majority-minority or evenly split between white residents and people of color.
Brooks' goal, Rivera Williams said, "was fair representation across the board."
"So his mission statement, I think, came to fruition," he added.
Some people think Brooks recruited people of color to run for office, but Rivera Williams (no relation to Loree Williams) said that's not true. Instead, he said Brooks met with candidates and, if he thought they were sincere, used his organizing skills to help them learn more about the political process and get elected.
But Brooks' goal, Rivera Williams said, was not just to elect more people of color but to elect people who would be committed to improving the county for everyone. 
Education in particular was a huge issue for Brooks, he said, adding: "Al knew that if you educated people properly, you would create opportunities that couldn't be taken away." 
More remembrances of Al Brooks were shared in a memorial video recently published on What's Up Prince William, which can be viewed here: