While many folks were headed to celebratory parties for winning candidates after Tuesday's June 11 primary election, roughly 70 headed to Battlefield Baptist Church on Lee Highway to a "Pardon Our Dust" meeting hosted by the Virginia Department of Transportation. It was an opportunity to learn more about the project to regrade the northbound lanes of U.S. 29 approaching Route 215 (Vint Hill Road) in northern Fauquier County and to meet the project team and ask questions.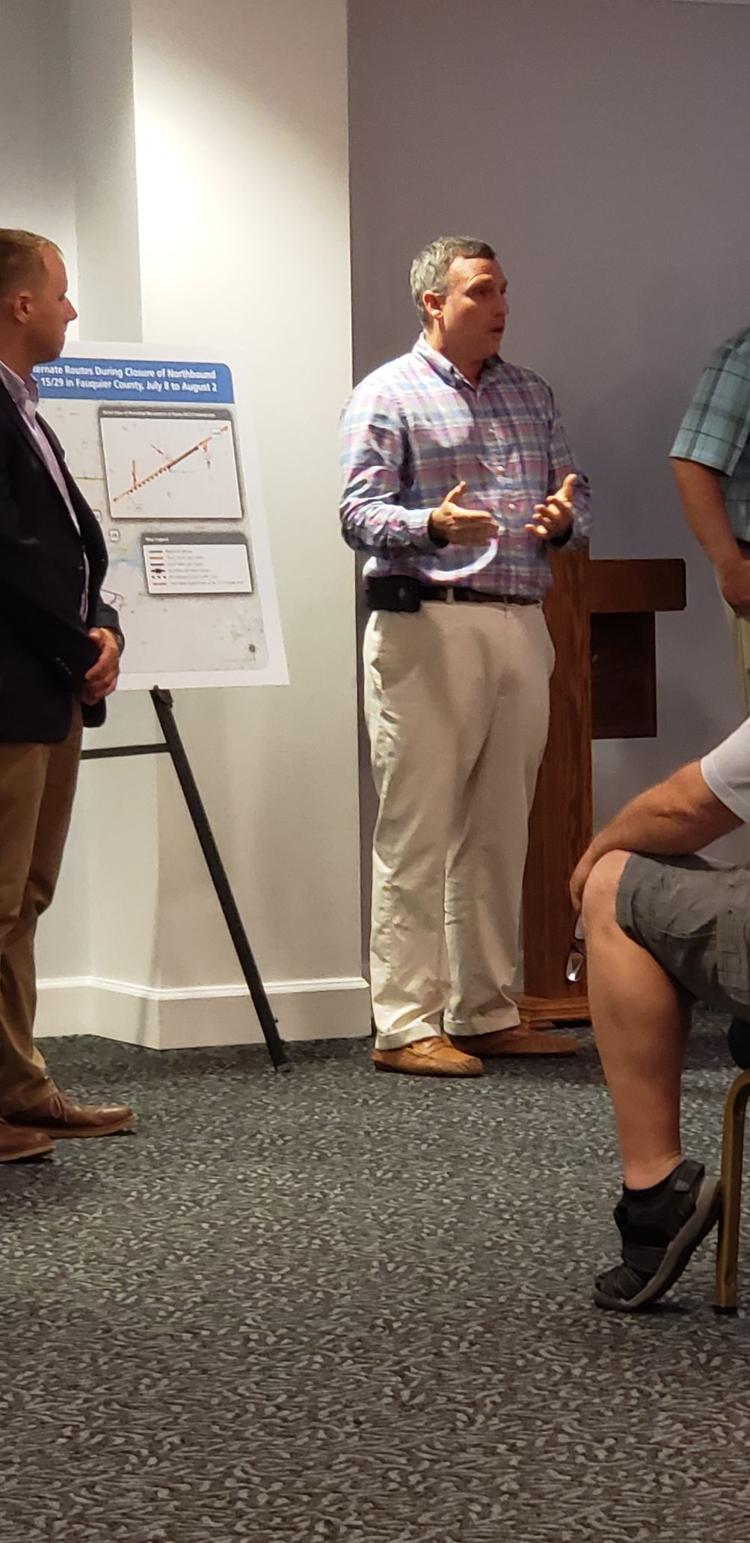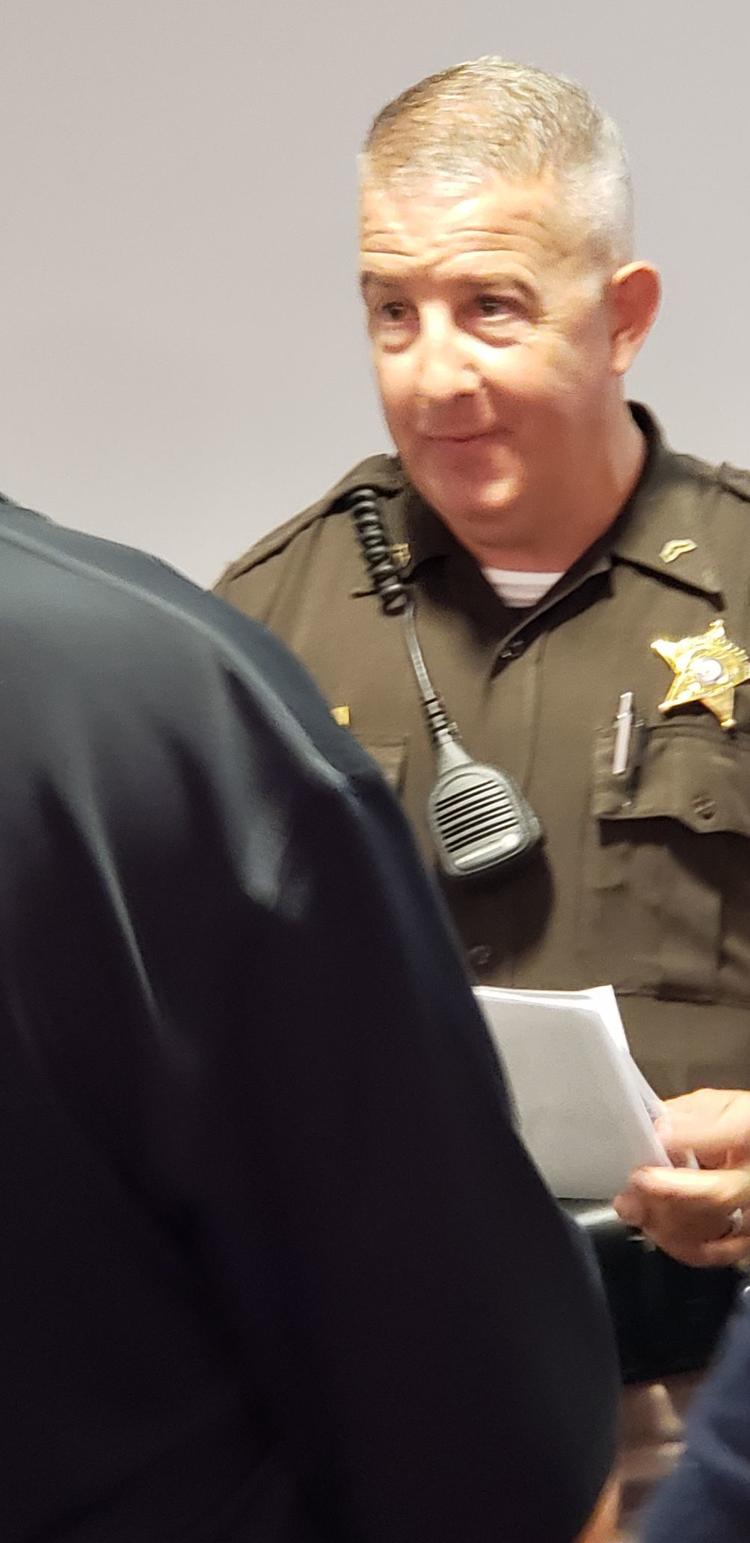 John Lynch, chief VDOT engineer on the project, addressed the gathering readily acknowledging, "we know it's going to be a mess."
"We know during the first few days that folks will be working their way through…trying to find the best route," Lynch said.
Lynch explained that several alternatives were looked at before making the decision to completely shut down northbound traffic.
"It would have doubled the cost to build two more lanes," said Lynch adding, "we'd have congestion all day if we left one lane open each way."
"This is the best we can do to fix the safety problem," he said.
And it's the safety factor that had many concerned.
"It's going to be a nightmare," said Vee Kreitz, who owns a horse farm and lives on Beverley Mills Road. "I very much respect VDOT … but that road is dangerous … I just want to know if other alternatives were seriously looked at…this is a drastic method."
Kreitz said that she and other neighbors have lobbied locally through the sheriff's office and others to do something about the speeds on Beverley Mills Road. While 35 mph is posted, Kreitz said there is a hill that goes up coming from the north and once crested, motorists speed up to reach U.S. 29.
VDOT has had signs posted for several months along primary and secondary roads alerting motorists in Fauquier and surrounding counties to the impending shutdown of U.S. 29 northbound lanes starting in early July. The work will require closing the northbound lanes of U.S. 15/29 between July 8 and Aug. 2 from the Route 676 (Riley Road) intersection to just south of the Route 29/215 intersection, a distance of about 0.9 mile.
Once completed, the project will regrade the northbound lanes and remove two hills that have contributed to significant crashes on that busy section of highway just south of the Prince William County line. The intent of the project will improve the stopping sight distance on the approach to the Route 215 (Vint Hill Road) intersection.
During that time traffic, will be redirected to alternate routes, many of which are secondary roads, like Beverley Mills Road, which connects Va. 55 to U.S. 29
Northbound traffic will detour using U.S, 17 north from Warrenton to Interstate 66 at Marshall, then using I-66 east to Gainesville. The closure will not affect southbound traffic and drivers will be able to turn onto and from Vint Hill Road during the closure. Access to private entrances, including the Battlefield Baptist Church, will be maintained during the closure.
Commuter traffic and trucks will be encouraged to use U.S. 17 to access I-66.
According to VDOT spokesman Lou Hatter, big GPS providers like Google and Waze have been notified about the planned closure. Pass-through truck traffic will be barred from portions of secondary roads like routes 245, 600, 602 and 628 near the construction area. They will be forced to take the U.S. 17 detour.
Lynch expressed optimism that if the regional plan of diverting the bulk of the traffic to the U.S. 17 detour works, "we'll be in pretty good shape."
"I'm trying to figure out how early I'll need to leave to get on Route 17 to 66," whispered one resident as a gentleman next to her shared the alternate route map that VDOT had copies of for distribution.
Jason Vanderford Evans also lives on Beverley Mills Road and is a neighbor of Kreitz. "I've emailed them again [Fauquier Sheriff's Office and VDOT] a safety study that I put together," said Evans, "we've been talking about safety on Beverley Mills Road long before this project…which will make it worse."
"According to their own statistics, there are roughly 2,700 cars on that road a day," said Evans, worried about his neighbors crossing the road to reach their mailboxes which, for many, are on one side of the road and not directly at the end of their driveways.
Both Evans and Kreitz talked about a "parade of cars" and expressed their concerns that "someone could be killed."
Several residents on Broad Run Church Road shared that sentiment again talking about the narrowness of the secondary roads. "There is no area to get off … except someone's driveway," said one.
The construction
Chemung Contracting Corp., of Mitchells, was awarded the $3,544,568.45 design-build contract by the Commonwealth Transportation Board at its April 10 meeting. Chemung is partnering with Volkert Inc., of Mobile, Alabama, which will provide design services for the project.
Billy Myers, contract administrator for Chemung, told the crowd that, "this is the fastest, design-build project that VDOT has ever procured."
Many in the crowd expressed doubt that the project could be completed in a three-week timeframe.
"This project is very important to us," said Myers, "we take it very seriously."
Blasting will be involved to break through the rock to level the hills.
"Will it feel like an earthquake … will our houses shake?" was a question asked of Myers by several in the audience.
"More like seismic shock or waves," said Myers, referring to waves of energy that travel through the earth's layers from such occurrences as earthquakes, volcanoes, magna movements or man-made explosions.
Myers noted that southbound traffic will be stopped at Vint Hill Road when blasting, projected to last about eight minutes, occurs.
"We'll be blasting once a day," said Myers. "We have several quarries and very large equipment to handle this … it will be a sight unlike you've seen before when five rigs are lined up side by side at one time to drill."
Chemung Regional Project Manager David Bradeson explained that it will probably take several days of blasting to clear the rock. With a tight timeframe, Bradeson said that they are incentivized to get it done. "When we accepted the contract, it said you have 'x' number of days to get the job done … we're planning to work 14 to 16 hours a day but, if necessary, we'll work 24 hours a day, seven days a week."
"What about the weather?" one man asked.
Rain or shine, workers are anticipated to put in long days however, "if it's pouring down rain, we can't work," noted Bradeson.
Tim Hoffman is a member of the Citizen's Advisory Committee, which has been meeting monthly since last summer. They have supported the project. Other members include Fauquier and Prince William representatives.
"It's not perfect," said Hoffman. "But, it's the most effective plan to address the problem at that intersection and it needs to be done."
"People in that area have complained for a long time about the safety factor…wanting something to happen…and now we have a solution," continued Hoffman.
Handling the traffic
As part of a collaborative effort, the Fauquier County Sheriff's office will have additional deputies on hand to direct traffic.
Cpl. Steve Shiner, a deputy with the Fauquier County Sheriff's Office, shared with the audience that additional deputies would be on site. "We've been allocated seven extra deputies … there will be as many as 10 deputies roving," said Shiner.
Shiner said that they would be taking advantage of VDOT's "instant tow program."
"Normally a deputy would be called to a scene and then access if a tow truck was necessary," said Shiner, "but now as soon as a deputy is called, a tow truck will be dispatched at the same time … saving 3o to 50 minutes of time," said Shiner.
"There has to be direction … you'll need a bullhorn," said another resident.
Others were speculative about already crowded two-lane secondary roads. "How will the tow trucks get through?" asked another.
Costs for additional deputies will be offset by funds from VDOT.
Scott District Supervisor Holder Trumbo was at the meeting.
"It's a tight timeframe but we couldn't have additional deputies on duty for six months or more … there are fees that will be accessed if the contractor isn't able to perform," said Trumbo, optimistic that the project will get completed on time.
The U.S. 29 northbound approach to the Vint Hill Road intersection ranks as the No. 1 safety need in VDOT's nine-county Culpeper District with the highest potential for safety improvement. In the five years between 2013 and 2017, there were 113 crashes on that section of the highway.
Kreitz was concerned that more wasn't said about an emergency plan for medical vehicles and fire trucks getting through.
"I understand about the tow program  …but what is their emergency plan for paramedics and fire trucks?" asked Kreitz.
"I just hope that they are working every aspect of keeping people safe … not just on our road but all the roads … safety first."
Information about the project is available on VDOT's website on the Route 29 Corridor, Fauquier County page. Documents on the page include previous studies of the corridor as well as agendas and minutes from the Route 29 New Baltimore Advisory Panel meetings.
If you are interested in receiving email notifications and updates about the project, email Lou Hatter, Culpeper District communications manager, at Lou.Hatter@VDOT.Virginia.gov.
Reach Anita Sherman at asherman@fauquier.com