The three Republican-appointed members of Prince William County's Racial and Social Justice Commission are holding a town hall meeting in Nokesville this week on critical race theory and culturally responsive teaching in Prince William County schools.
But the chairwoman of the commission is distancing herself and the full commission from the event, saying the town hall is "not sanction[ed]" by the Racial and Social Justice Commission.
Shantell Rock, the commission's chair, issued a statement Monday, Oct. 4 saying the upcoming Tuesday night town hall meeting at Patriot High School, hosted by fellow Commissioners Mac Haddow, Erica Tredinnick and London Steverson, "is separate from the mission of the Racial and Social Commission" and that the commission is "not responsible for promoting, reviewing or discussing critical race theory."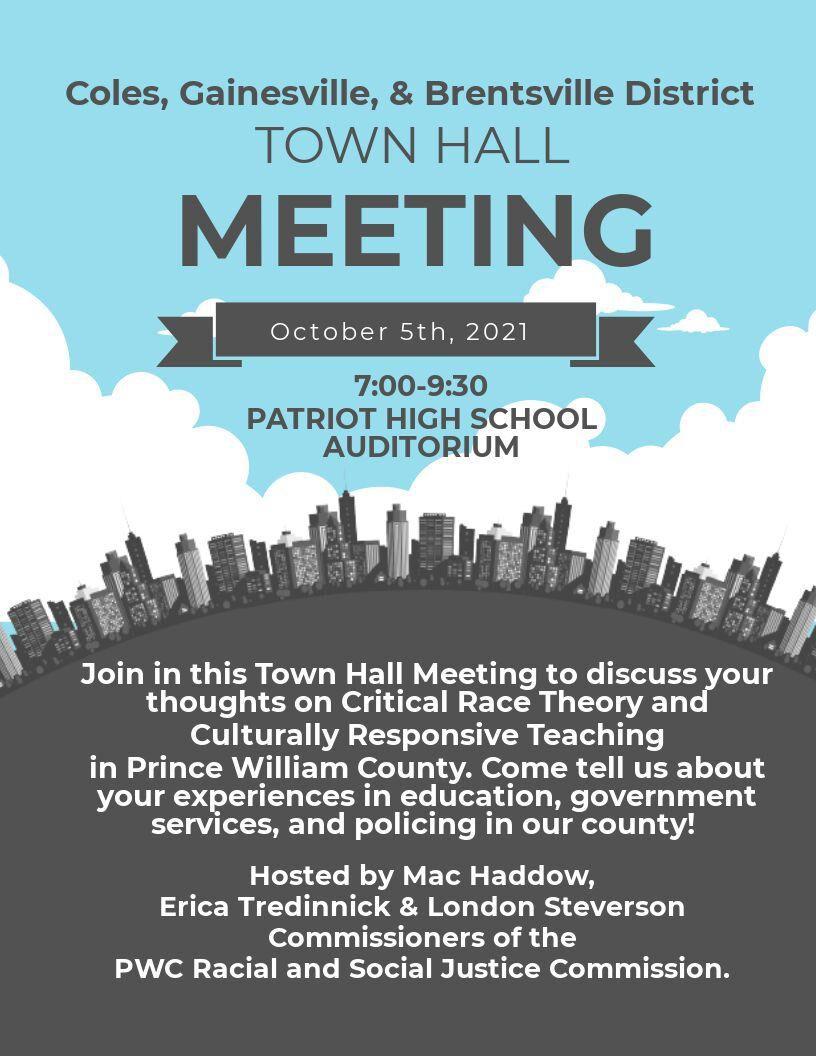 Rock said in an interview Monday that a flyer for the town hall had caused confusion and concern among parents.
She said she issued the statement to clarify for parents that the town hall is not affiliated with the official business of the Racial and Social Justice Commission. 
The term critical race theory has recently become a political buzz word. The term was first coined in the 1980s by attorney and scholar Kimberlé Crenshaw. One of its central tenets is that racism is structural rather than only personal, and that laws and institutional practices can have racist outcomes without racist intent.
Critical race theory is not a part of classroom teaching. But conservative leaders and candidates have sought to use it to stir up enthusiasm for voters in Virginia's off-year elections in November. The Republican nominee for governor, Glenn Youngkin, has said he will ban critical race theory from being taught in schools if he is elected. 
Prince William County School Board member Loree Williams (Woodbridge), who also serves as the school board's liaison with the Racial and Social Justice Commission, has said that critical race theory is not being taught in Prince William County schools. The same has been confirmed by Superintendent LaTanya McDade.
But some believe the school division's recently approved equity statement is an example of the result of critical race theory's influence on public schools, something the school board denies.
Prince William County's 12-member Racial and Social Justice Commission is tasked by the Prince William Board of County Supervisors with examining racial issues in county government services, schools and the police department and to identify potential areas of improvement. The commission's primary goal is to create a report with policy recommendations for the board to consider at the end of this year.
The Racial and Social Justice Commission's next meeting is Oct. 21 at 6:30 p.m. The meetings are held in the Board of Supervisors' chambers at the James J. McCoart building.