Officials are asking drivers to use extra caution Monday, the first rush-hour commute for the new 395 Express Lanes.
The new, tolled 395 lanes opened to the public on Sunday. The 395 Express Lanes pick up where the Interstate-95 Express Lanes left off, around Edsall Road, and continue for about eight miles to the 14th Street Bridge in Washington, D.C.
The $480 million project, funded by Transurban through an agreement with the Virginia Department of Transportation, created three reversible express lanes out of the two existing HOV lanes.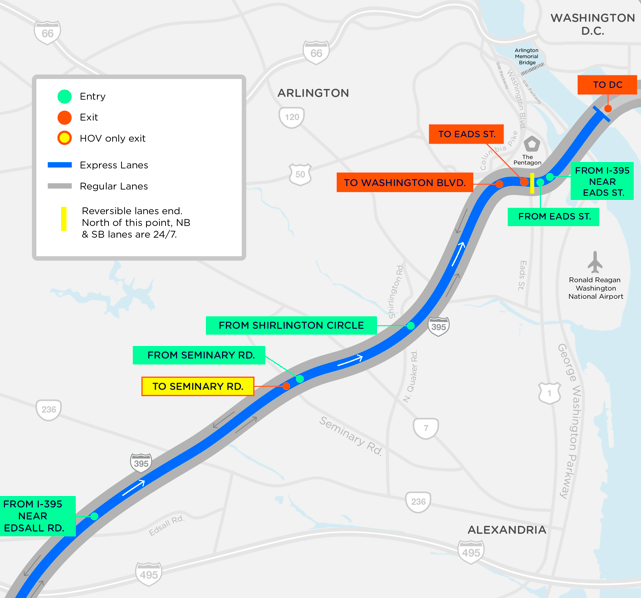 The old HOV lanes, which ran north of Edsall Road, had been limited to vehicles with three passengers during morning and afternoon rush hours, but were open to all drivers outside of those times.That routine changed when the new lanes opened Sunday evening. 
Now, the lanes will operate like the Interstate 95 Express lanes. Drivers will need an E-ZPass or E-ZPass Flex to use the lanes, and like the I-95 Express Lanes, vehicles with three or more passengers won't be charged a toll if they have their E-ZPass Flex set to "HOV on." Those with fewer than three occupants will pay a toll.
The tolls will be "dynamic," meaning they will shift higher as congestion builds in the lanes. The tolling is designed to keep traffic moving at 65 miles per hour. The tolls will likely average about $8 for the 8-mile corridor but could reach as high as $30 during rush hour, according to the Washington Post.
As part of the agreement, Transurban will pay the state $15 million a year to make transit upgrades in the I-95 corridor. Transurban is also making some improvements in the regular lanes on I-95, including adding an extra lane to ease the bottleneck near the Occoquan River.
If drivers end up on the 395 Express lanes by mistake on Monday morning, they should not stop or back up, but should just keep going. Drivers who end up in the lanes on accident will be offered a reprieve, according to a 395 Express press release.
"The Express Lanes team will work with anyone who gets on the lanes by mistake the first week to ensure they are not charged," the release said.
The opening of the lanes includes a redesigned interchange at South Eads Street, which aims to allow quicker access to the Pentagon and Pentagon City. But Express Lane officials are warning that it may take drivers some time to adjust to the new traffic pattern.
There are now two ramps to exit the onto South Eads Street. One ramp leads to the Pentagon, while the other ramp leads to Pentagon City. 
"If exiting to the Pentagon remember to stay left," the press release said."Pentagon City exit traffic should keep right."
New stoplights on South Eads Street and the Pentagon reservation are now active.