Saying it's time for Virginia to be honest about its history and chart a new course, Gov. Ralph Northam announced Thursday morning that the statue of Confederate Gen. Robert E. Lee would be removed "as soon as possible" from Richmond's iconic Monument Avenue in an effort to help Virginians heal and move forward from longstanding racial divisions.
"As a physician, I can recognize pain. There's tremendous pain. It's been going on for a long time, but it was brought into particular focus in Minneapolis and in the … protests not only in Richmond but in other cities and towns across Virginia," Northam said during an 11 a.m. press conference in Richmond. 
"It's a time for Virginia, it's time for this country, to heal," he added. "And when there are symbols of divisiveness, such as these statues are, in order to heal that divisiveness, the statues need to come down."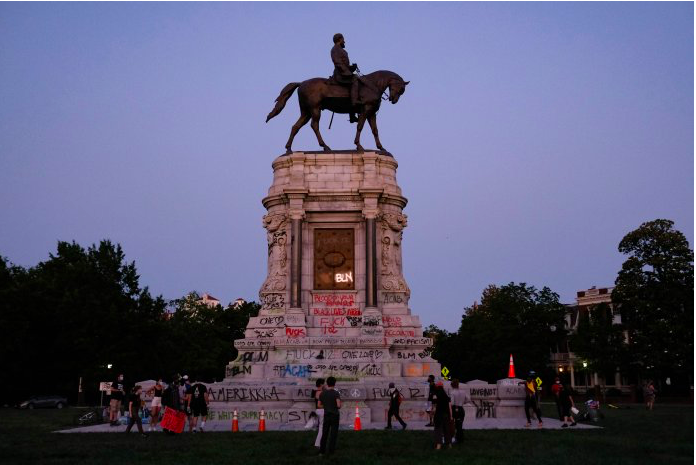 The announcement follows seven straight days of protests around the state in the wake of the death of George Floyd, who died Monday, May 25, after a Minneapolis police officer pinned him to the ground by pressing his knee into Floyd's neck.
The Lee statue, a flashpoint of controversy for more than 10 years, had attracted thousands of protesters in the days since Floyd's killing. Its stone pedestal is now covered in graffiti, some of it obscene, as a result of those gatherings.
Northam said he has asked the state's Department of General Services to remove the statue "as soon as possible." 
The bronze portion of the statue will be placed in storage, "and we will work with the community to determine its future," Northam said.
The pedestal will remain in place until it is decided whether it will be removed altogether or topped with something different, Northam said.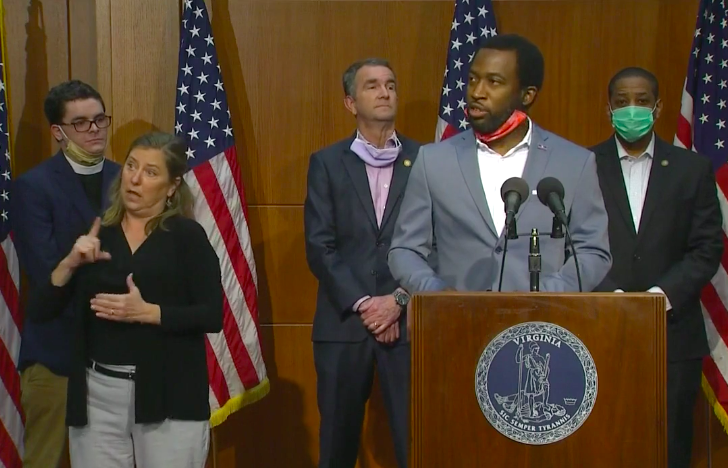 Richmond Mayor Levar Stoney began the press conference by saying he would introduce a city ordinance July 1 to remove all the city-owned Confederate monuments on Monument Avenue.
"It's time to put an end to the Lost Cause and fully embrace the righteous cause. It's time to replace the racist symbols of oppression and inequality -- symbols that literally dominate our landscape -- with symbols that represent and summon the best in all of us," Stoney said.
In his remarks, Stoney acknowledged the ongoing coronavirus pandemic and said the country is really suffering from two pandemics: COVID-19 and racism.
"One is six months old, the other 400 years old. And as the events of the last week have made painfully clear, both are lethal, especially for black and brown people," he added. "It is our responsibility to keep them from claiming more lives in this country, in this world. … We need to show that black and brown lives matter. This is our moral duty."
Richmond is the former capital of the Confederacy, and Virginia has more Confederate monuments than any other state, Northam said during his remarks. There are a total of five Confederate monuments on Monument Avenue, including the one of Lee as well as statues of Confederate Gens. J.E.B. Stuart and Thomas "Stonewall" Jackson; Confederate naval commander Matthew Fontaine Maury; and Confederate President Jefferson Davis.
Only the Lee statue is the purview of the state; the rest belong to the City of Richmond. Earlier this year, the General Assembly amended Virginia law to allow localities to either move, take down or re-contextualize Confederate monuments in their own localities.
During his remarks, Northam recounted the history of the Lee statue, the role it has played in Richmond's history – to glorify the Lost Cause -- and the efforts previous generations took to ensure the statues would not be taken down, including enacting state laws prohibiting their removal. 
"They wanted the statues to stay forever. They needed the statues to stay forever, because they helped keep the system in place. And that also worked. Those laws ruled for more than a century," Northam said.
Northam called the Lee statue "a symbol to shore up the [Lost] Cause." He recounted the history of the statue, which was erected in 1890. The structure is 6 stories tall and weighs 12 tons. It was made in France, transported to Richmond via the James River and took "10,000 citizens and a whole lot of rope," Northam said, to haul three large crates out into the tobacco field where it would be installed.
"Some businesspeople put it out into the field so they could eventually build a housing development around it and make money. And it worked," he added.
Northam further said the purpose of the statue "was no secret." During the ceremony unveiling it, 150,000 people turned out and "almost every one of those 150,000 people waved Confederate flags that day," he said.
Northam went on to say the symbol was "wrong" when it was put up "and is wrong now." He noted that pedestals are places of honor, places where things are put for people to look up to. He questioned what message statues of Confederate generals placed in such positions of honor send to both Virginia's children and to visitors of the state.
"When it's the biggest thing around, it sends a clear message: This is what we value the most. But that's just not true anymore. In Virginia, we no longer teach a false version of history, one that pretends the Civil War was about state's rights and not the evils of slavery. No one believes that any longer," Northam said. "In 2020, we can no longer honor a system that was based on the buying and selling of enslaved people."
Northam acknowledged that some will disagree and be angered by his decision.
"I know some will protest. Some will say Lee was an honorable man. I know many people will be angry. But my friends, I believe in a Virginia that studies its past in an honest way. I believe that when we learn more, we can do more. I believe that we take that honest look at our past, we must do more than talk about the future, we must take action," the governor said.
Earlier in the press conference, Northam said that "hearts are in different places" regarding institutional racism and that some "don't want to see it or can't see it."
"It is time to acknowledge the reality of institutionalized racism, even if you can't see it," he said. 
The event was held at 11 a.m., so as not to conflict with a 2 p.m. memorial service to horror Floyd, Northam said.
Those in attendance for the announcement included the Rev. Robert W. Lee IV, a descendant of Robert E. Lee, as well as descendants of Barbara Johns, who staged a protest against the inadequate conditions of her segregated Prince Edward County high school that eventually led to Brown v. the Board of Education, the landmark civil rights case that led to the desegregation of public schools.