There is no better time than autumn to soak in the beauty of Virginia while enjoying a delicious beer from the countless breweries in every corner of the Old Dominion.
With summer yardwork winding down, and business regulations on social distancing reaching a delicate balance, now is the time to get out an explore some of the Virginia Piedmont's fantastic breweries that offer an amazing variety of beers on tap and some of the best outdoor seating options anywhere in the world.
Pick a designated driver and hit the road for a tasty tour.
For a north-to-south brewery crawl, a natural first stop would be the beautiful patio at Hillsborough Farm Brewery, 36716 Charles Town Pike, located in the small town of Hillsboro in northern Loudoun. Beers are poured in the Fox Den tap room and reflect a classic approach to brewing with many familiar styles available.
"Ol' Bessie" is a traditional American brown ale brewed with Wilamette hops with hints of chocolate, figs and caramel. "Stone Cold Fox" is a smooth IPA with tropical fruit notes and refreshingly dry finish. If you brought along some wine lovers on your day trip they will pleased with the selection of wine produced at the adjacent vineyard.
Next, take a break from sweeping Blue Ridge and Piedmont farmland views and catch a distinctly industrial vibe at Escutcheon Brewing, 142 W. Commercial St., in Winchester. Their "Plimsoll Session IPA" is a low-alcohol, easy-drinking session beer made with Calypso, Centennial and Cascade hops. It clocks in at an approachable 4.5% alcohol.
Try a pint of "Habermehl's Oktoberfest Lager," a traditional Fest Beer that sets up for a stroll on Winchester's downtown pedestrian promenade, which has an abundance of food offerings to explore.
Cross back across the Blue Ridge to check in at Dirt Farm Brewery, 18701 Foggy Bottom Road, in Bluemont. Climb their high hill to one of the most amazing views anywhere in Virginia.
Dirt Farm's large, expansive patio and lawn are perfect for enjoying their "Shelter in Place" New England-style IPA. At 5.4% alcohol, it won't knock you for a loop like many in this category, but it still delivers the juicy hop bomb that IPA fans expect.
For something completely different, check out their "Tart 31 Cherry Ale," a fruit beer with hints of sour aging which gives it a pleasant, tart finish. As an added bonus for some, it is gluten reduced.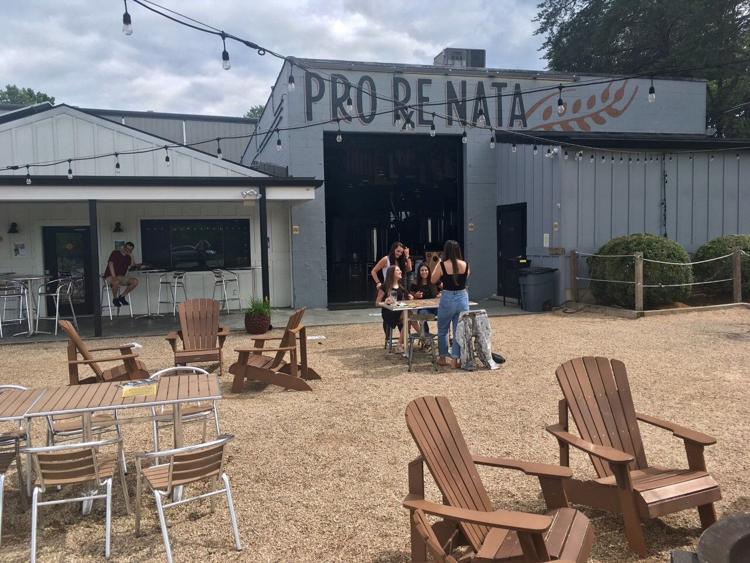 Take a scenic byway past farms, vineyards, battlefields and numerous small towns – windows down, music blasting, if you wish, until you reach a great under-the-radar spot. Pro Re Nata Brewery, 6135 Rockfish Gap Turnpike, Crozet. 
Pro Re Nata, Latin for "take as needed," offers a variety of styles and seasonal offerings throughout the year. Try "Bagpipes of Pan," a Scottish Ale with a balanced roasted malt profile and an aftertaste of sweetness that comes from the addition of local Bubba's Buckwheat Honey. Also worth seeking out is "Hazing to Remember," a hazy IPA made with English ale yeast and oats, which lend a smoother and more balanced finish to the beer with minimal bitterness. 
Just down the road from Pro Re Nata is Blue Mountain Brewery, 9519 Critzers Shop Road, in Afton,
which is sold throughout the state. Rather than sampling one of their better-known offerings, try their outstanding variation of "Dark Hollow" made with Trager Brothers coffee beans and chocolate nibs. This is a 10% alcohol Imperial Stout, fair warning.
Not to be missed is their "Spooky," a barrel-aged pumpkin ale that is perfect for the season. It clocks in at an impressive 8.2% after being brewed with 200 pounds of pumpkin puree, cocoa nibs and aged in Bourbon barrels.
End the day close to home at the outstanding Old Bust Head Brewery, 7134 Farm Station Road,
in Vint Hill. An entire day could be spent enjoying their tap list, listening to local live music and ordering snacks from their food truck. Be sure to sample "Nitro Oatmeal," a silky smooth stout with hints of honey, cream and chocolate. Not always on tap but definitely worth ordering if available is their unusual "S'more Latte Stout," as decadent as you would imagine.
For something more conventional, try "Vixen," an easy-going traditional Irish red ale with deep amber color, medium body and satisfying finish, the perfect nightcap to wrap up a fall brew tour.