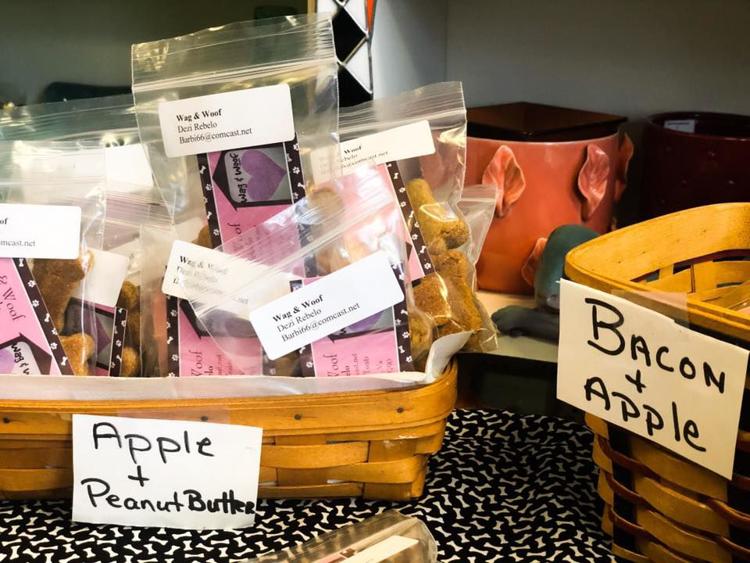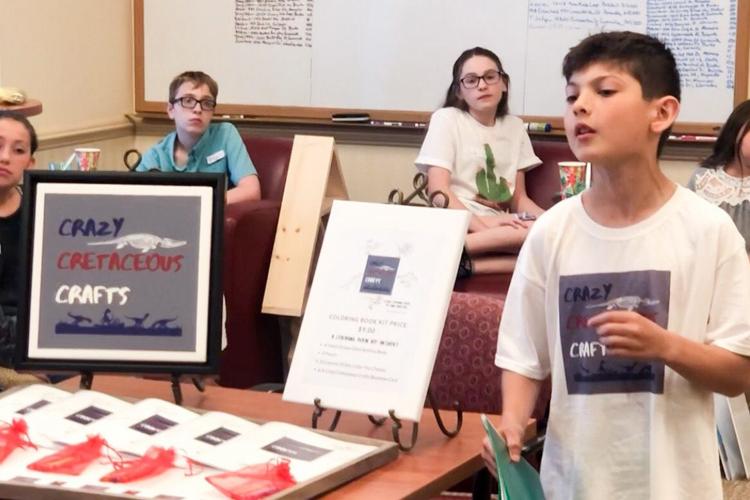 Cat ear headbands, homemade dog biscuits and dinosaur coloring kits are among the items that will be for sale by children at this weekend's Second Annual Young Entrepreneur Business Fair in Gainesville.
Caelyn Driscoll, 11, of Gainesville, said when she was thinking about becoming an entrepreneur she was advised to do something she loved.
"I said 'I love cat ears. I think it would be cool to make them,'" she said. "They are my best seller now and I even make bunny ears. I feel really good about them because I am bringing something to the market that nobody else has."
Caelyn's younger brother Liam, 10, has also gotten involved. He came up with Dinosaur Coloring Kits, a coloring book and a pouch with four crayons.
"I wanted to do more than just a coloring book for the fair, plus I could get more money," Liam said.
Dezi Rebelo, 12, of Haymarket, makes homemade dog biscuits.
"I really like animals, and one day we decided to make some just for fun," Dezi said. "We heard about the Young Entrepreneur Business Fair and we Googled 'what do dogs like?' and we made up a recipe."
Dezi makes the biscuits once a month and sells them to her customers.
"It's super fun to make them," Dezi said. "My dog goes crazy for them when they come out of the oven."
The idea for a business fair for kids came in part after Caelyn Driscoll created her cat ear headbands last year. She had planned on entering them into another young persons' business fair, but it filled up quickly and she was unable to participate.
"She was pretty devastated," said Tricia Driscoll, Caelyn's mom. "I was sad for her."
Tricia Driscoll decided to approach Meighan O'Toole, the owner of Stuff! Consignments in Gainesville and asked her if she could display her items there.
Soon after, Tricia Driscoll decided to join with other like-minded folks to create a new business fair for young entrepreneurs in Gainesville. Also involved are Meighan O'Toole, Bill Denny of the Bill Denny Real Estate Group; Lucrecia Reyes, of Lucrecia Reyes Designs; and Lori Battistoni, of the Law Offices of Lori V. Battistoni.
"We were all able to see how something incredible could come from that disappointment," Tricia Driscoll.
The co-founders encouraged children ages 6-16 to participate. For a $50 fee, they were invited to attend six monthly workshops that teach them how to become entrepreneurs. The topics the group came up with included:business planning; time management andscheduling;branding, shop operations andpackaging;budgeting for yourself andyour business; and a"Give Your Pitch" Shark Tank-style event.
The content was also made available online for those unable to attend the workshops. The workshops were taught by local business professionals.
About 26 children are participating this year.
"Our goal is to incrementally grow. We don't want it to be massive," Tricia Driscoll said. "We really want to be able to serve each child."
The Second Annual Young Entrepreneur Business Fair will be held from noon to 4 p.m. June 23 at Eclipse Restaurant, 5615 Wellington Road, Gainesville.
"They are all so excited," Tricia Driscoll said. "It's a magical thing to watch and see how brilliant these kids are."
Last year's event drew more than 400 visitors.
"Customers were surprised and inspired by the businesses created and managed by local kids," Tricia Driscoll said. "Young entrepreneurs left the event with solid sales, new confidence and great lessons to carry them forward in business and life."