Amid rising COVID-19 cases that have overwhelmed the local health department's contact-tracing efforts, the Fauquier County School Board voted 4-1 Wednesday night to revert to all-virtual instruction when school resumes on Wednesday, Jan. 6.
The Fauquier County School Board decided  to delay a decision Wednesday on whether the high …
The board left open the the option of returning to in-person instruction under the hybrid model as soon as Tuesday, Jan. 19, but decided to reevaluate conditions at their Jan. 11 meeting.
School Board Chairman Duke Bland (Marshall District) voted against the motion. He said he thought the schools should offer only remote learning through the end of January.
Board members and school administrators met virtually in an emergency session to discuss how the COVID-19 pandemic is playing out in the county – and how it is affecting the plan to  welcome children and staff back into school buildings after the winter break.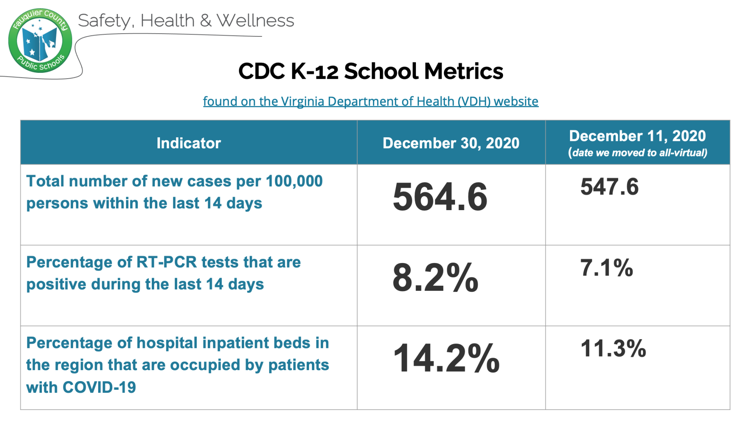 April Achter, population specialist with the Rappahannock-Rapidan Health District of the Virginia Department of Health, and Daniel Ferrell, the health district's epidemiologist, presented the latest COVID-19 case numbers. Achter pointed to slides that reflect the upward trajectory of cases in Fauquier. She cited a 400% increase in cases over the last eight weeks.
"Hospitals are expressing concern," she said, adding that the rise in cases is expected to continue into January.
Achter pointed out that many residents are not following health department recommendations on mask wearing and social distancing. "Parents have been hosting parties for their teenagers. We have significant numbers of children who are sick," she said.
In Fauquier County, the typical six cases a day during the summer has turned into 35 or more cases per day in recent weeks. Ferrell pointed out that although other counties in the health district are seeing increases as well, Fauquier County's increase is significantly sharper.
"It used to be we'd have 82 cases in a week in our five counties; now we have 315 or even 415," he said.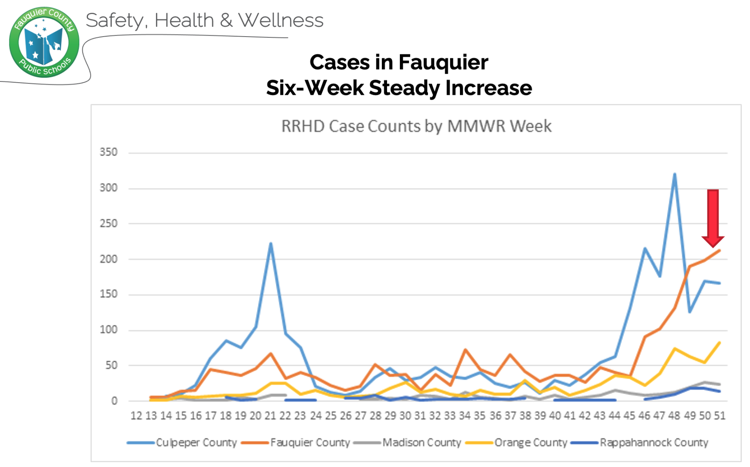 Ferrell explained one of the serious ramifications of the rapid case rise: "We can't do effective contract tracing. There are too many cases. We have started to prioritize."
Ferrell said his office has to focus on finding links to the highest-risk individuals. That means that contract-tracing in a long-term care facility has to take precedence over the case of a 10- year-old, a 15-year-old or a stay-at-home parent.
Ferrell said because his department is so overwhelmed, any cases reported in school staff or students would have to be traced by school nurses or other school personnel.
Bland asked Ferrell when cases might hit their peak, but Achter said it depends on people's behavior. "We don't know how many people have been having gatherings over Christmas. Hospitals are stressed right now, and vaccinations will not have occurred before mid-January."
Ferrell pointed out that before the fall, school-aged children were largely unaffected by the virus because they were staying home.
"Now that kids are getting out, playing sports, going to holiday parties… kids are around each other much more now. It used to be that parents would bring it home to their kids, but now kids have it when their parents don't… We have seen an increase in cases in adolescents."
School board members Suzanne Sloane (Scott District), Stephanie Litter-Reber (Lee District), Donna Grove (Cedar Run District) and Susan Pauling (Center District) each expressed their concern about remaining in the virtual model instead of returning to the hybrid plan – where students attend in-person classes two days a week and learn remotely for two days via classroom cameras.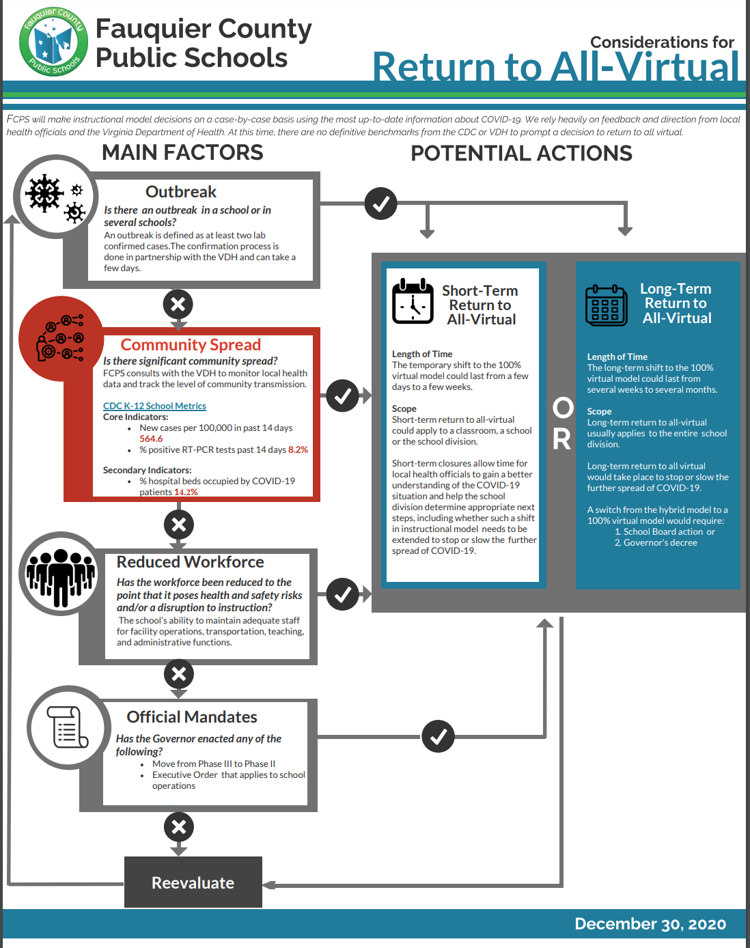 Pauling emphasized that when students were in the schools – Nov. 9 until the week before Christmas – case numbers were relatively low and isolated. No outbreaks were reported during those six weeks.
"The protocols were working. Let's keep that as part of the discussion… We are not making plans to bring everyone into schools without mitigation. A lot of people are following the rules…," Pauling said.
"We need to remember why we switched from virtual to hybrid. Kids were slipping through the cracks… Children are suffering because they can't go to school."
She added: "We are switching the problem from the schools to day care. Somebody has to be with the kids while their parents are working. We are transferring the burden from the schools to the community… We are a resource. When we go virtual, we take that resource away… Whatever we need to do to safely open our schools, we have to do."
Sloane said she is worried about the mental health of students. She said that she spoke to a school counselor who said they are counseling 20 children. "All of them are suffering from  depression… Happiness is one thing, despair is another."
Sloane pushed the two health department representatives for further clarify the case numbers. She asked how many of the new cases have been restricted to nursing homes, for instance, and how many are in children. She suggested that schools are not contributing to the spread of COVID.
Achter said, "I am worried about our health care workers. I am worried about our hospitals, about how many beds we have. I don't have strong enough words to describe the situation our country is in. It is grave. We are not surprised by what's happening, but we are tired, we are sad. We are tired of our recommendations not being followed… As a nation, we are on fire."
She said to the school board, "You are focused on the schools. We are focused on the community. Anything we can do to keep our numbers down will help our community."
Frank Finn, assistant superintendent for student services and special education, reminded the school board that the schools returned to virtual learning between Dec. 14 and 17 because of a "catastrophic workplace shortage."
Schools reverted to the virtual model because there were 51 staff members who had been instructed to stay home as a result of a positive test result or possible exposure to an infected individual. Additionally, there were 163 staff members absent from work Friday, and the school health nurses at three schools were absent.
Finn suggested that even if the schools opened in a hybrid model on Jan. 6, they would probably have to return to remote learning within a couple of weeks, based on predictions for January.
Bland agreed, "January is going to be a blow out."
Reach Robin Earl at rearl@fauquier.com