Presidential hopeful Sen. Bernie Sanders drew a crowd of more than 400 to Jirani Coffeehouse in downtown Manassas Monday to stump for Del. Lee Carter, D-50th, Del. Elizabeth Guzman, D-31st, state Senate candidate Qasim Rashid and Democrats running for local races in Prince William County and Manassas. 
Carter and Guzman were both elected in 2017 after defeating longtime Republican incumbents and are aiming to hang onto their newly won districts. Carter faces a challenge from Republican Manassas City Councilman Ian Lovejoy; and Guzman is facing a challenge from Republican D.J. Jordan. 
Rashid is challenging state Sen. Richard Stuart, R-28th.
Also in attendance were Democratic candidates for the Prince William County Board of Supervisors Raheel Sheikh, who is running against Republican Yesli Vega in the Coles District, and Kenny Boddye, who is running against Supervisor Ruth Anderson, R-Occoquan. Democratic-endorsed Prince William County School Board candidate Lisa Zargarpur, who is vying to unseat Willie Deutsch in the Coles District, was joined by Lisa Stevens, who is running for an open seat on the City of Manassas School Board.
Sanders, addressing a crowd that overflowed onto the sidewalk, said the audience should vote for Democrats in Tuesday's elections.
"Here in Virginia, progressives are going to win tomorrow because the people of Virginia and the people of America understand that what being an American is about is pride in our diversity," Sanders said. "What we are about is exactly the opposite of what Trump is about. Trump wants to divide us up. We bring our people together around an agenda that works for all of us, not just the top 1 percent."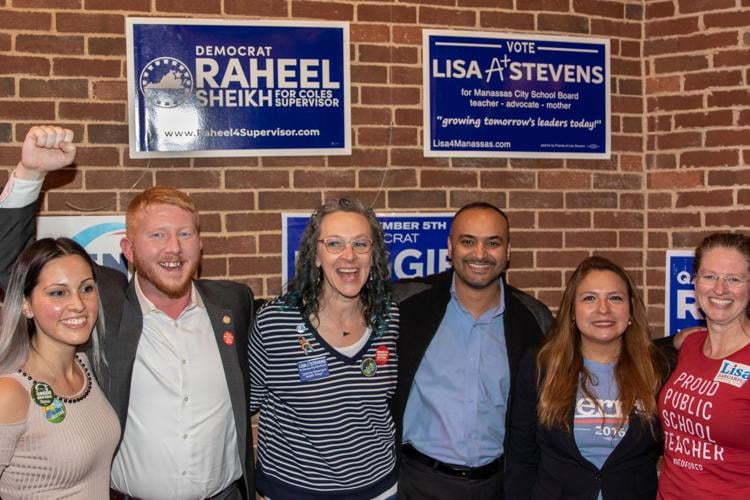 Carter, who is the only self-proclaimed socialist serving in the Virginia legislature, said he thinks the Democrats are poised to take control of the state Senate and House of Delegates. 
"I think we're going to do it," Carter said. "For the last two years, I've been the only socialist in a Republican-held legislature. I can't wait to be the only socialist in a Democratic held legislature."
Guzman said it was Sanders who inspired her to run for office in 2017. 
"I started looking around and realized that no one that looked like me was representing my community," Guzman said. 
Guzman touted recent legislative efforts like raising teacher salaries, increasing the felony threshold and expanding Medicaid in Virginia that occurred since a Democratic wave election in 2017 brought the party within striking distance of controlling the General Assembly, but said it isn't enough. 
"Give us a Democratic majority tomorrow and you will see commonsense gun legislation," Guzman said. 
The event attracted a mix of both Sanders supporters and people curious about the Sanders' positions and the candidates he was there to support. 
Manassas Park resident Allison Thompson, 35, said she came to the event to learn more about Sanders and about the local candidates. Thompson, who recently moved to the area from South Carolina, said she usually votes for Democrats but considers herself an independent. 
"I feel like the only way I can go this time is Democrats. Unfortunately, Republicans are proving that they're not willing to stop the corruption that's going on already," Thompson said. "Even some of the Republican candidates aren't saying 'no' to some of the things going on in Washington. They're still just going along to get along and I'm tired of that rhetoric."
Casey Bach, 28, an immigration lawyer who works in Manassas but lives in Reston, said he was there to hear Sanders and Carter speak and planned to vote for Democrats on Tuesday. Bach said, locally, he is focused on elections for commonwealth's attorneys in the region. 
"I'm very excited that in Northern Virginia there are some real progressive prosecutors running, people who are going to change the policy on marijuana, on cash bail, on disproportionate incarceration," Bach said. "It's really exciting to have candidates who are talking about those sorts of issues."
Reach Daniel Berti at dberti@fauquier.com