Some came in red "Moms Demand Action" T-shirts, while others wore bright orange stickers declaring "Guns SAVE Lives."
Both sides of the gun-control debate were well represented during a recent forum on gun violence legislation hosted by several local state lawmakers ahead of the General Assembly's special session, which kicks off Tuesday.
On Wednesday, July 3, Gov. Ralph Northam (D) announced a list of eight bills he'll ask state lawmakers to consider when they return to Richmond this week. They include measures that would require background checks for all firearm transactions; reinstate Virginia's one-handgun-a-month law; ban assault weapons, large-capacity magazines and silencers; and beef up punishments for allowing children under 18 to access loaded firearms, among other things. (See box)
Since the format for the special session will be largely determined by the General Assembly's Republican leadership, it's not yet clear whether any of Northam's ideas will be heard outside the GOP-controlled committees in both chambers.
None of the legislators who hosted the July 1 forum at Chinn Regional Library serve on the committees that could once again prevent a wider debate on such proposals.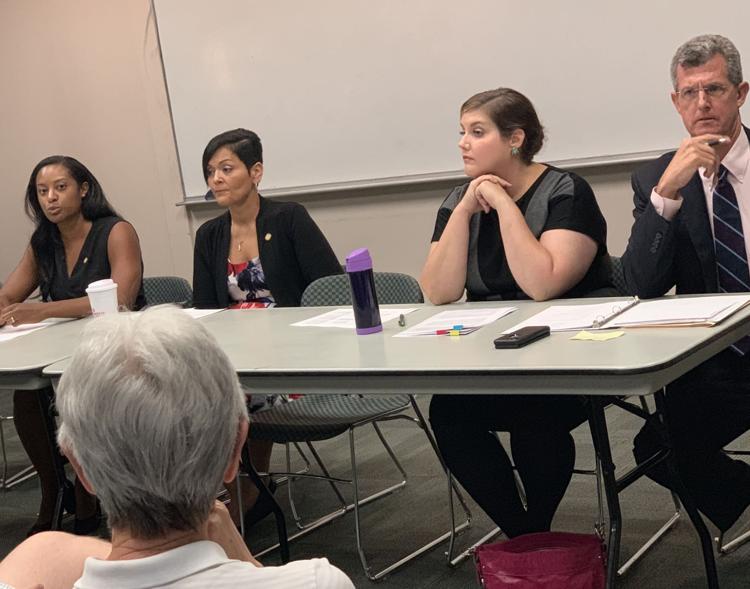 But if the bills make it out of committee, all of the lawmakers who attended  -- including Dels. Hala Ayala, Elizabeth Guzman and Jennifer Carroll Foy and state Sens. Scott Surovell and George Barker --  said they would support the measures, calling them "common-sense" efforts aimed at mitigating the toll of gun violence.
Ayala, Guzman and Foy all shared personal stories about how their lives have been affected by gun violence.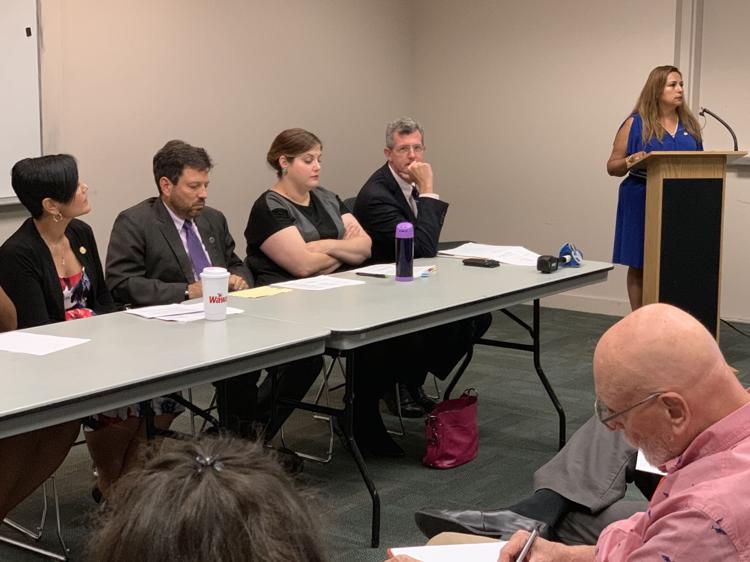 Ayala, D-51st, told the crowd she lost her father in a shooting when she was just 2 years old. She said she later lost a cousin to suicide involving a firearm in early 2018.
"I support the constitution, but what I don't support is access, just access without universal background checks," Ayala said.
Guzman, D-31st, shared that her neighbor, Crystal Hamilton, 29, was shot and killed in front of her school-age son by her husband, Army Staff Sgt. Ron Hamilton, in a spasm of domestic violence that shook the county in February 2016. That incident also claimed the life of Prince William County Police Officer Ashley Guindon, 28, and seriously injured two other police officers.
"As her neighbor, and knowing her child personally, I will be her voice in the Virginia General Assembly," Guzman said of Hamilton. "I think we're all living in a place where we all know prayers and thoughts are not enough."
Finally, Foy, D-2nd, talked about the gun violence plaguing her hometown of Petersburg, Virginia, and about how she helped care for a friend who was shot and injured during a robbery.
'A public health crisis'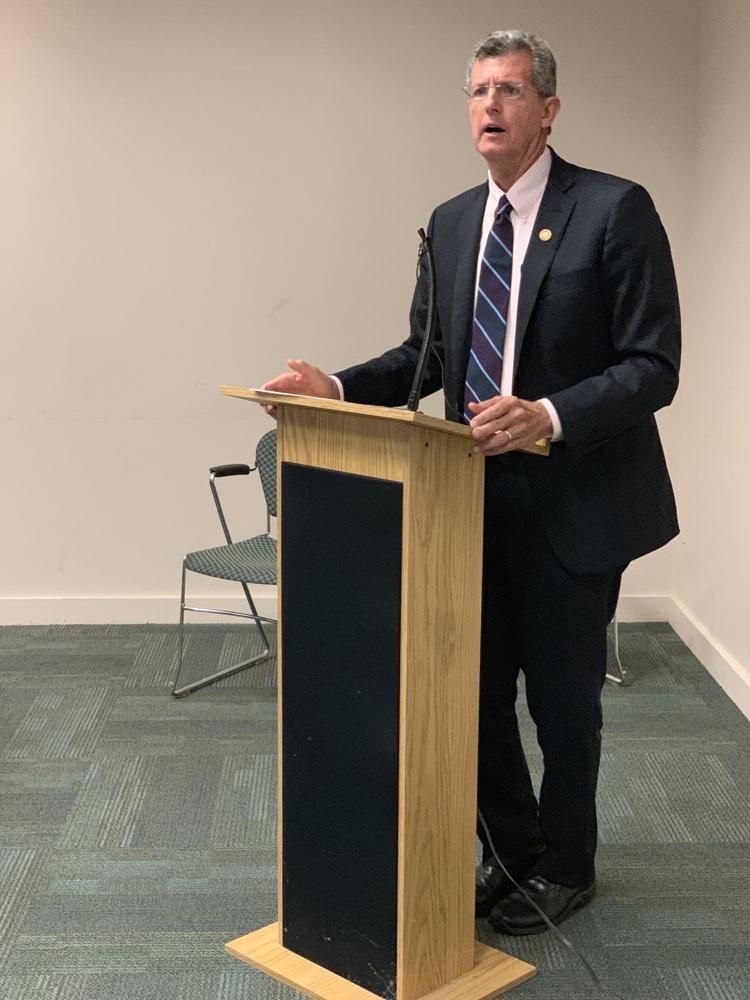 The forum also focused on the public health aspect of gun violence in Virginia. Dr. Daniel Carey, Virginia's secretary of health and human resources, stressed that most of the 1,028 Virginians lost to gun violence in 2017 died as a result of suicide or domestic violence.
Carey also noted that the risk of dying by suicide is higher for those who have firearms in their homes.
"Suicides are often a sudden decision and it's impulsive," Carey said. "Many people attempt suicide. … Those that do it with guns generally are successful. So access to lethal means is a significant risk factor for suicides, and I think it's an important factor for us to take into account."
Dr. Lauren Morea, a pediatrician and the "gun violence prevention champion" for the Virginia Chapter of the American Academy of Pediatrics, shared that firearms are the second-leading cause of death for American children ages 1 to 17. Guns kill, on average, about 83 children across the country every day, she said.
"In Virginia, in 2017, firearms were the number one cause of pediatric deaths," Morea said. "Our state lost 87 children in that year, the highest number since 1982."
"It doesn't take a medical degree to know that this is unacceptable," Morea added. "This is a public health crisis."
Gun rights advocate: 'I don't trust you guys'
During a sometimes tense question-and-answer period, however, gun rights advocates pressed the lawmakers on whether the governor's proposed legislation would make a difference in suicide deaths or the kind of mass shooting that prompted the special session: the May 31 fatal shootings in Virginia Beach that left 12 people dead. The gunman was killed by responding police officers.
Keith Wallace wore a holstered gun to the meeting. He noted the Virginia Beach gunman had to pass a rigorous ATF background check to legally possess the gun suppressor he used in the shooting.
"What part of a universal background check would have stopped this guy?" Wallace asked.
In response, Surovell noted that about 3 million people have been kept from purchasing firearms across the country since background checks went into effect. Foy said a law banning silencers, or suppressors, would have "reduced the amount of carnage" in Virginia Beach.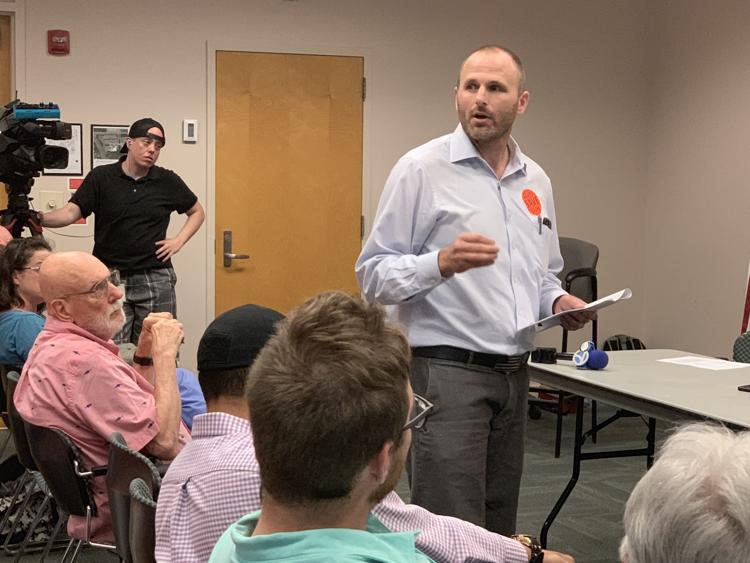 Wallace countered that suppressors merely reduce the sound of gunfire but don't eliminate it. Other gun rights advocates accused the lawmakers of trying to take guns away from law-abiding citizens. One man said mental health was the "real issue" state lawmakers should address in the special session.
Garth Robbins, an electrical engineer, said the lawmakers are forgetting that the Second Amendment was an effort to keep U.S. citizens from having their liberty stolen by a tyrannical government.
"I don't trust you guys. Seeing victims doesn't make you an authority," Robbins said, adding, "Nobody's talked about a historical perspective … Do you not understand that there's a cost to these anti-gun, anti-liberty laws being proposed? The cost is exactly that. It's liberty … Privately owned firearms are the quintessence of American liberty. So I ask, what have you done to increase liberty?"
"I can tell you I supported Sunday hunting," Surovell said in response to the query.
"The Second Amendment is not about hunting!" someone shouted from the audience.
Carey sought to clarify that the only bill that would remove a person's access to firearms is an effort to establish an "extreme risk protective order." Sometimes called the "red-flag bill," such a law would allow a judge to remove a person's access to firearms if the person is deemed a threat to themselves or others.
"The majority of these [gun deaths] involve folks in crisis, either through suicide or intimate partner violence," Carey said. "No one's coming for your guns unless you're in the midst of a crisis. So I disagree that the bills that have been proposed don't address the issue at hand."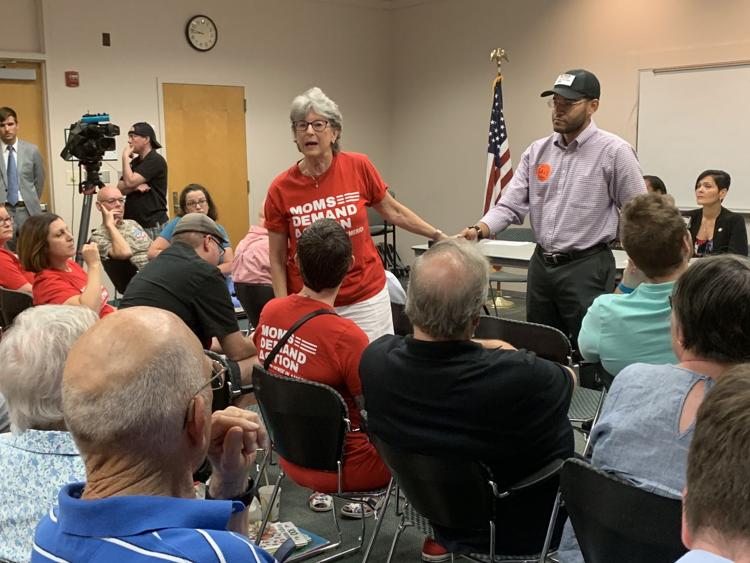 Joyce Cantor, who wore a "Moms Demand Action" T-shirt, said she struck up a conversation with Demetrius Brown, who wore a "Guns SAVE Lives" sticker. She said the two planned to get together in hopes of finding common ground.
"I don't know where it's going to lead. Understanding is where I hope it leads," Brown said after the meeting. Brown added that he believes one factor behind gun violence was left out of the discussion: poverty.
Brown suggested that lawmakers focus on improving education and opportunities for young people – not gun control.
"Support urban gardening, educate them in tech … Make people feel human again," Brown said. "Nobody talked about poverty and education. Those are the two issues that create violence."
Surovell, D-36th, said he wasn't surprised the meeting elicited strong feelings from both sides. Still, he said he felt confident his constituents in Fairfax, Prince William and Stafford counties support at least some of the governor's proposals.
"[Universal] background checks have almost 90 percent support and so do magazine limits, so I'm hopeful that what happened in Virginia Beach will change some minds down there," Surovell said of the special session.
"But the D.C. sniper didn't change anybody's mind and neither did Virginia Tech," he added. "So I'm not optimistic. But I'm a little hopeful."
CORRECTION: This story has been updated to note that Del. Hala Ayala's father was killed in a shooting, not a suicide. The Times regrets the error.
Reach Jill Palermo at jpalermo@fauquier.com