Republican candidates for governor, lieutenant governor and attorney general pitched "a different path" for Virginia during a Monday rally at the Montclair Tabernacle Church in Dumfries that drew a crowd of more than 150 supporters.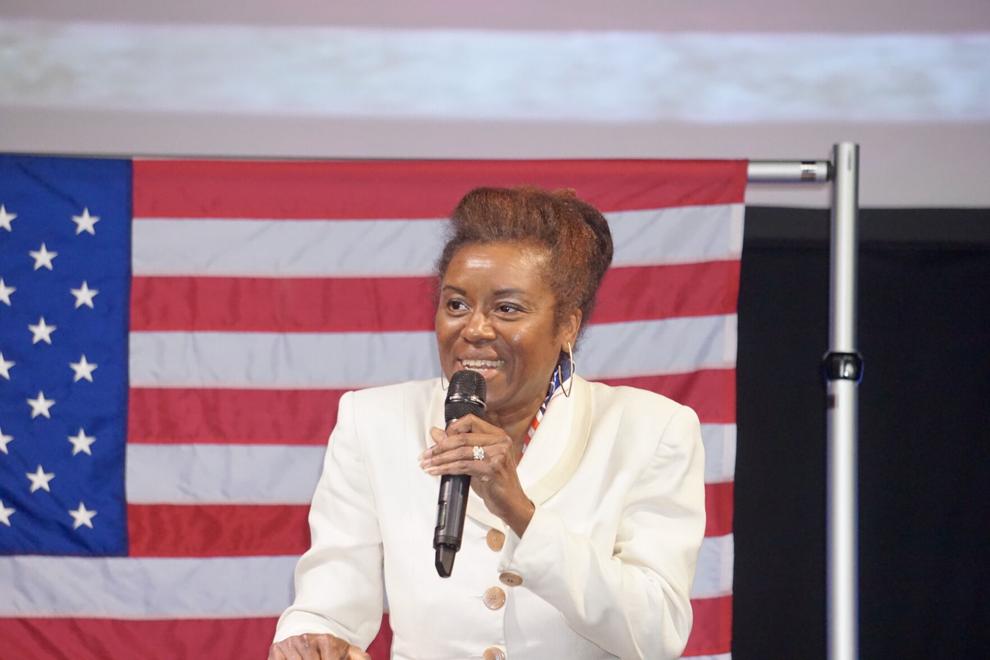 Gubernatorial candidate Glenn Youngkin, lieutenant governor candidate Winsome Sears and attorney general candidate Jason Miyares showcased a statewide Republican ticket they said would unify Virginia voters this fall as Republicans aim to win a statewide race for the first time since 2009.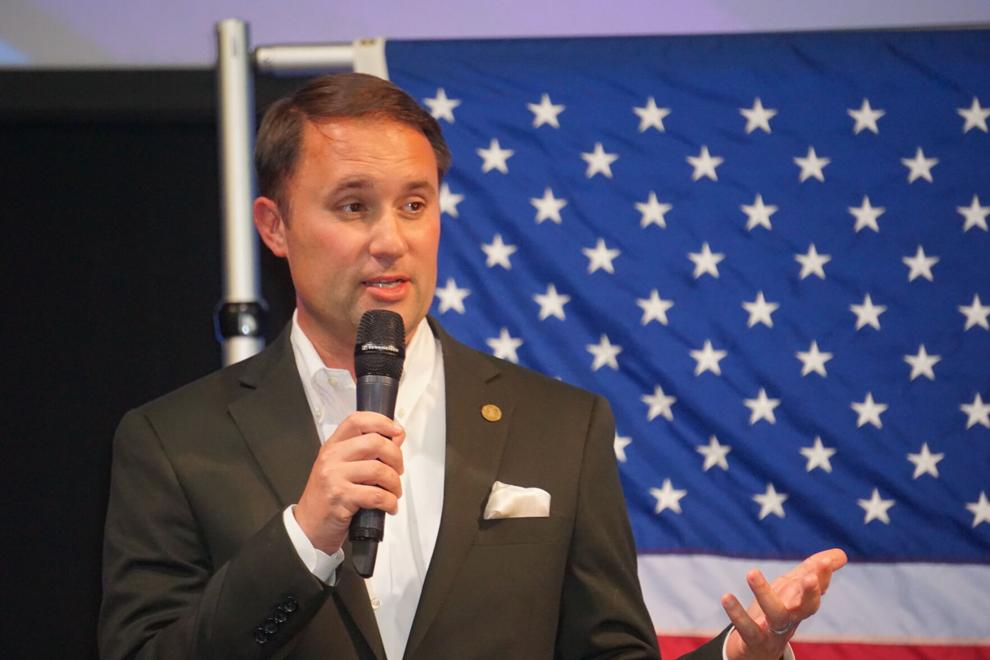 "Winning in November is not going to be an easy path. And yet we know it is not about the three of us. It is about all of us. This is about us coming together like never before. This is about Republicans standing up and locking arms, and oh by the way, with independents and with Democrats, because Virginians are coming together like never before," Youngkin said.  
Youngkin, 54, said he would chart "a different path forward" that would stand in stark contrast to the Democratic Party, and in contrast to former governor Terry McAuliffe who served a first term as governor from 2013 to 2017 and is running for re-election in the Democratic primary this year.  
"This Virginia is not the Virginia we know. It just isn't. The Virginia we know is the best place to live and work and play and raise a family. And the Democrats have indeed put her in the ditch," Youngkin said. 
 "... McAuliffe wants to get rid of right to work. He wants every Virginian to pay a portion of their salary to his union boss friends. He wants big government to have big taxes and big regulations. Folks, that has not worked for Virginia, and they blew it," he added.  
Youngkin told the audience his top priority is "getting open on day one" and cutting back the red tape "piled on Virginia businesses."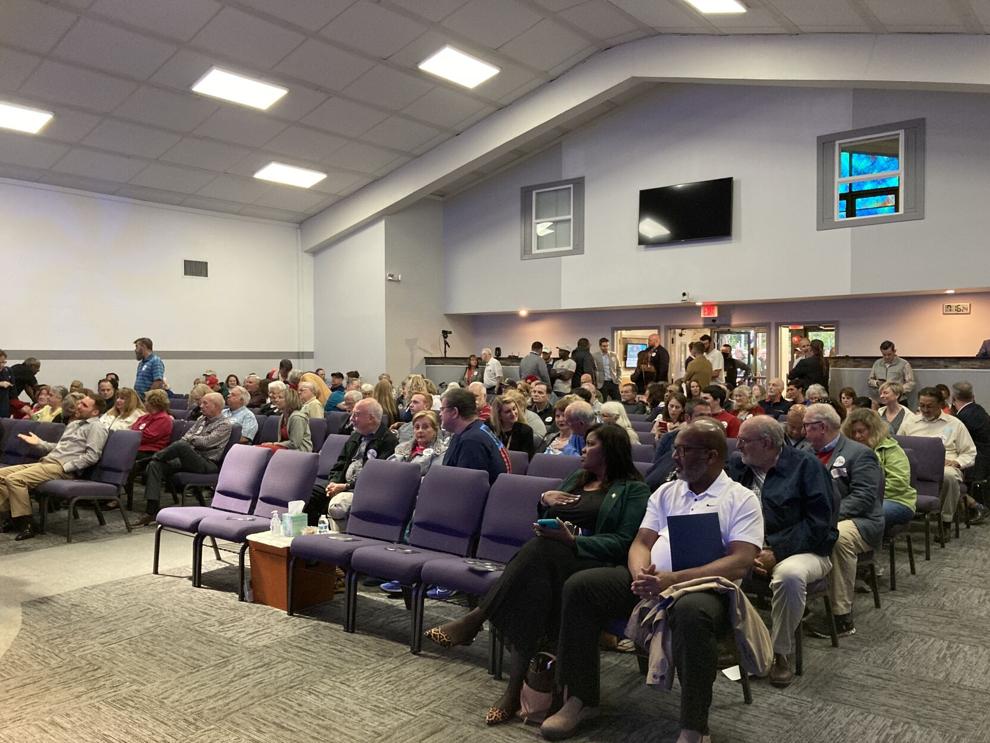 Pandemic restrictions have limited in-person attendance at events, businesses and schools since the pandemic began a little over a year ago, but those restrictions have been eased as more people have received the vaccine. Still, indoor gatherings are currently limited at 100 people. That will change this Friday, May 28, when Gov. Ralph Northam (D) will lift all occupancy and social distancing limits across the state. Northam lifted the state's universal mask mandate on May 15.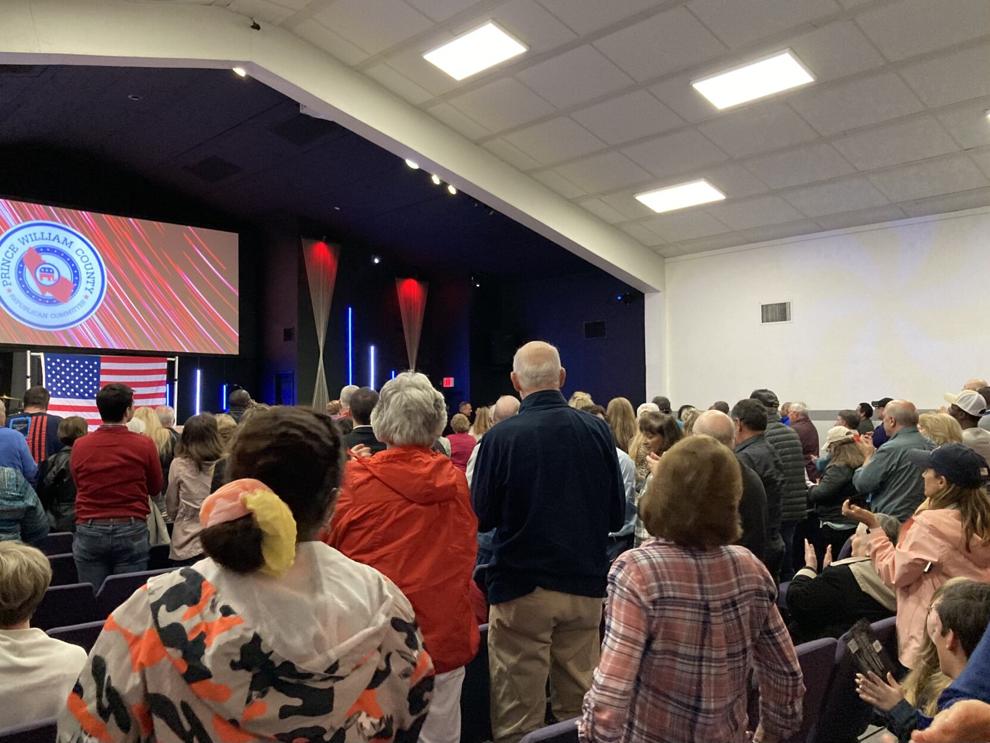 People at the GOP rally sat shoulder to shoulder at Montclair Tabernacle Church and were largely unmasked during the May 24 rally. 
Youngkin grew up in Richmond and Virginia Beach and now lives in Great Falls in Fairfax County. He spent 25 years working at the Carlyle Group, a global private equity firm and served as co-CEO of the firm from 2018 until his retirement in September 2020. 
Youngkin went on to talk about his plans for Virginia schools, including banning critical race theory from being taught to Virginia students. Critical race theory is an idea that originated in academic circles the 1970s that examines how governmental policies and laws preserve systemic racism. 
Republican lawmakers in nearly a dozen states have introduced legislation to ban critical race theory in public schools, efforts that seek to limit how instructors can teach their students about race and systemic racism.  
Sears, 57, a former Virginia House delegate, a Jamaican-born immigrant and U.S. Marine veteran, also leveled criticism at the Virginia Democratic Party, Northam and McAuliffe. She said the governor and former governor had packed governmental boards with "nonsense and idiotic people."   
"They don't have any good policy. It's just hate, hate, hate," Sears said. 
Sears, who represented the Norfolk area 90th District in the House of Delegates from 2002 to 2004, was the first Black female Republican to serve in the Virginia House and is the first Black female Republican to run for lieutenant governor. Sears said the Virginia Democratic Party has so far struggled to define her. 
"They don't know what to do with me. I couldn't wait for this time to come because they're having a hard time pegging me. I'm Black, in case you didn't notice. I'm a woman. I'm an immigrant. These are all the people they say all you deplorables hate," Sears told the audience.  
Miyares, 45, is currently a member of the Virginia House of Delegates, representing the Virginia Beach area 82nd District and is a former Virginia Beach prosecutor. He also touted his diverse background. Miyares said his mother fled Cuba in the 1960s following the Cuban revolution and later became a U.S. citizen.  
"If you ever want to be proud of your country, go to a citizenship," Miyares said. "... It's a powerful moment when they take that Oath of Allegiance to the United States." 
Republicans elected their statewide candidates in a first-ever unassembled convention on May 8 with satellite voting locations set up throughout the commonwealth. About 30,000 registered Republican delegates participated in the election, about 57% of the 53,000 delegates that party officials anticipated.  
In Prince William County, just more than 1,500 delegates voted in the convention – about 40% of the estimated turnout. 
The Democratic primary for governor is Tuesday, June 8. Early voting has been under way since April 23. 
Democratic voters will pick candidates for governor, lieutenant governor, attorney general and the House of Delegates. Five candidates are running for the Democratic nomination for governor: McAuliffe, Lieutenant Governor Justin Fairfax, state Sen. Jennifer McClellan, D-9th, Del. Lee Carter, D-50th, and former delegate Jennifer Carroll Foy.  
The Democratic primary for lieutenant governor has six candidates: Del. Hala Ayala, D-51st; Del. Mark Levine, D-45th; Norfolk City Councilwoman Andria McClellan; Del. Sam Rasoul, D-11th; Fairfax NAACP President Sean Perryman; and Xavier Warren.  
The Democratic primary for attorney general has two candidates, incumbent Attorney General Mark Herring and Del. Jay Jones, D-89th.