After closing for more than 70 days due to COVID-19, Potomac Mills finally opened this past weekend as Northern Virginia emerged from Phase 0 to Phase 1, allowing more "non-essential" retail stores to reopen for business. 
But many of the mall's popular stores remained shuttered last Saturday afternoon, and only a trickle of shoppers ventured out. Some said they came for the bargains. Others said they were ready to get out of the house and experience a little bit of normalcy after 10 long weeks with access to only grocery and big box stores.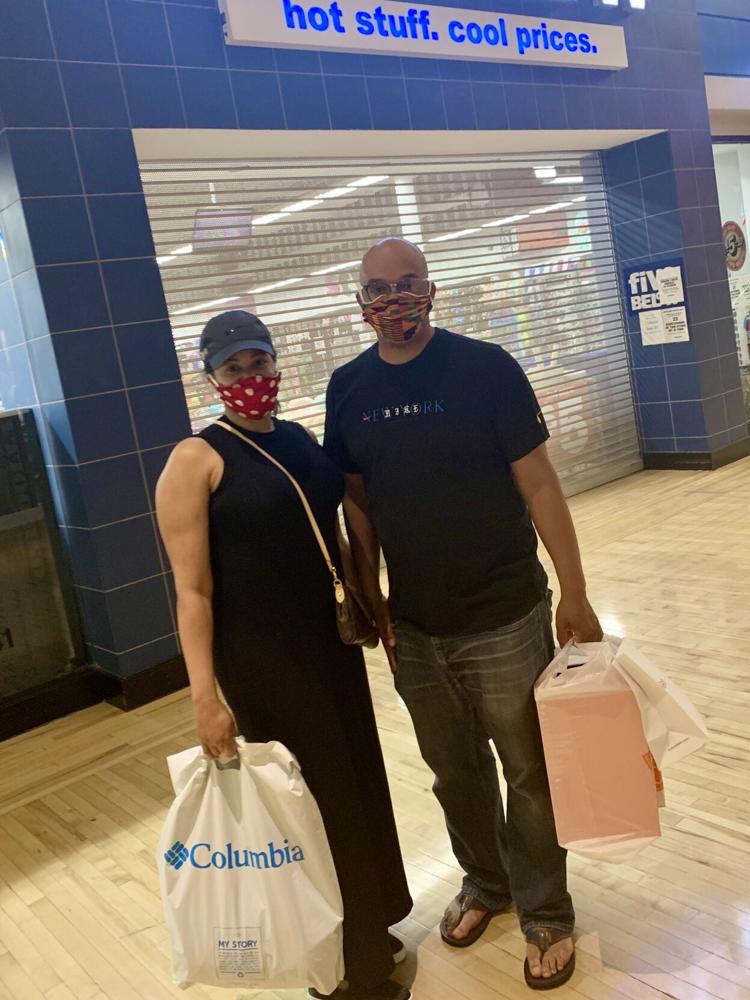 Antoine Thompson and his girlfriend Tracey McGee said they drove all the way from Prince George's County, Maryland, because their local malls were still closed. After working from home for weeks, they said they were ready for a road trip.
"For one, we thought it would be some good exercise in reasonable environment and we thought we'd get some good deals, too," Thompson said, holding up a white shopping bag with a new pair of running shoes.
Both wore face coverings in compliance with Gov. Ralph Northam's executive order mandating them in public places and said they were glad to see other shoppers doing the same.
Walkways were sparse, and people seemed to keep their distance by following stickers on the floor that directed foot traffic one direction or the other. New signs encouraged social distancing and listed "healthy shopper guidelines" that include: "If a store is busy, please come back later."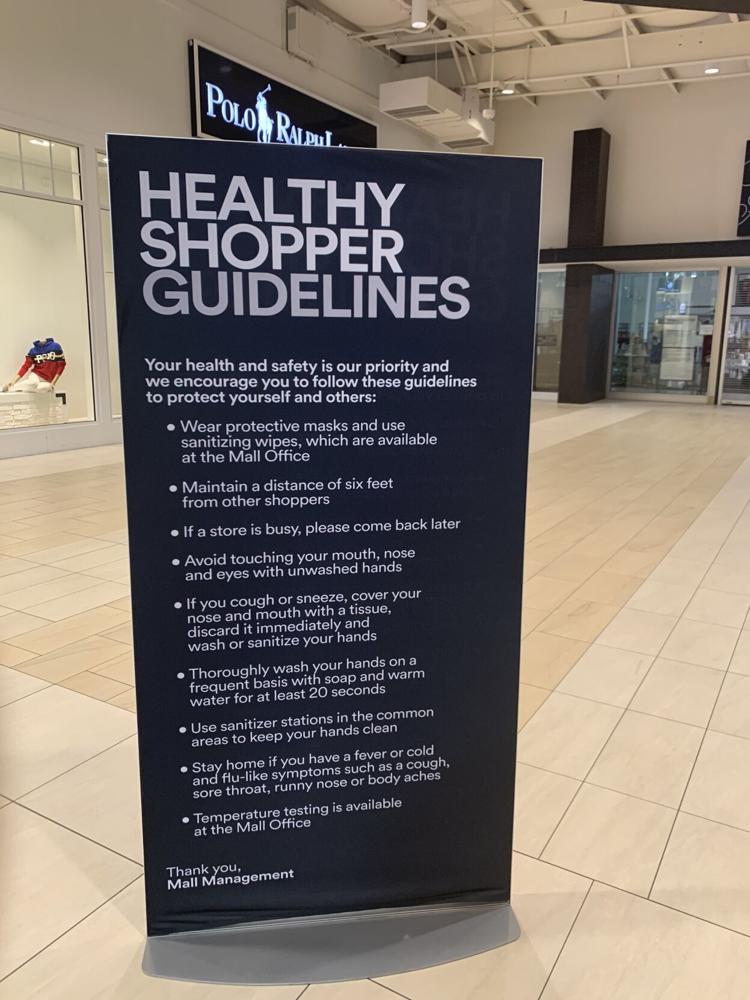 Simon Property Group, the Indiana-based company that owns Potomac Mills and more than 200 shopping centers across the country, released a 10-page document outlining "COVID-19 mitigation protocols" for their malls. Among other things, the document promises frequent cleaning of high touch surfaces, such as cash registers, railings and door pulls, and limits store occupancy to one person per 50 square feet. It also mandates face coverings in all stores and says patrons will be provided with free masks and sanitizing wipes upon entering.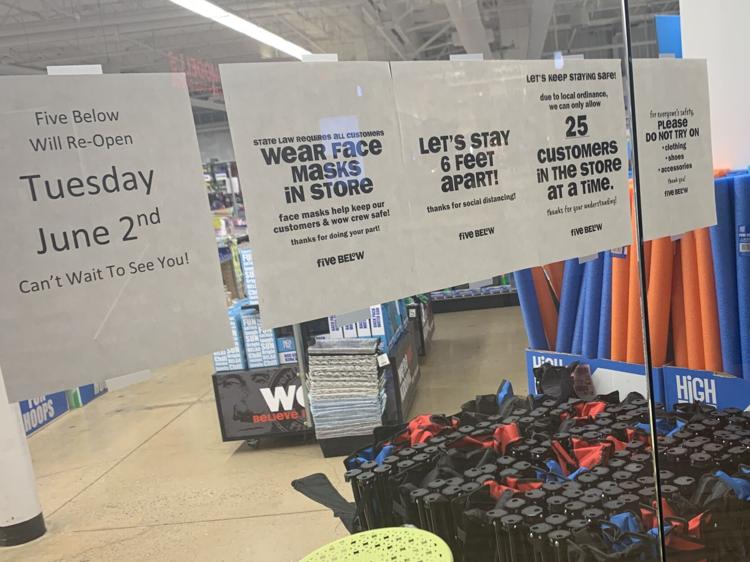 Employees' temperatures must be taken when they arrive at work, and any cases of COVID-19 among mall staff will be reported to the local health department, the document says.
Both Hollister and Hane's  were still closed on Saturday, as were Starbucks, Marshalls, JCPenney, Tilly's, Timberland and the Loft Outlet, although a sign posted at Loft said it would reopen Wednesday, June 3. 
Modell's Sporting Goods, also shuttered, appeared stuck in mid-March. Long-sleeved hoodies, fleece jackets and down vests hung on racks at the front of the store.
In the food court, most of the restaurants were open, but few people were in line. Those who were had to order to-go, as the dining area was closed and roped off with chairs stacked atop tables.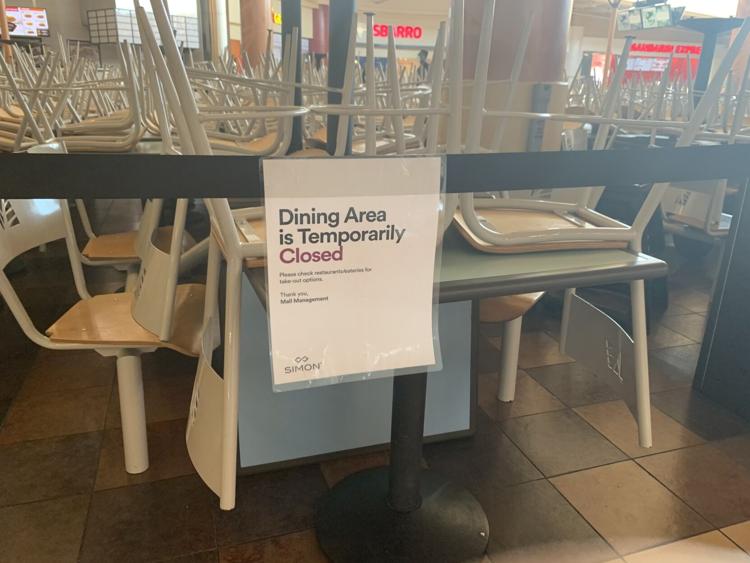 Every open store was posted with signs saying: "face masks required" and stating occupancy limits.
At Rack Room Shoes, the limit is 36. Store manager Willian Gomez said enforcing the rules wasn't a problem as most people wore face coverings and foot traffic was light.
Gomez said the store invited back most its employees for the reopening and "almost all of them came back." He said he kept working at the store throughout the mall's closure, mostly to  fill online orders made through the store's website.
"I was here the whole time," he said. "I haven't had days off during the quarantine." 
Now that the mall is open, Gomez said the worst part was having to wear rubber gloves. He said he was giving his employees frequent breaks to take off their gloves and wash their hands.
"Your hands have to breathe!" he said.
Over at Cinnabon, the staff was even more heavily decked out with personal protective gear. Staffers wore gloves, masks and clear plastic face shields to make and sell their giant buns and other treats.
Cinnabon staffer Emily Linaes, a 16-year-old Gar-Field student, said she was bored at home and glad to get back to work. Still, working amid an ongoing pandemic "is kind of scary," she said.
Some shoppers seemed similarly wary. 
Nellie Thomas, who was there with three friends, said they first circled the parking lot to make sure the mall wasn't too crowded before coming inside. 
"If there are too many people, we're walking the other way," Thomas said. She and her friends all wore cloth face masks and said they didn't mind doing so. "We're definitely taking precautions to feel safe," she said.
Reach Jill Palermo at jpalermo@fauquier.com