The Prince William Health District finally hit the 70% mark for adults having had at least one dose of the COVID-19 vaccine this week. But officials say they remain concerned about the 30% who are not yet vaccinated as local transmission of the virus hits the "substantial" level amid the rise of the more contagious Delta variant.
Prince William Health District's community engagement director Sean Johnson said Tuesday that even fully vaccinated local residents should wear face masks indoors in public places or when they are in close contact with people outside their households. 
"If you're fully vaccinated and … you are inside and you are with people you don't know, maybe you should consider wearing a mask … because you don't know who is not vaccinated and they could be carrying something," Johnson said in an interview with the Prince William Times.
Johnson's remarks came a few hours before the Centers for Disease Control and Prevention revised its mask guidance for the fully vaccinated on Tuesday, July 27. The federal agency is now recommending that those who are vaccinated wear face coverings in areas where the transmission levels are either "high" or "substantial" as defined by the number of cases per 100,000 residents over the past seven days. 
A substantial transmission rate is defined as 50 to 99 cases per 100,000 residents, while a high transmission rate is defined as more than 100 cases per 100,000 residents. 
As of Wednesday, July 28, Prince William County hit the "substantial" range for community transmission with just over 51 cases per 100,000 residents, according to the Virginia Department of Health.
New daily cases reported in Prince William County rose more than 130% over the past week. The county reported 60 new cases on Wednesday, July 28, the most since May 8. 
The rise is being attributed to the spread of the Delta variant among both the unvaccinated and the vaccinated. New research has shown that vaccinated people can get and spread the Delta variant even though they mostly do not develop severe symptoms, the CDC said this week.
Johnson said he is fully vaccinated but has remained wearing a mask in public places, except when actively eating or drinking inside restaurants, which he said he does infrequently.
"I still prefer being home because … that's me personally feeling I'd rather be cautious," he said.
Johnson likened the battle against COVID-19 to fire prevention, noting that most people employ several strategies to avoid a house fire, such as smoke detectors, not overloading electrical outlets and not leaving lit candles unattended. COVID-19 is similarly best avoided via layered protections: getting vaccinated, wearing face coverings, frequent handwashing and maintaining physical distance from strangers, he said.
The new CDC mask guidance also recommends that people who live with unvaccinated family members or those at high risk for complications due to COVID-19 also mask in public. That includes parents of children under 12, who are still too young to be vaccinated.
"Parents should seriously consider following the guidelines," Johnson said, noting that while most children are not seriously affected by COVID-19, some have had more serious cases and experience long-term side effects.
"It's just being cautious. It's just doing everything you can to protect yourself," Johnson said. "There's an old saying that safety is never an accident. You can never be too safe."
'Breakthrough' cases remain rare
As of this week, the health district could not provide the number of "breakthrough" COVID-19 cases reported in the Prince William Health District, but the number remains low in the Northern Virginia region, according to VDH.
Since May 1, there have been 115 COVID-19 cases reported among those who are fully vaccinated out of a total of 5,085 cases in Northern Virginia. Put another way, more than 97% of the total cases in Northern Virginia have been among those who are not fully vaccinated, according to VDH.
During the same time period, Northern Virginia had four breakthrough hospitalizations out of a total of 162 and two breakthrough deaths out of a total of 31, according to VDH.
Local vaccination effort continues
Although the vaccination clinic at the former Gander Mountain store in Woodbridge closed in late June, the health district is keeping its vaccination clinic at the Manassas Mall open for the time being and will continue to offer its mobile clinics, which have been vaccinating about 80 to 100 people a week, Johnson said.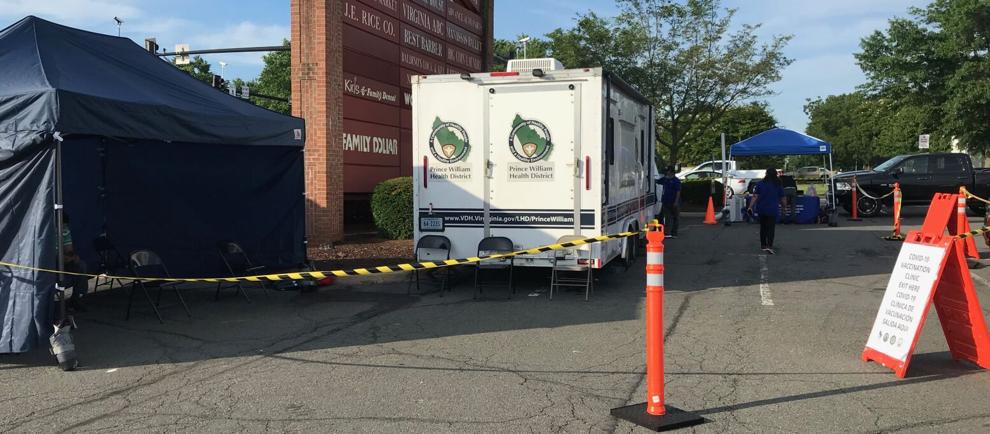 The mobile clinics are setting up outside stores and restaurants in Woodbridge on Tuesdays and in Manassas and Manassas Park on Thursdays. Recently, the clinics have been holding later hours, such as from 5 to 7 p.m., which has proved more convenient workers. The clinics are also making two stops a day instead of three but are staying put in each stop for longer periods of time, Johnson said.
The clinic has also added some Saturday events and will be at the Prince William County Fair from Aug. 17-19, Johnson said. 
The Manassas Mall clinic has ceased its daily operations because of the drop off in demand for the vaccine but is scheduling special vaccination events on a month-to-month basis, Johnson said.
"You know, half of Prince William County is vaccinated right now and every time we hold a clinic we chip away" at the number of residents who remain unvaccinated, Johnson said. "That's really the goal. … If the need arises, we are prepared to open [the Manassas Mall clinic] back up to do larger numbers."