The entire nation is running short of school bus drivers, and when drivers are absent, students sometimes arrive late to school. In light of all this, one Prince William County school hatched a plan.
While brainstorming one day about chronic student tardiness due to late school buses, which is often the result of having too few back-up bus drivers, Parkside Middle School Principal Mary Jane Boynton took a cue from Prince William County Transportation Director Shirley Posey who floated an idea: Why not offer school bus routes to teachers?
They'd be assigned routes that allow them to arrive in time for the starting bell, teach all day and then transport students back home. Initially, the teachers would be on call to serve as back-up drivers. In time, the they could pick up routes paying $18.21 an hour.
"We had several meetings about the driver-shortage situation," Posey said. At one point she asked Boynton: "Why don't you have some of your teachers drive?"
Parkside Middle, located in the Manassas area of Prince William County, transports all 1,230 of its sixth, seventh and eighth graders by bus. Sandwiched in between the City of Manassas and Manassas Park and crisscrossed by busy byways, the school cannot allow its students to walk to school.
The school currently operates 31 buses with 31 routes and 31 drivers and thus is considered fully staffed. But on any given day, according to Posey, up to 10 of those drivers are absent. When that happens, "we ask drivers do double runs," she said.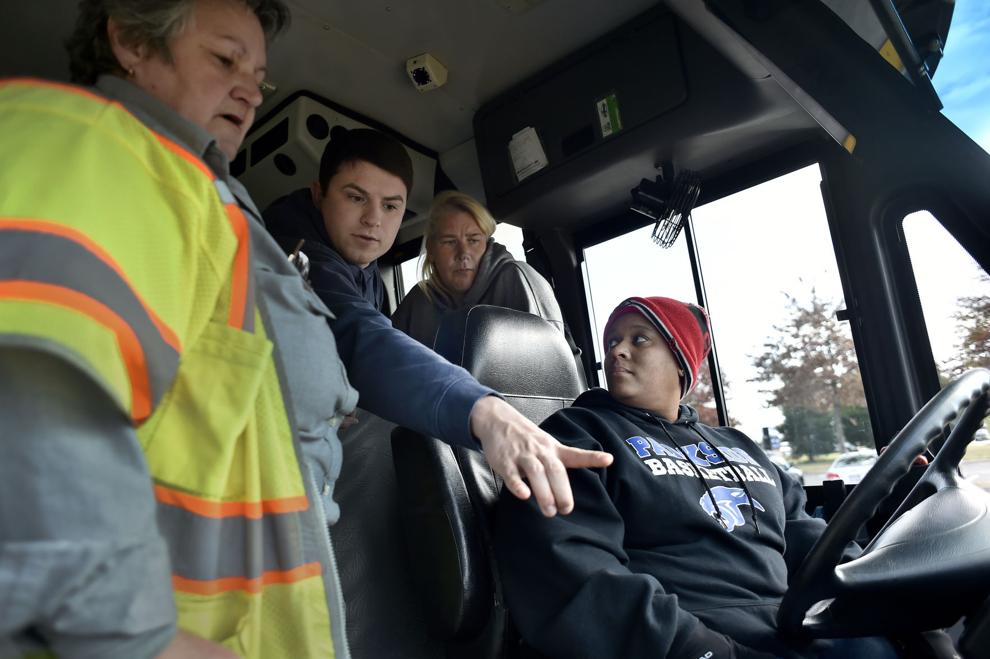 And more often than not, Posey and her bus-driver trainers have to take some of the day's runs since drivers must hold commercial driver's licenses.
"The whole nation is experiencing a shortage of school bus drivers," added Diana Gulotta, spokesperson for Prince William County Schools. "Countywide, on any given day, we can have up to 100 drivers out."
Three Parkside teachers signed up for bus training along with six from other schools. All are midway through classes that were set up especially for them on evenings and weekends.
"By January 2, we hope to have assigned each one of them a route," Posey said. "Depending on the distance involved, a teacher might be assigned several routes."
"The biggest thing I've ever driven is a Honda Pilot," Parkside math teacher and bus-driver-in-training, Yonica Powell said in a video on the Prince William County Schools website. "It wasn't as scary as I thought it would be."
"It's a good thing for kids to see adults pitch in when they can," Angela Leatham, a Parkside social studies teacher, said in the same video.
"I thought it was a good opportunity to get to know the kids better," added Sarah Hammersten, sixth-grade science teacher at Parkside.
Prince William County has a fleet of 913 buses serving nearly 100 schools and special-needs students (who may need busing across county lines), according to Posey, herself a driver for 15 years. The county employs about 700 drivers driving 4,500 routes that make 35,000 bus stops every day, she said. As of the end of November, the county was short 62 drivers, Posey said.
The process for teachers to become licensed is the same for any other school bus driver in the county, Posey said. "They get a Commercial Driver's License after we train and test them, both in class and on the bus," she explained.
First, they take a test at the Department of Motor Vehicles to get a CDL learner's permit so they can get behind the wheel of the bus. Then, two weeks of classroom training covers defensive driving, basic student management, safety protocols, radio etiquette and the like. They also get certified in CPR and first aid, she said.
Each trainee then puts in four hours a day driving a route with a trainer -- a minimum of 12 hours to a maximum of 24 – until they feel comfortable handling the bus and the kids.
"After we road test them, and they pass, we tell the DMV to issue the CDL license, and we assign them a route," Posey said.
Teachers drive only what they can handle until about 8 a.m. when they have to be at class, she said.
For most school bus drivers, the job entails starting each day with a pre-run safety check of the bus, driving three or four different morning routes from about 6 until 9:30 a.m., and then a post-run bus check and clean-up. Drivers are then free until 1:30 p.m. when they begin the afternoon runs.
"You're home by 4 or 4:30 p.m.," Posey said.
Posey said school coaches and trainers have also earned bus-driver credentials and have driven their athletes to events for "about the last five or six years."
Why such a shortage of school bus drivers these days? Posey, who began driving in 1979, said the school division has many more students to transport than they had in the past.
 "We have many more students and programs these days. And back then, there were a lot of housewives like me who rather than full-time jobs wanted to stay close to home and the family," Posey said. "And driving a bus worked well for that."
In Prince William County, school bus drivers start at $18.21 per hour and most work six and a half to seven hours per day, Posey said. "We have great benefits," she said.
The school division's video about teachers training to be bus drivers can be viewed on the Prince William County schools website. To watch it, search for  "Parkside Middle School Staff Members Double As Bus Drivers."