Prince William Board of County Supervisors Chair Ann Wheeler and Supervisor Pete Candland said the county will likely consider other locations for a new homeless drop-in center in Manassas after hearing concerns from parents and business owners about a plan that would have placed the facility near a dance studio, gymnastics facility and mosque frequented daily by dozens of kids and teens.
More than 100 people turned out to a "listening session" held by Prince William County officials on Wednesday, June 9, at a Best Western on Balls Ford and Sudley roads.
The hotel is near the "Build America 8" business complex, a cluster of more than 70 commercial spaces near Interstate 66 and Sudley Road, where the county's department of social services has identified a potential site for a daytime "homeless navigation center" that would offer meals, showers, laundry, counseling and other services to residents without a permanent place to stay.
But the complex is also home to Stage Door Dance Studio, GMS Gymnastics and the Manassas Mosque, which operates an Islamic school. Together, the facilities serve more than 1,000 kids a day, according to business owners and parents who expressed concerns about the homeless center. 
Some said they worry about the safety of people, especially children, heading to and from the dance studio, gymnasium and mosque, as well as problems such as loitering, panhandling and litter if the drop-in center were to open in the complex.
Meanwhile, advocates for the homeless spoke of the need for more services for a growing number of residents experiencing homelessness. 
Sydney Johnson, a Stage Door instructor, said the studio and surrounding businesses already contend with people using drugs and engaging in prostitution in and around the parking lot. She said she worries such problems could get worse if the homeless center were added to the mix. The dance studio, she added, is still trying to recover from the pandemic.
"Everyone needs help. I completely understand. I just don't think it's the best fit for this area, considering how long these businesses have been here, how hard they've worked to maintain their businesses and that they're still trying to bring [new] people in," she said.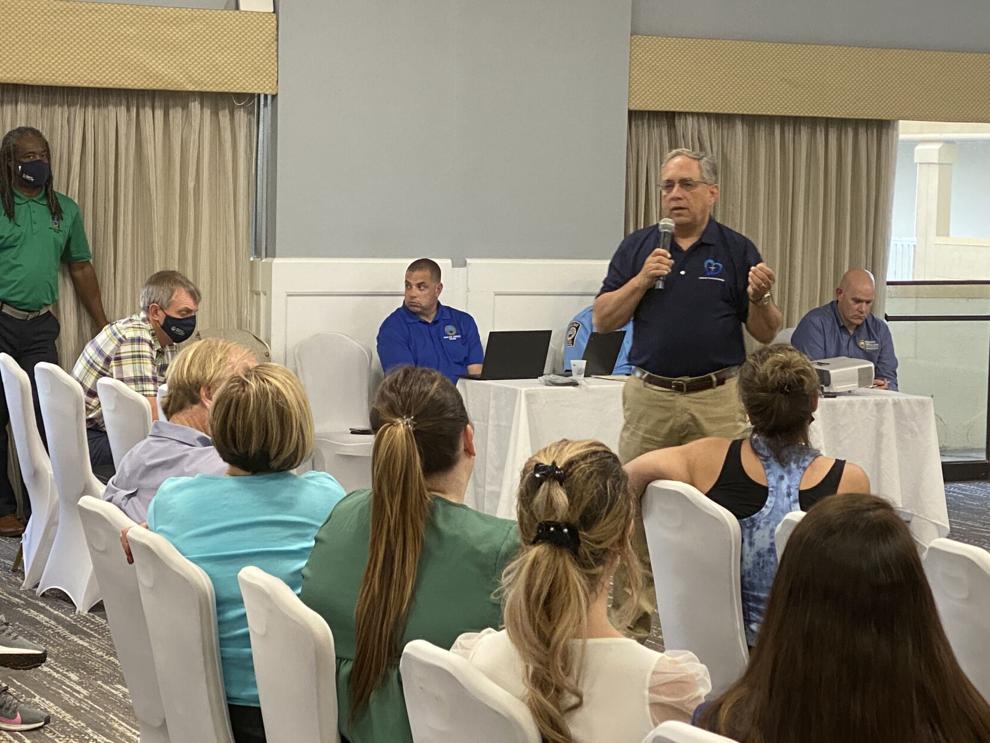 Kevin Rychlik, president of Serving Our Neighbors, a weekly homeless outreach that operates out of the parking lot of the Manassas Presbyterian Church, said he did not disagree with the parents' and instructors' concerns but asked them to give the homeless center a chance.
"I think your worries are real, meaning I think you're great parents to worry about the safety of your children," Rychlik said. "But homeless people aren't abducting children out here. They're just people who are homeless who need a place to go. And they need help. So, I just ask you to open up your hearts and think about that."
County: Drop-in center needed on the west end
If the project comes to fruition, the new drop-in center, formally called a "homeless navigation center," would be the county's largest capital investment in homeless services in decades. The opportunity is a result of the tens of millions of federal COVID-19 relief funds that have poured into the county over the past year, both through the CARES Act (the Coronavirus Aid, Relief and Economic Security Act) and the more recent American Rescue Plan Act.
But the money comes with stipulations, including that part of an "emergency solutions grant" to address homelessness must be spent by the end of this calendar year, according to Elijah Johnson, deputy county executive for human services.
Initially, Congress had stipulated that CARES Act funds had to be spent by the end of 2020, but that deadline was later extended to the end of 2021.
The county has tentatively set aside about $10.5 million in COVID-19 relief and other federal funding to purchase a building and renovate it to serve as a homeless navigation center, which advocates and county officials say is badly needed on the county's west end, particularly in the Sudley Road corridor.
During the most recent "point-in-time count," a one-day census of residents experiencing homelessness conducted in January, the county's total number of homeless dropped 13% to 282. 
Across the Washington, D.C. region, the number of homeless declined 15%, a drop attributed to the nationwide eviction moratorium and the increased federal funding made available for rental assistance and homeless services during the pandemic.
But of the 282 people counted as homeless in Prince William County this year, 67 – or about 24% -- were in the west end of the county, Tierney said.
Of the 67, 19 were identified as "unsheltered," meaning they were sleeping outside in tents or other places unfit for human habitation, while 48 had received help to stay in a local hotel because of the cold weather that night, Tierney said.
The county's existing shelters and resources for residents experiencing homelessness are concentrated on the east end of the county in Woodbridge. The county runs a 48-bed emergency shelter in the A.J. Ferlazzo building, at U.S. 1 and Cardinal Drive, which opened at the start of the pandemic. The Hilda Barg Center for families experiencing homelessness is also located on U.S. 1. The county also has a drop-in, homeless navigation center and a smaller overnight shelter for disabled adults, both of which are off Telegraph Road near Potomac Mills mall.
County officials began searching for a location for a west-end homeless drop-in center last year. They considered 15 possible sites before homing in on what had been a former fitness facility in the Build America 8 business park, located at 7300 New Market Court. 
The building needs renovation but offers what the drop-in center needs most: sufficient space and a water line large enough to accommodate both the showers and laundry facilities, Tierney said. Also, the business park is about .2 miles from a local bus stop.
Tierney and advocates for the homeless, some of whom work in drop-in centers and shelters, sought to allay the parents' and business owners' concerns by stressing the facility would have security and structure. Tierney said clients do not loiter around the county's existing drop-in center in Woodbridge after it closes.
"We don't have any problem during the day with people [loitering] outside," Tierney said. "They come, they shower, they get their meal, they connect with a case manager and then they go to work. And then they go to wherever it is they sleep, and that can be varied and different places, but it is not at the drop-in center. Because we do not allow that."
Evan Reyle, a Manassas resident who works at "The Lamb Center," a drop-in center for people experiencing homelessness in Fairfax County, said his facility has a good relationship with nearby businesses and with law-enforcement and has no problems with loitering or litter. Reyle urged opponents to understand that problems surrounding homelessness improve when drop-in centers are available.
"This type of opportunity, whether it's in this exact location or somewhere nearby, it actually … provides a place for folks to get the help that they need, to have a place to go and receive all kinds of services, because honestly, otherwise, the problem actually gets worse."
Jim Plazak, who owns seven units in the business park, said everyone agrees the county needs a homeless navigation center -- but that it should be somewhere else.
"I want to applaud the people of Prince William County for recognizing there is a need for this. There is. Everybody agrees with that," Plazak said. "But let's do it right. Let's get a win-win for everybody, especially those who are going to be served by the navigation center."
Wheeler: 'We will get a west-end navigation center somewhere.'
Near the end of the meeting, County Executive Chris Martino said county staff would "go back to the drawing board" and consider the comments. As things unfold, he added, "there will be more discussions with the community."
"This is a decision that's not going to be made tomorrow," he added. "We have some work to do."
Wheeler, D-at large, and Candland, R-Gainesville, both said in interviews after the meeting the county would likely reconsider the location for the drop-in center.
"The staff will rethink this proposal, and we'll go back to the board as a whole. … I think we heard a lot of concerns, and that's what public meetings are for," Wheeler said, noting she was encouraged to hear so much support for the center from advocates for the homeless.
"So, we will get a west-end navigation center somewhere," she added. "We'll do something, one way or another, no matter what."
"I think the big positive is there's almost unanimous agreement that we need to do something," Candland said in a separate interview. "Now we need to make sure we find the absolute right spot."
Clarification: Serving Our Neighbors is an independent nonprofit that is supported but not directly affiliated with the Manassas Presbyterian Church, according to the Rev. Dawn Mayes.