Despite its stew of heavy metals, the largest coal ash pond at Possum Point power plant made for a fitting backdrop Wednesday when Gov. Ralph Northam signed new laws requiring Dominion Energy to recycle or safely dispose of the 27 million cubic yards of toxic coal ash it has stored in mostly unlined pits around the state.
During an afternoon ceremony attended by several Prince William County state lawmakers, Northam (D) signed Senate Bill 1355 and House Bill 2786, two measures that found rare bi-partisan support in the Virginia General Assembly earlier this year.
The laws require Dominion to recycle at least 25 percent of its coal ash and remove the remainder to landfills lined with a synthetic barrier to prevent toxic metals from leaking into the ground or surface water.
The law means Dominion Energy will have to abandon the plan it fought for years to implement at Possum Point, a peninsula on the Potomac River outside Dumfries.
Dominion had hoped to consolidate the 4 million cubic yards of coal ash there into its 64-acre "Pond D." The pond was to be drained and topped with a synthetic cap and 2 feet of topsoil in a strategy known as "cap in place."
The problem? Pond D has only a 1-foot engineered clay liner at the very bottom of the pit. It lacks the synthetic barrier the new law now requires of landfills accepting coal ash in Virginia.
Protecting the state's rivers and groundwater is the aim of legislation, Northam said.
"Water is one of our most precious commodities, and we need to do all we can to protect our water and reservoirs…and our tributaries," Northam said. "And we know there are issues with this coal ash. It can get into our water supply and has significant toxins -- lead, mercury, arsenic."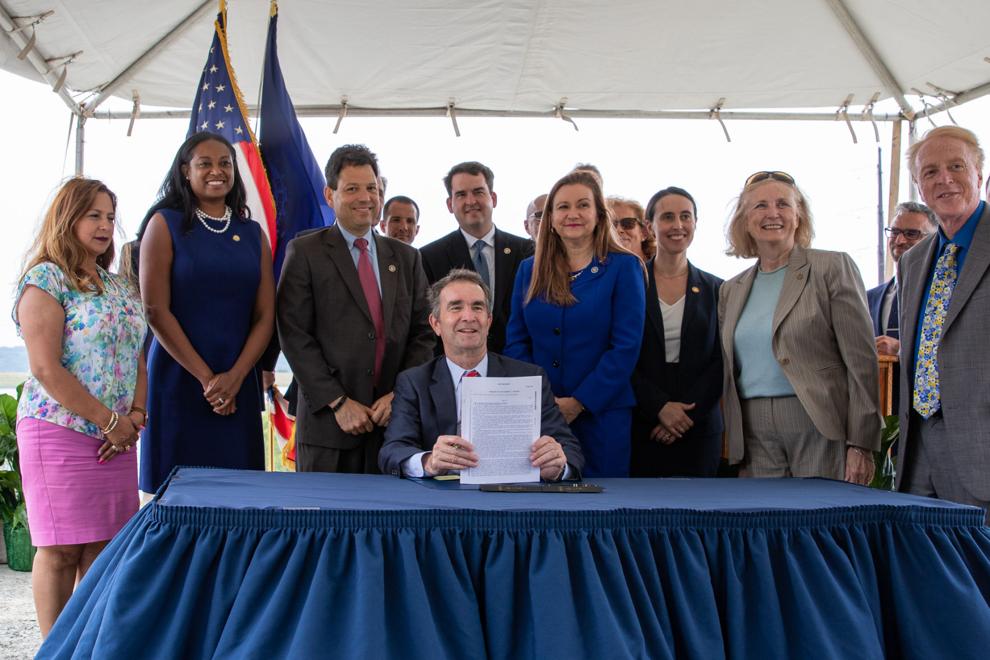 Coal ash, the byproduct of burning coal to make electricity, is composed of lead, mercury, cobalt, arsenic, hexavalent chromium and other heavy metals, many of which are carcinogens. Dominion Energy had a total of 11 coal ash ponds outside power plants at Possum Point, Chesapeake, Chesterfield and Fluvanna. All of four of the plants are located adjacent to the state's largest waterways: the Potomac, James and Elizabeth rivers.
The fight to require Dominion Energy to safely dispose of its coal ash was largely led in the General Assembly by Sen. Scott Surovell, a Democrat whose 36th District includes Possum Point. On Wednesday, Surovell noted the journey to a successful bill was a long one.
"When I dove into it, I had no idea it would be a four-year odyssey," Surovell said. 
Bills Surovell initially introduced to change Dominion's plans were unsuccessful. But over the years, Surovell managed to place year-long moratoriums on closing the coal ash ponds while requiring Dominion to assess existing pollution around the ponds as well as how much it would cost to recycle the ash versus burying it.
Surovell credited Sen. Amanda Chase, a Republican from Chesterfield, Virginia, for her help in persuading her GOP colleagues to support the measures. He also acknowledged the efforts of the Potomac Riverkeepers, who first sounded the alarm about Virginia's coal ash in 2015, and Dan and Patty Marrow, two Possum Point residents who Surovell said served as "the public face for the people who are affected by this."
Surovell also thanked Dominion Energy, adding: "We've had our battles, but this legislation would not have been possible without Dominion's help."
Surovell acknowledged it will cost Dominion Energy and state rate payers more to recycle and safely dispose of the ash. But he said he felt it important "to do it correctly."
"That extra $1.5 billion that we're going to spend is going to make sure we do it correctly, so we'll never have to do this again," Surovell said. "Because there was always a risk that the ponds could leak if we didn't do it correctly."
Also, Surovell noted, the legislation likely marks the first time Virginia has passed a law more protective of the environment than is required by federal law. 
The 2015 federal coal ash rule does not require a "legacy" coal ash ponds – those not currently accepting new coal ash -- to meet the more stringent standards of a modern landfill.
"I think that sets an important precedent that we can step up if the federal government isn't going to protect the environment," Surovell said. 
Chase, who also attended the signing ceremony, said the new law should reduce the risk of cancer for those who live near Virginia's coal ash ponds or for whose water could have been affected by leaking ponds. 
"It's a legacy problem that we inherited and now we have a legacy solution," Chase said. 
Dominion: Removing Possum Point coal ash by truck not 'viable'
Dominion is still assessing exactly how it will deal with the coal ash at Possum Point but has mostly ruled out transporting the ash by truck, said Mark Mitchell, the utility's vice president for generation construction.
"It's just a staggering amount of trucks that would be on the road, so we don't see that as a viable option. We would need to do something else besides that," Mitchell said.
Alternatives still under consideration include building a modern landfill for the coal ash onsite at Possum Point or removing the coal ash by rail. 
Mitchell said it would likely take about two years to finalize the utility's plans, which must also be reviewed by the State Corporation Commission.
In the meantime, Dominion Energy is completing work to dig up ash from its four other coal ash ponds at Possum Point – Ponds A,B,C and E – to consolidate it into the largest pond, Pond D.  Those older ponds had no liners. Ponds A, B and C were "legacy ponds" that had already been covered with dirt and grass years ago. Pond E contained water and ash, all of which was relocated into Pond D.
Dominion is still waiting on its final permits to close those ponds, Mitchell said.
Potomac Riverkeeper Dean Naujoks said the nonprofit would continue to push Dominion to recycle as much of the Possum Point coal ash as possible and take the remaining out by train or barge. 
"We definitely don't want a landfill here," he added. "I don't think we need to let Dominion off the hook on recycling when the value of coal ash is increasing."
Naujoks notes that the U.S. imports coal ash from as far away as China to make bricks and concrete and that there are coal ash recycling plants in the region.
The new law allows Dominion Energy to spend up to $225 million a year on the cleanup effort, which would result in an extra charge of about $5 a month for the average ratepayer.
Under EPA regulations, Dominion Energy has 15 years to close the coal ash ponds.