With COVID-19 vaccinations just getting under way in December 2020, the new year held the promise of an end to the pandemic and a return to normalcy. It didn't turn out that way. 
Twelve months and a few virus variations later, new daily infections, cases and hospitalizations were as high as ever during the last week of 2021, and tests were hard to find. The situation had hundreds of local residents waiting in long lines at urgent care centers, pharmacies and pop-up testing sites, desperate to know whether sore throats and runny noses were run-of-the-mill colds or a cause for greater concern.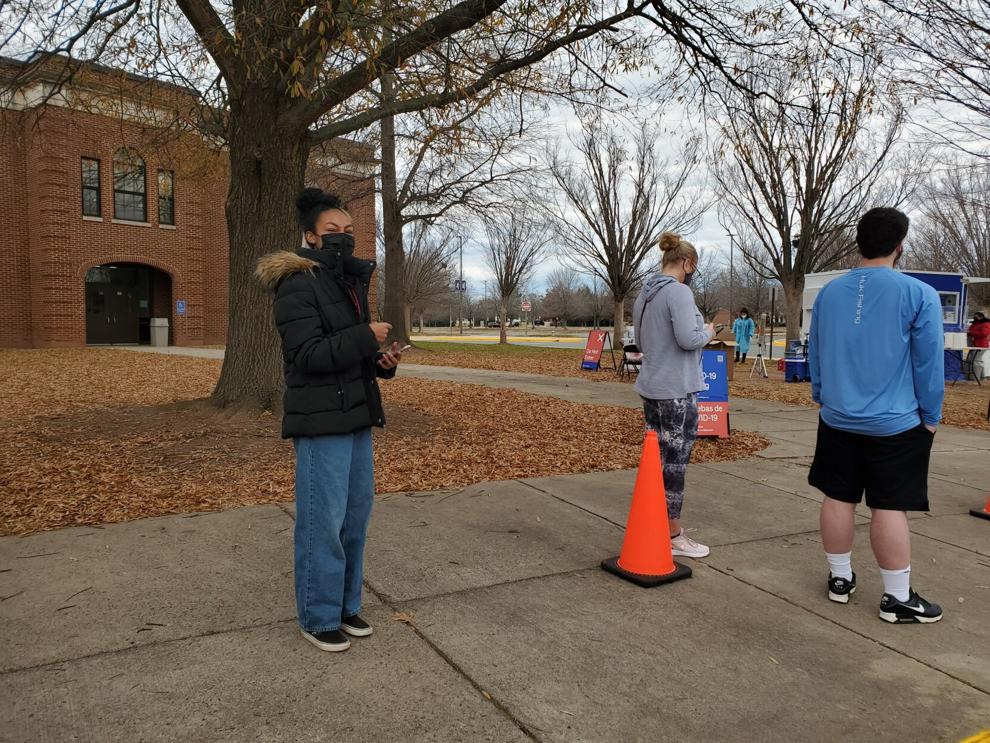 Among them was Kaila Hightower, 18, of Manassas, who began experiencing symptoms three days before Christmas. While waiting in line of about 30 people at a Curative testing kiosk outside Metz Middle School, Hightower said she worried she had passed the virus to four family members over the holidays as well as her coworkers and a few friends.  
Hightower said she received both her vaccination shots but not a booster. She needed a test result to show her boss in case she had to miss work. 
"It's really too bad because I work in the food industry with the public," she said.  
For the second year in a row, COVID-19 put a damper on the holiday season in Prince William and across the country, largely because the highly transmissible omicron variant had horrible timing, hitting just as people gathered for the holidays. 
The development came about seven months after cases had slowed to such a trickle – back in mid-May – that the U.S. Centers for Disease Control and Prevention said vaccinated people could go without masks. About a month later, in late June, the mass vaccination center at the old Gander Mountain store in Woodbridge closed for a few months due to lack of demand for the vaccine. 
Things took a turn for the worse in late summer when the delta variant made its way to the U.S. and fueled another spike in cases in the late summer, which peaked Sept. 10 when new daily cases reached 4,779 across the state, including 219 in Prince William. 
But that was nothing compared to the surge gripping Virginia by late December. A whopping 8,756 cases were reported in Virginia on Christmas Eve – the second-highest daily tally since the pandemic began – while Prince William recorded 746 cases on Christmas Day, a one-day total second-only to the pre-vaccine days of January 2020. 
At Patients First in Manassas the lobby was full of waiting patients and about 50 people were lined up outside the building on Tuesday, Dec. 28. Spokeswoman Brooke Waller said the urgent care had seen "a recent, sharp increase in patient volumes" due to the rising demand for tests. But they had yet to run out of COVID-19 tests or turn people away, despite being low on workers – yet another problem plaguing many employers at the end of 2021. 
"Despite staffing challenges, Patient First physicians and staff are working extremely hard to provide care to as many patients as possible," Waller said. 
Meanwhile, local health district officials continued to urge residents to get fully vaccinated and boosted against COVID-19 while warning that omicron is "extremely transmissible," requiring strict vigilance with masks, social distancing and handwashing even by those who have all their shots. 
People should "act like they are not vaccinated" and protect themselves, said Sean Johnson, a Prince William Health District spokesman. "People are so wanting to get back to the way things were pre-COVID, but the fact is that COVID is still with us," he said. 
Data centers dominate rural land-use debate  
Data centers, the massive, box-shaped buildings that house internet servers, rose to the forefront of the county's land-use debate in 2021. The biggest questions being asked by elected officials and residents are, "Where should they go?" and "How many is too many?"  
The county has become a hotspot for data centers over the last several years  because of its proximity to data center alley in Loudoun County. The more than 30 data centers already up and running in Prince William generate lots of local tax revenue and don't contribute to school overcrowding or  traffic congestion. But they also require high levels of electricity, and many people consider them to be environmentally destructive eyesores.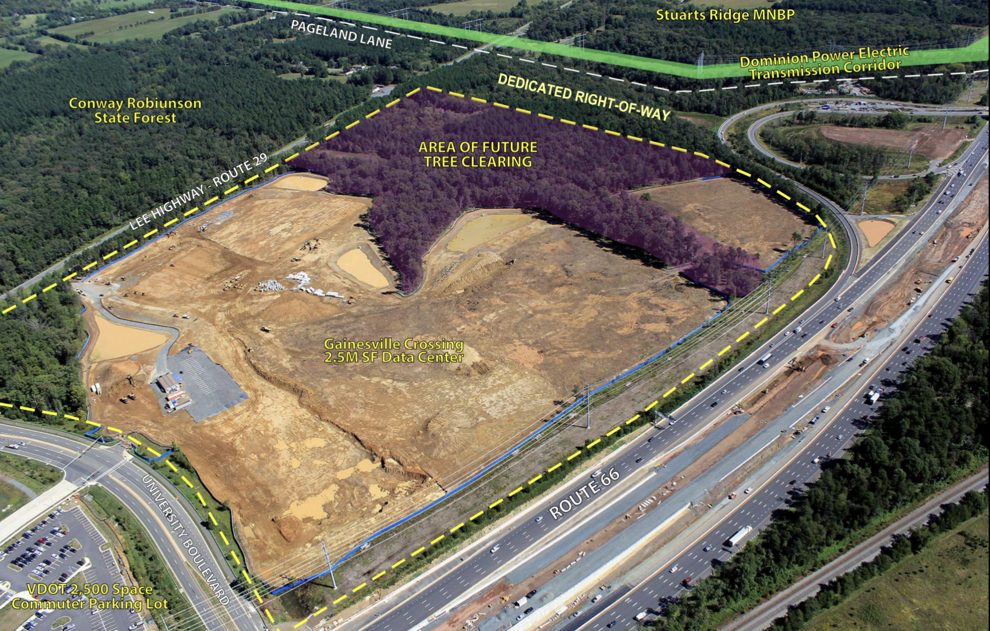 This year, several events brought data centers to the forefront of county debate. 
First, the demand for data centers skyrocketed as a result of the COVID-19 pandemic as millions of Americans began working remotely and shopping online more frequently – activities that require more "cloud" computing capacity. That in turn forced the price of vacant land upward as data center users started scooping up the county's remaining vacant, developable land – with some parcels selling for close to $1 million per acre.  
Second, the county's economic development department said in May that the county had begun turning away data center developers because the county had run out of "viable land" within the county's existing "Data Center Opportunity Zone Overlay District," which spans across nearly 10,000 acres in Gainesville and Manassas. That led to the board of supervisors voting in May to initiate a potential expansion of the district.  
Third, with data center demand at an all-time high but limited land left for data centers, some "rural crescent" residents formally asked the county to replan their land – and homes – for data center uses, something that is not currently allowed under the county's comprehensive plan.  
The most contentious of these requests is a comprehensive plan amendment for a plan known as the "PW Digital Gateway," a massive proposal from more than 80 western Prince William County landowners. At 2,100 acres, it would be the largest, single land-use change in the county in decades if approved. The land is located within the county's "rural crescent" and borders Manassas National Battlefield Park and Conway Robinson State Forest.  
About five miles south of the PW Digital Gateway, the owners of the recently-shuttered Dutch Land Farms in Nokesville are asking the county to allow data centers to be built on their former farm. And south of Haymarket, the board approved two massive data center proposals in the summer and fall of 2021 outside the data center overlay district that will total nearly 4 million square feet at full buildout and could require new electrical transmission lines.  
Those proposals have stirred discussion and debate that will likely heat up in the new year. Supporters of making more acres available for new data centers point to a potential windfall in local tax revenue – with some likening them to the goose that lays golden eggs. In 2021, data centers generated $79 million in local tax revenue. At full build-out, the proposed 2,100-acre PW Digital Gateway, if approved, could generate an estimated hundreds of millions more annually, according to the CPA application. 
But on the other side, residents, conservation groups and western county elected officials are increasingly concerned about the impact additional data centers would have on homes, viewsheds and environment and historical resources. Some, like Del. Danica Roem, D-13th, have also raised concerns that the influx of new data centers will require new electrical infrastructure to be lined into western Prince William County.  
At least some of those fears have already been confirmed by Dominion Energy officials, who said at a Dec. 15 Prince William County Planning Commission meeting that new electrical transmission lines in western Prince William are no longer a matter of "if but when."  
'The Rose' approved in Dumfries  
Dumfries officials took a major step toward transforming the southwest edge of the 5,300- resident town in September by voting to allow Colonial Downs to turn an existing construction landfill along Interstate 95 into "The Rose," a nearly $400 million gaming facility, hotel and public park set to open in 2023.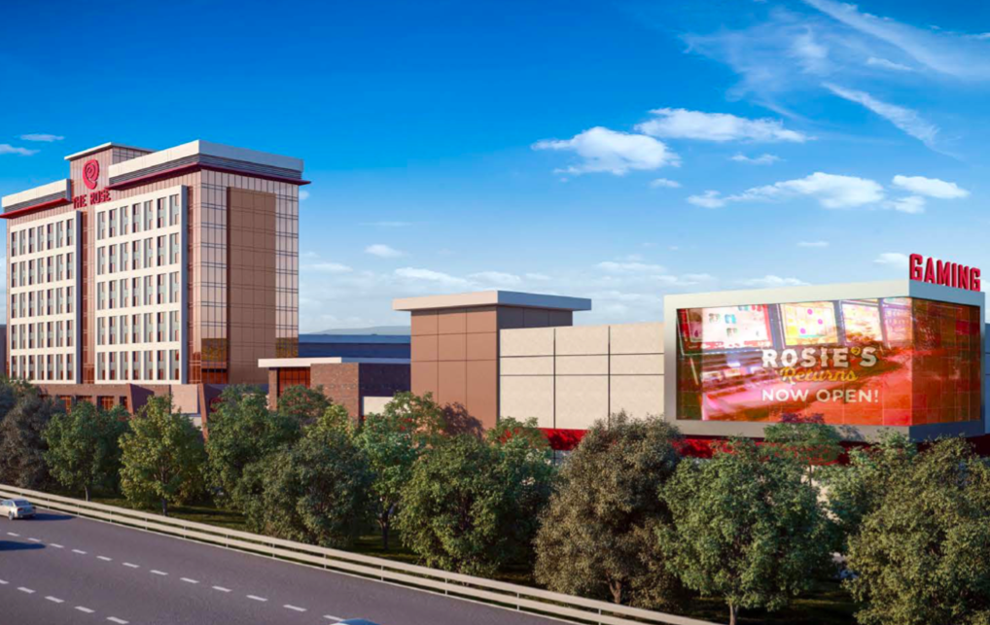 The first step will come early in 2022. Colonial Downs is planning a ribbon-cutting ceremony on Tuesday, Jan. 11 at the Potomac Landfill, which is set to begin shutting down for good by the end of January, according to Phil Peet, the facility's general manager.  
"We notified the town, our customers and [the state Department of Environmental Quality] that our last day for accepting waste will be Friday, Jan. 28," Peet said.  
Workers will then apply the regular weekly cover of about a foot of soil, regrade the surface and remove the landfill's equipment. It will be the responsibility of The Rose's general contractor Yates Construction to fully close the landfill, Peet said. 
Closing the landfill, which is happening about 10 years ahead of schedule, is the first step toward transforming the 93-acre property into Virginia's first casino-sized gaming facility that's technically not a casino. By state code, gambling at The Rose will be limited to off-track betting and historic horse race betting machines, which are similar to slot machines. 
The complex will feature a hotel with up to 305 rooms, eight restaurants, a 1,500-seat theatre, 175,000 square feet of gaming space – as well as space for a new public park. The park will be built atop the closed landfill, which encompasses 80 acres of the 93- acre site. Colonial Downs will maintain the park for 10 years before turning it over to the town. 
Colonial Downs recently began the process of collecting public comment on amenities for the park. The company has not determined a final design but has said it will include "green space with miles of bike and fitness trails, athletic fields and a playground," according to a press release. 
As for The Rose, its site plans will need to be approved by the town like any other development, according to Dumfries Town Manager Keith Rogers, Jr. 
The park and gaming facility are expected to open in the fourth fiscal quarter of 2023. 
"This sort of resort complex is unlike any other development Colonial Downs is doing in Virginia," Rogers said. "The council laid out a vision that they wanted Dumfries to be a destination place. This is certainly aligned with that."  
Rosie's Gaming Emporium, a smaller gaming outlet Colonial Downs opened earlier this year in the Triangle Shopping Center in Dumfries, will close when The Rose opens.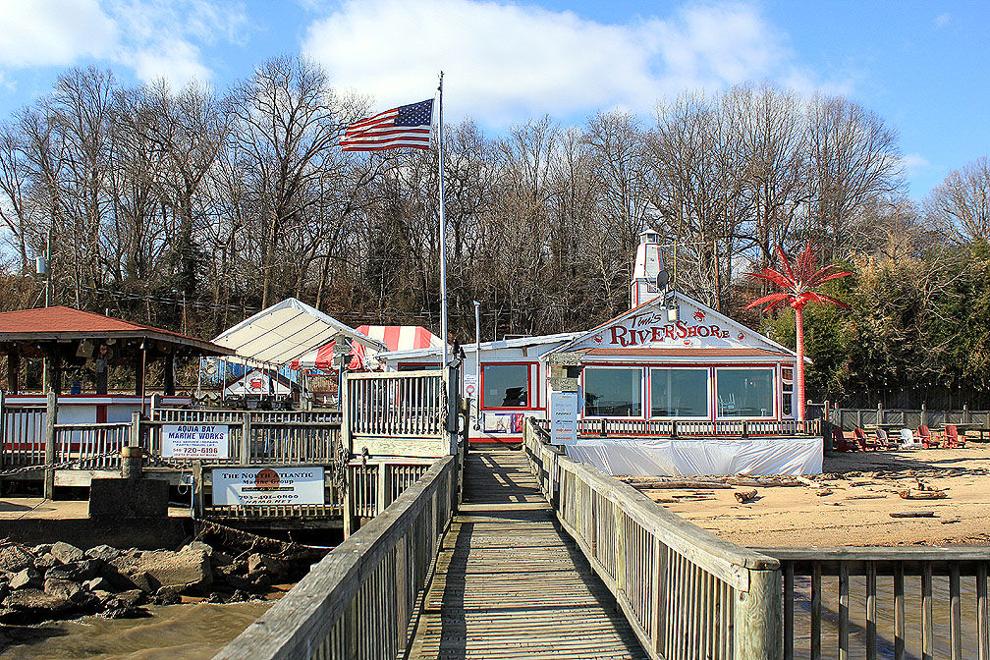 The Rose is projected to employ about 600 people and generate an estimated $11 million in annual tax revenues for the town of Dumfries and an additional $8 million for Prince William County when fully operational, according to an economic development study prepared for Colonial Downs.
Tim's Rivershore closes after 28 years
When Tim's Rivershore Restaurant and Crab House closed for good Sept. 26, it left a gaping hole for so many of its fans who supported the riverfront summertime hangout for 28 years.
A new seafood restaurant – Fatty's Tap House -- will open in its place this spring, and its owner Chris Ahn says it will bring something new to the little place on the shores of the Potomac River.
Tim's Rivershore began back in 1993, when Tim and Jamie Bauckman started serving buckets of crabs and brews in a homey rough-around-the-edges restaurant built by two Cherry Hill watermen in 1970. The Bauckmans improved the property over the years and developed a loyal following of patrons who arrived by land and sea for nearly three decades.
The restaurant made more money with each passing day, Tim Bauckman said in a recent interview.
Then came Hurricane Isabel in 2003 and a turn for the worse. The storm trashed the restaurant and destroyed the outside seating decks and tiki bar. Volunteers rushed in to help rebuild, but Prince William County got involved with permits and inspectors. The county decided the rebuilt decks couldn't be used, for lots of reasons. That went on for a long time. About 80% of the business came from people eating outside and was being lost, Bauckman said. Inadequate parking was also a problem.
In 2011, KSI, which had recently bought most of the land around the Rivershore for a housing development, approached Bauckman and offered to buy the restaurant. According to Bauckman, they said if he sold to them, the land across the railroad tracks, which KSI also owned, would provide the necessary parking the restaurant needed. The Bauckmans sold the property for about $3 million, according to county land records, and paid rent to KSI and subsequent developers who took over – eventually building Potomac Shores -- after KSI went bankrupt.
Trouble returned for the Bauckmans two years ago. First, the pandemic hit hurting restaurants especially hard. Then came word that Compass Harbor Properties, LLC, which now owns the restaurant, would not renew the lease. Bauckman was given until March 31 to be out of the building.
The Rivershore's ferociously loyal patrons mobilized. They started a petition, Facebook pages and pleaded with the Prince William Board of County Supervisors for help, all to no avail.
Bauckman then turned to the courts hoping a judge would rule he had the right to extend his lease another two years, per a stipulation in the lease agreement. His landlord answered with a counter lawsuit that not only sought to dismiss Bauckman's claim but asked for almost $500,000 in damages.
A settlement reached ahead of a court hearing allowed Tim's Rivershore to stay open until the end of September, giving the restaurant one last summer. Tim's patrons were devastated, and many vowed never to visit the replacement restaurant.
Ahn, the owner of the new restaurant, said he hopes Tim's many fans will change their minds and give his Fatty's Tap House a try. Ahn has two other Fatty's locations in Stafford and in Fredericksburg. Ahn said he plans to serve up blue crabs as well as seafood steamed bowls and comfort food.
When it opens, the new restaurant will operate year-round, unlike the Rivershore, which closed during the winter months. Ahn said he hopes to be open by March or April.
 "I am excited to be part of Prince William County Potomac Shore community," Ahn said. 
Reach the writers at news@fauquier.com