More than 800 Prince William County students will return to school Jan. 6 with their school meal debts wiped clean, thanks to the efforts of a Gainesville mom and attorney and her nonprofit, Settle the Debt. 
Adelle Settle, a lawyer for the Social Security Administration and the mother of a 5-year-old daughter, has been working since 2017 to raise money to pay off local students' school lunch debts.  
She managed to pay off about $25,000 in meal debt two years ago and launched a new effort Nov. 27 after Settle the Debt became a 501(c)(3) nonprofit.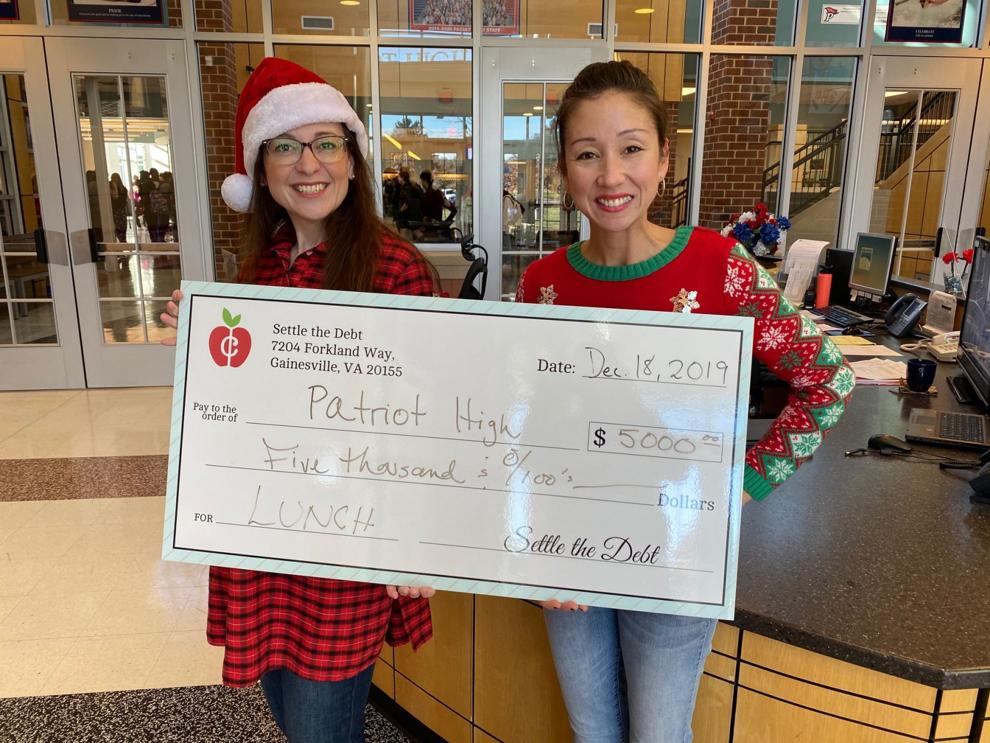 The goal was to raise $30,000 before the winter holiday break. Less than a month later, Settle the Debt had raised $41,319.50, which was enough to pay off the entire student meal debt at 20 elementary schools as well as part of it at three more elementary schools and four high schools. 
The idea was to relieve individual students and their families of the added pressure of worrying about meal debt over the holidays. In order to make it happen, Settle and members of her volunteer board scrambled in the days before the winter break to deliver checks ranging from $275 to $7,700 to about two dozen schools.  
"We were hoping to reduce the amount of stress and pressure those families were going to feel right now," Settle said. 
Still, while a contribution of more than $41,000 might seem like a lot, it only covered a fraction of the more than $304,000 in meal debt Prince William students had racked up as of mid-December. According to school division records shared with Settle, more than 10,000 of the county's 91,000 students had balances on their meal accounts when schools closed for winter break. 
About 40% of Prince William County students qualify for free or reduced-price lunches. But many whose families don't qualify still struggle to pay for their students' meals. 
Settle said she believes the problem is the result of the low income thresholds the federal government sets for families to qualify for help with meals. To receive free meals, a family of four must make less than $33,475 a year. To qualify for reduced-price meals, a family of four must earn less than about $47,600 a year, according to the U.S. Department of Agriculture. 
The amounts are the same across the country and do not take into account varying costs of living. In Northern Virginia, where housing prices are among the highest in the nation, families who earn above the federal income limits still might not have enough to afford school meals, Settle said. 
Also, there's concern that some immigrant families may not apply for free or reduced-price lunches because of recent changes in federal rules that penalize immigrants for accepting state and federal assistance. The school lunch program is not part of a list of social programs that could affect whether immigrants are accepted for U.S citizenship, but some families likely don't fully understand that, Settle said. 
But those are also among the reasons so many donors feel compelled to give. Several contributors have included notes about their own families' difficulty paying for school meals when they were children, Settle said. 
"People have told me they felt really bad about costing their families money so they could eat" at school, Settle said. "Now that they're adults, they don't want other kids to suffer that." 
Many of the donors have given to particular schools with whom they or their families have personal ties. One Woodbridge Senior High School alum cut a check for $7,700 to nearly pay off the school's more than $10,400 debt. About 390 Woodbridge Senior High School students were carrying meal debt in mid-December, according to school division records. 
The owner of a few local Chick-fil-A restaurants contributed enough to pay off three schools' debts, and former school board chairman Ryan Sawyers contributed $5,000 to help eliminate Patriot High School's meal debt of more than $5,900.    
"People believe in feeding kids. It's a really simple concept," Settle said. "A hungry kid can't learn, and people understand that." 
Settle the Debt's volunteer board of directors is planning a fundraising gala in April to continue to raise money to pay off school meal debts that will inevitably accrue as the year continues. 
Long term, Settle said she would like to see a change in Virginia law that would prohibit school divisions from penalizing students in any way for having student lunch debt.  
In 2018, the Virginia General Assembly passed a bill prohibiting public schools from "shaming" students for meal debt or making them do special chores to pay off their debts.  
But state law does not explicitly prevent schools from withholding privileges, such as going on field trips or attending school-sponsored events, from students who have outstanding meal debt. 
"We shouldn't be punishing kids for things that are out of their control," Settle said.